4 not-to-be-missed Concordia public artworks
From painted glass to giant wall-climbing foliage, here's a hand-picked selection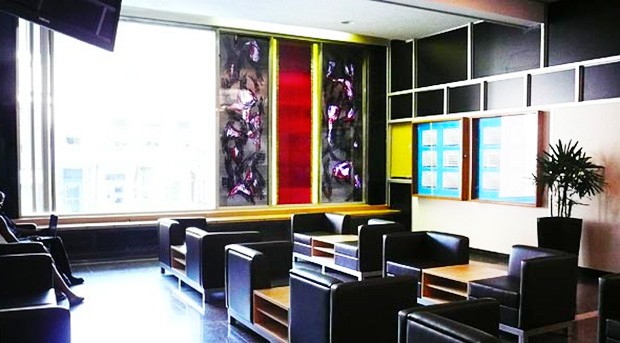 A hidden gem: Jean McEwen's painted-glass windows in the mezzanine of the Henry F. Hall Building.

Today marks the 169th birthday of the Smithsonian Institution and 222 years since the opening of the Louvre — but Concordians don't need to travel to Washington and Paris to take in important cultural artefacts.
For one thing, says Clarence Epstein, senior director of Urban and Cultural Affairs, "distinct roles of museums and of universities are beginning to blur, in so far as the their educational and cultural mandates are overlapping."
It's an evolution that is occurring at Concordia, too. "You'll be seeing even closer collaborations between Concordia and our museum partners in the near future. There are exciting things afoot."
And for another thing — the university's Sir George Williams and Loyola campuses play host to an extensive public art collection.
Here are four of Epstein's top Concordia public art recommendations: two historical and two contemporary.

Location: Mezzanine of the Henry F. Hall (H) Building
"You should visit at sunrise, because it was made to be seen when the natural light hits the glass at that moment," says Epstein. "It's a real hidden gem.We intend to raise awareness of this work in upcoming years."

Location: Samuel Bronfman House
Epstein also draws the Concordia community's attention slightly off-campus, to corner of Côte-des-Neiges and Doctor Penfield: there, Walter Redinger's recently restored "Totems" sit outside of the Samuel Bronfman House.
The four cast-fibreglass totems soften the building's brutalist facade with their skin-like surface and anthropomorphic bends.
"With Redinger and McEwen, the artists were restricted by limited space and budgets, but now we privilege public art in more choice locations and with considerably more support," says Epstein.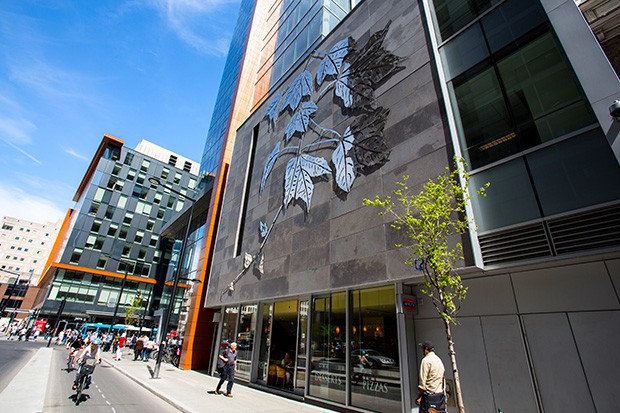 Lierre sur Pierre by Geneviève Cadieux | Photos by Concordia University
Location: South façade of the John Molson Building (MB)
Location: East façade of the Engineering, Computer Science and Visual Arts (EV) Complex
A case in point? Two high-profile recent works, Concordia associate professor Geneviève Cadieux's "Lierre sur Pierre," which is displayed on the John Molson Building's Boulevard de Maisonneuve façade, and the untitled 2003 piece by former Concordia student Nicolas Baier and Cabinet Braun Braën on the EV Complex's imposing Mackay Street façade.
"Both works are massive outdoor screens, which is one of the reasons why they have so much impact," Epstein says. "They succeed in public art's goal of adding value to the daily experience of every passer-by and associating these Montreal landmarks with Concordia."
Find out more about Concordia's public art collection.

---