Why more students than ever are choosing Concordia
7,000 offers of admission have gone out so far this spring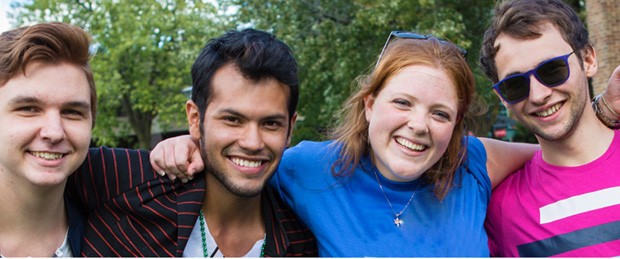 "Early acceptance numbers show more and more students are picking Concordia as their first choice," says Matthew Stiegemeyer, director of Student Recruitment. | Photo by Concordia University
In early April, Kirsy Joseph was sitting in her kitchen in Brockton, Massachusetts, with one of her best friends, when an email marked "Concordia Application Update" pinged on her phone.
Since applying to Concordia's biochemistry program in January, Joseph had been waiting to hear back from the university. "Open it!" exclaimed her friend, who knew how much it meant to Joseph.
Gathering her courage, she clicked on the letter.
"Dear Kirsy Joseph," it began. "It is with great pleasure that I inform you of your admission…" Joseph let out a scream, gave her friend a hug and snapped a photo of the letter to share with her father.
Joseph's is one of more than 7,000 offers of admission sent out by Concordia so far this year, with more offers going out daily.
"Early acceptance numbers show more and more students are picking Concordia as their first choice," says Matthew Stiegemeyer, director of Student Recruitment. "We're very pleased that we've been able to keep building on this trend for fall 2015. It feels good to see our work paying off."
Recruiters are focusing their efforts now on holding information sessions for newly admitted students in Vancouver, Ottawa, Toronto, across Quebec, and in parts of the United States. Their goal? To answer students' questions and help them make an informed decision.
Another bright spot for recruitment this year is the ongoing effort of the Asia team, newly expanded to include a specialist in e-recruitment. The team is increasing its reach to prospects across the continent, including Vietnam, Malaysia and India.
A calling campaign is also underway at the Birks Student Service Centre, with current Concordians phoning hundreds of future students to share their experience of life on campus.
Alexandra Baird, a second-year biology student from St-Lazare, Quebec, told Joseph about the Department of Chemistry and Biochemistry's strong support network, and the resources put in place to help students succeed.
Joseph says her conversation with Baird increased her sense of anticipation for the fall. She was already sold on coming to Concordia: Joseph traces her decision back three years, when she tagged along on her older sister's campus visit.
Unlike the other large urban universities they toured, Concordia looked like a community to her. "A family," says Joseph, "with people who are open and friendly."

Are you a freshly minted Concordia student? Tag your acceptance-letter selfies to Concordia's Facebook, Twitter or Instagram accounts: #CUinSeptember. (Just be sure not include your address or personal details in the photo.)
Do you know someone who's keen to become a Concordian? Find out more on the Future Students and Admissions pages.
---