Unlocking the secrets of sleep
A new grant will support crucial health research at the PERFORM Centre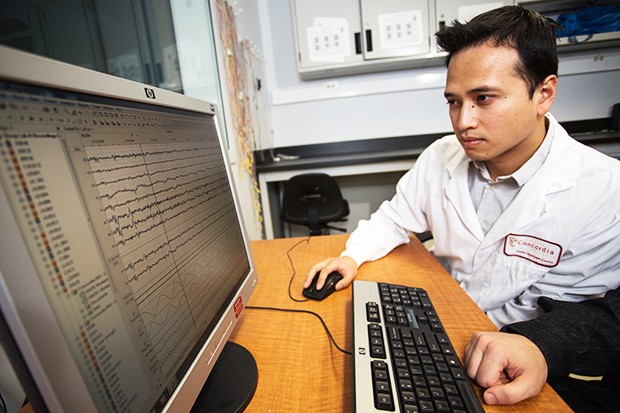 Concordia researcher Thien Thanh Dang-Vu's mission is to make sleep disorders and their related treatments better understood. | Photos by Concordia University
Most humans can survive up to two months without eating, but can only go up to 11 days without a nap. That's what makes investigating the causes, consequences and treatments of sleep disorders so important.
Concordia researcher and neurologist Thien Thanh Dang-Vu has dedicated his professional life to this exact topic.
Since his arrival more than two years ago, the assistant professor in the Department of Exercise Science has been on a mission to expand sleep research at the university and make sleep disorders — and their related treatments — better understood.
"I want to take a closer look at how sleep and sleep disorders can affect the function of the brain, and what kind of consequences sleep disorders can have on various health outcomes," says Dang-Vu.
With a recent funding grant of $250,000 from the Canadian Foundation for Innovation, this dream will soon become reality.
For more than a year now, Dang-Vu has led the development of the PERFORM Centre's Sleep Lab. The project has already come a long way, but he believes much more needs to be done.
"The aim is to build a state-of-the-art sleep lab with three bedrooms autonomous from each other where people can stay for one or several nights and remain disconnected from the outside environment."
An improved lab will help further Dang-Vu's research in such areas as the neuroscience of sleep, and the brain mechanisms and treatment interventions of sleep disorders.
Three broad objectives of Dang-Vu's research:

To improve treatment interventions on sleep that are more adapted to a person's specific condition.
To integrate sleep with other health dimensions in order to implement comprehensive preventive approaches.
To enhance the population's awareness of the importance of how they sleep, how it impacts current and future health, and the validated options to efficiently promote better sleep.
The Canadian Foundation for Innovation provided funding this year for cutting-edge research in areas that have the potential to be competitive on a global scale.
Dang-Vu's plans align perfectly with that mandate. "The expansion of the Sleep Lab will allow us better productivity, having multiple projects going on at once. This will help expand the amount and quality of research being conducted at the PERFORM Centre," he says.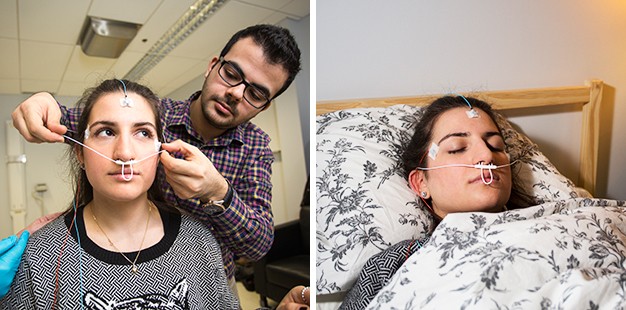 An experiment in progress at the Sleep Lab.
"The Sleep Lab is a key addition to the mission of the PERFORM Centre — where eight state-of-the art platforms under one roof offers a unique research facility that will help us understand more about preventative health," says Louis Bherer, scientific director at the PERFORM Centre.
"Sleep is of primary importance in prevention, as we know that it is influenced by many different factors, including exercise and diet. Under the leadership of Dang-Vu, the sleep platform will help position PERFORM as an important player in a very important research field."
Dang-Vu's research about sleep disorders are also poised to be prominently featured at the second annual PERFORM Centre Research Conference on May 15, 2015. Sleep will be one of the main topics under discussion, in an effort to bring even more awareness and knowledge to the subject.

Find out more about Thien Thanh Dang-Vu and his research into the science of sleep.
Thumbnail by Driki, (Flickr Creative Commons.)
---