Exploring technology in teaching
Three-day e.SCAPE conference at Concordia starts April 3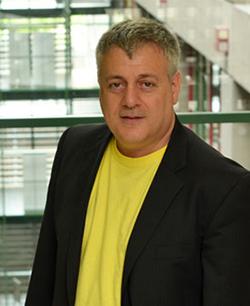 There are countless ways professors can integrate technology into their teaching practices, explains E-Learning Fellow Saul Carliner. Teaching an online course is just one end of a very full spectrum.

"What happens is that we end up looking at it in a very binary way, either all classroom or all online," he says. "It's really a continuum; from one end, where there's no technology support at all, to the other where a course is taught entirely online. There's a lot of stuff in between."

Those wishing to learn more about the many forms of technology-integrated teaching are invited to attend a three-day conference beginning April 3 at Concordia, titled e.SCAPE: Knowledge, Teaching, Technology. It will feature presentations, workshops and demonstrations on everything from designing online courses, to using the latest version of Moodle, to harnessing the power of social media to enhance the classroom learning environment.

During the conference, Carliner will deliver a presentation titled, What the Evidence Says About Teaching Online, in which he will try to address some of the prevailing concerns around taking teaching out of the classroom.

Carliner says the existing evidence suggests there's no significant difference between learning outcomes for students taking a course online versus in the classroom. In fact, many studies show that students perform better in online courses than when they take the same course in a traditional classroom.

He cites one recent comprehensive study from the United States Department of Education that looked at online courses in higher education. "It shows that students who took all or part of their classes online performed better on average than those taking the same course with traditional face-to-face instruction," he says. "And this is not an individual study; it's an analysis of thousands of studies."

Other presentations during the conference by Concordia's leaders in technology-integrated teaching include:

• A session by Jordan Lebel, Concordia's newest 3M Teaching Fellow, describing his experience building his award-winning online course, Marketing Yourself.
• A session titled Teaching the Humanities Through Game Design by Associate Professor Mia Consalvo, Canada Research Chair in Game Studies and Design
• A session titled Learning Math Online, by Fred Szabo, one of Concordia's longest-serving instructors, who has embraced the use of technology in his teaching practice.

The conference will feature an open discussion on e-learning, and a showcase of video games created by Concordia researchers. Two invited keynote speakers — Professor Kenneth G. Brown from the University of Iowa Tippie College of Business, and Atsusi Harumi from the University of Central Florida — will present their findings on teaching and technology.

President Alan Shepard will lead a plenary session titled, E-learning, Hybrid Learning, New Learning, in which he will talk about the impact and potential of e-learning and blended learning for Canada's universities and Concordia.

"Concordia has been a leader in revitalizing the relationship between technology and higher education," Shepard says. "We are taking the best of the university experience and focusing it with new tools that broaden how people think, teach and learn."

What: e.SCAPE: Knowledge, Teaching, Technology (Conference)
When: Wednesday, April 3 to Friday, April 5, 2013
Where: Concordia University, Sir George Williams Campus (See conference web page for specific locations)
Keynote addresses are scheduled each day at noon. The conference is open to the entire Concordia community: students, staff and faculty members. Participants may attend as many sessions as their schedules permit. No advance registration is required for most sessions; admission is on a first-come, first-served basis.

Related links:
• e.SCAPE conference
• "E-Learning: New pathways in education" — NOW, February 20, 2013
• "Meet top brains @ e.SCAPE Conference" —NOW, February 27, 2013
• "e.SCAPE conference: innovation central" — NOW, March 4, 2013
• "Our leaders in e-learning" — NOW, March 12, 2013
• "Black Box magic @e.SCAPE" — NOW, March 19, 2013



---