Black Box magic @ e.SCAPE
Performing arts showcase high-tech teaching and learning
Participants at the upcoming e.SCAPE: Knowledge, Teaching, Technology conference will be invited to play in addition to participating in workshops about e-learning and hands-on demonstrations of new high-tech tools and their applications in teaching.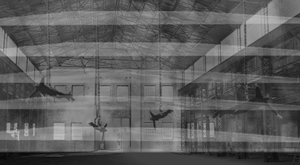 For the duration of the conference — April 3, 4, and 5 — the studio symposium Einstein Dreams will be featured in the Black Box on the lower level of the Engineering, Computer Science and Visual Arts Integrated Complex (EV Building, 1515 Ste-Catherine St. W.).
Director and choreographer Michael Montanaro, chair of the Department of Contemporary Dance, and Sha Xin Wei, Canada Research Chair in New Media and an associate professor in the Department of Design and Computation Arts, assembled an interdisciplinary team of collaborators to create a space where play is a catalyst for creation.
Media artists and researchers with the Topological Media Lab joined in the exercise of installing Einstein Dreams, a multimedia environment designed to play with visitors' sense of time.
Those who walk into the Black Box will witness the live process of creation in an atelier setting, combining features of a rehearsal studio, technology lab, and seminar discussion.
Alan Lightman's novel Einstein's Dreams poetically imagines worlds in which time flows differently. The book inspired this research workshop about our variable perceptions of time. The Einstein Dreams installation immerses visitors in an environment where their actions animate fields of light, sound and video, and transform the perception of the space they inhabit.
Montanaro describes the resulting environment as "a sandbox altering senses of time." He goes on to explain that, "We talk about play here in the context of a discipline where improvisation is used to fuel innovation and allow for discovery."
"The aim is to get all the participants, whether performers or visitors, to reflect on how they can push past the limit of conventional practices," says Sha. "We want them to experience the creativity that lies beyond those confines."
Ultimately, Sha and Montanaro want participants to see the atelier process as a mode of knowledge creation and to recognize it as play.
Ollivier Dyens, vice-provost, Teaching and Learning, and a professor in the Département d'études françaises, is heading the programming committee for the conference. "Einstein Dreams is a wonderful complement to the elements programmed during e.SCAPE, where conference participants are invited to explore all that is possible through technology in teaching and learning," says Dyens.
"Visitors to the Black Box will be asked to contemplate how, in their practice, they might allow for play, for experimentation as a means of producing new knowledge in their field."
Einstein Dreams made its debut March 18 in the form of a studio workshop, which runs continuously through April 5. During the full three days of e.SCAPE, the Black Box environment will be open to the public.
The e.SCAPE conference is designed to support Concordia's Academic Plan. The plan's three main priorities for the 2012-13 academic year are innovative and dynamic undergraduate offerings, graduate student recruitment, and investments in the libraries.
e.SCAPE is scheduled to run Wednesday, April 3, through Friday, April 5, from 9 a.m. to 5:15 pm. Keynote addresses are scheduled each day at noon. The conference is open to the entire Concordia community: students, staff and faculty members. Participants may attend as many sessions as their schedules permit. No advance registration is required for most sessions; admission is on a first-come, first-served basis.
Related links:
• e.SCAPE
• Topological Media Lab
• Department of Contemporary Dance
• Department of Design and Computation Arts
---