Back to work ... and play
The athletic therapy clinic in Concordia's new PERFORM Centre is now open.
People suffering from an activity-related injury can now look to the PERFORM Centre for relief. A new state-of-the-art athletic therapy clinic is now open on Concordia's Loyola Campus and ready to deliver prompt and professional care to staff and faculty, students as well as the general public while offering exercise science students an innovative internship experience.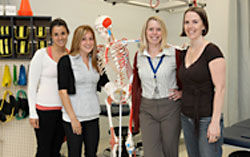 "The mission of our clinic is to provide students with challenging clinical situations that will give them valuable know-how for when they become athletic therapists," explains Deborah Cross, PERFORM's athletic therapy manager. "We are training interns to return our patients back to play or work as quickly and as safely as possible."

All athletic therapy services and treatments are developed and delivered by internship students in their final year of the exercise science program. Certified athletic therapists supervise and mentor the interns to ensure that they benefit from a practical and real-world educational experience while clients of the clinic receive the best possible treatment.

When members of the public come to the athletic therapy clinic with torn ligaments or sprained ankles, they are met by a student intern who will gather information on their medical history, do a physical assessment and arrive at a treatment plan. The student will then discuss the plan with their supervisor who will ensure that all appropriate tests and enquiries have been made. When a proper course of action is agreed upon, the treatment will proceed with ultrasound, heat, manual therapy, exercise or whichever methods have been decided upon.

Mylène Saucier, one of PERFORM's three new athletic therapy instructors, believes that the centre's approach to internships goes beyond what is normally offered to students in this field. "Most placements focus on observation and following instruction," says Saucier. "What we're doing is guiding students as they develop the course of action to be taken and then following this through from assessment to treatment to discharge."

Moreover, instructors, students and clients will benefit from the clinic's first-class equipment. In addition to clinical tables, ultrasound and the like, the facility also houses a SwimEx pool — one of only three in the city. The pool allows therapists and students to deliver treatments to those suffering from weight bearing issues or who are recovering from surgeries. It also enables people with multiple sclerosis or arthritis to exercise more comfortably.

"Being the first group to work in a brand new facility and having my own clients to treat and rehabilitate will be an incredible opportunity for me," says Leila Owen, a third-year exercise science student. "I'll also benefit from having professional supervisors with different treatment styles which will help me as I develop my own techniques."

Research activities will eventually be incorporated into the daily activities of the clinic. By the second semester, the centre hopes to be working with other Faculties in developing new protocols through cutting-edge programs involving researchers, students and instructors. Deborah Cross says, "My goal is for our program to be the gold standard to which all other internships in the field of athletic therapy are compared."

Sessions cost $25 and are covered under most private health care plans.

Related links:
• PERFORM Centre hours of operation and information regarding athletic therapy
• PERFORM Centre
• Concordia Department of Exercise Science


---