News release
How the performing arts can set the stage for more developed brain pathways
Concordia research shows the positive, but different, cognitive effects of dance and music training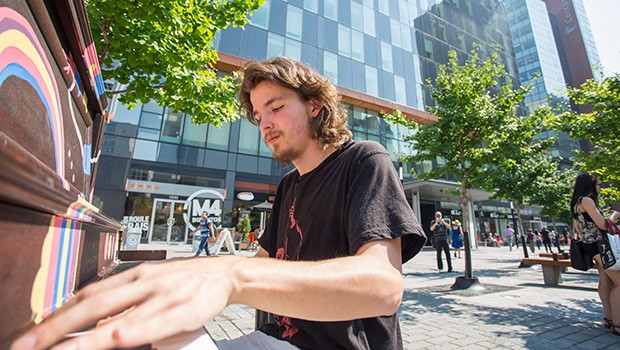 Montreal, October 5, 2016 — Endless hours at the barre. Long afternoons practising scales. All that time you spent in piano lessons and dance classes as a youngster may have seemed like a pain, but new research now confirms what your parents claimed: it's good for mind and body.
In fact, a recent study published in NeuroImage by a team* of researchers from the International Laboratory for Brain, Music and Sound Research, proves that dance and music training have even stronger effects on the brain than previously understood — but in markedly different ways.
The researchers used high-tech imaging techniques to compare the effects of dance and music training on the white matter structure of experts in these two disciplines. They then examined the relationship between training-induced brain changes and dance and music abilities.
"We found that dancers and musicians differed in many white matter regions, including sensory and motor pathways, both at the primary and higher cognitive levels of processing," says Chiara Giacosa, Concordia PhD candidate in the Faculty of Arts and Science and the study's lead author.
In particular, dancers showed broader connections of fibre bundles linking the sensory and motor brain regions themselves, as well as broader fibre bundles connecting the brain's two hemispheres — in the regions that process sensory and motor information —. In contrast, musicians had stronger and more coherent fibre bundles in those same pathways.
"This suggests that dance and music training affect the brain in opposite directions, increasing global connectivity and crossing of fibres in dance training, and strengthening specific pathways in music training," Giacosa explains. "Indeed, while dancers train their whole body, which has a broader representation in the neural cortex, musicians focus their training on some specific body parts, such as hands, fingers or the mouth, which have a smaller cortical representation in the brain."

'This work has major potential'
Interestingly, dancers and musicians differed more between each other than in comparison to the group of control subjects who had no extensive formal training in either field.
According to Giacosa, this can happen because a range of uncontrolled variables influenced the control subjects in different ways, making them more similar to one group or the other. "Contrary to that, our samples of dancers and musicians were specifically selected to be pure groups of experts, which makes it easier to differentiate between them."
Virginia Penhune, professor in Concordia's Faculty of Arts and Science and chair of Concordia's Department of Psychology, is the study's senior author. She notes that this research deepens the current knowledge about how regions of the brain are connected in networks, and how these structural networks change with training.
"This work has major potential for being applied to the fields of education and rehabilitation," Penhune says. "Understanding how dance and music training differently affect brain networks will allow us to selectively use them to enhance their functioning or compensate for difficulties and diseases that involve those specific brain networks."
Some studies have already shown how music training at a young age can improve various cognitive skills, but dance has yet to be used in a similar way.
"Recent research has started to show some improvements with dance and music therapy in patients affected by Parkinson's disease and children with autism respectively, but much more can be done with these and other diseases," says Penhune.

*Partners in research: The co-authors of this study — Chiara Giacosa, Falisha J. Karpati, Nicholas E.V. Foster, Virginia Penhune, and principal investigator Krista L. Hyde — are all members of the International Laboratory for Brain, Music and Sound Research. Foster and Hyde are also part of McGill University's Faculty of Medicine. Karpati and Hyde are also part of the Department of Psychology at l'Université de Montréal. This study was funded in part by the Natural Sciences and Engineering Research Council of Canada.
Find out more about Concordia's Department of Psychology.
---
---
Back to top
© Concordia University