Rolloween and Maker Faire
Ask our Experts
Posted on October 29, 2018
With Halloween just a few days away, 10-year-old Émile Laliberté is all set for trick-or-treating. And being confined to a wheelchair isn't stopping him from showing off what will surely be of the more striking costumes in his Repentigny neighbourhood.
Émile will be wearing an elaborate dragon costume, complete with Styrofoam castle and featuring eyes lit by LED screens, 3D-printed scales and motorized wings.
The group responsible for the costume—dubbed "Rolloween"—is Duct Tapers Anonymous, a volunteer organization inspired by a US not-for-profit that makes costumes for children in wheelchairs. They received help from members of Concordia University's Milieux Institute for Arts, Culture and Technology.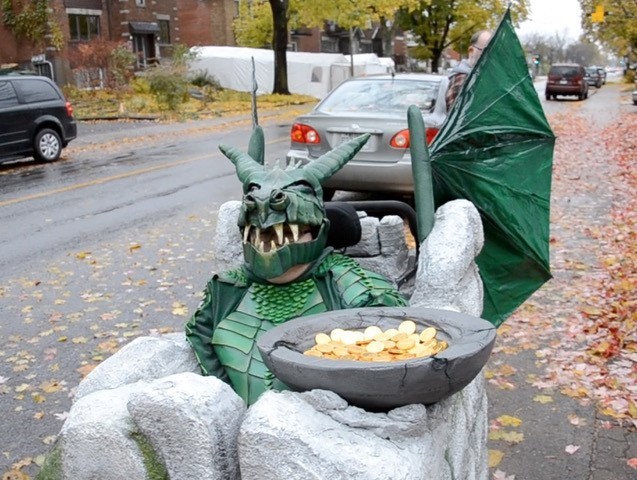 Émile will be using the costume on Halloween, but "Rolloween" and several other creations demonstrating a similar high-tech flair will be on display at the Montreal Mini Maker Faire, running November 16-17 at Concordia. This celebration of Maker culture combines experiential "hands-on" learning and a fascination with technology, a DIY ethos and a sense of fun. It will draw together dozens of exhibitors from Montreal and beyond including these:

Education makers
Milieux Institute students Bora Bodur and Maker Faire coordinator Nathalie Duponsel will be running a youth table, highlighting the work by youth groups with whom they do research as well as partners such as Duct Tapers Anonymous.
Bora can be reached at boraugurbodur@gmail.com and Nathalie at nwduponsel@gmail.com.

Dave's Rocket Shop
Dave Clark builds, flubs, fixes and launches his own self-made rockets. See for yourself on his YouTube channel or on his web site, www.davesrocketshop.com. He is also on Twitter @DavesRocketShop.

Darrell Maloney, the Broken Nerd
Darrell is a 3D modeler, content creator, graphic designer and prop maker. His YouTube channel takes viewers into the amazingly creative world of 3D printing and creation.
He can be contacted at thebrokennerd83@gmail.com or on Instagram and Twitter @TheBrokenNerd83.

GenieMob's Connected Musicians
Faire-goers can play a ¾-scale laser cut musical instrument embedded with a battery- and buzzer-attached microcomputer, link up with other participants and create a short jam.
GenieMob's Evelyne Drouin can be contacted at geniemobmtl@gmail.com and at geniemob.ca.

Star Wars droids: R2D2 to BB8
Québec Astromech builds functioning, full-sized model droids from the Star Wars universe using different methods and materials.
Check out their Facebook page or their YouTube channel to learn more. Quebec Astromech's Frederic St-Amour can be reached at m6317@hotmail.fr.

MR-30 and Bucci: Biomaterials and biotextiles
Work from the Milieux Institute's biolab will be at the Mini Maker Faire, including Bucci, a dress made with bacterial cellulose and embedded 3D patterns, and the MR-30, which displays the potential of mycelium (a type of mushroom root) in public transport design.
Reach Théo Chauvirey via the Milieux Institute at milieu.institute@concordia.ca or at 514-848-2424 ext. 5994.