Art Volt mentorship program enters into partnership with Maison de la culture Côte-des-Neiges
As the deadline for the call for applications approaches, Art Volt provides 6 new opportunities for mentees in art centres across the city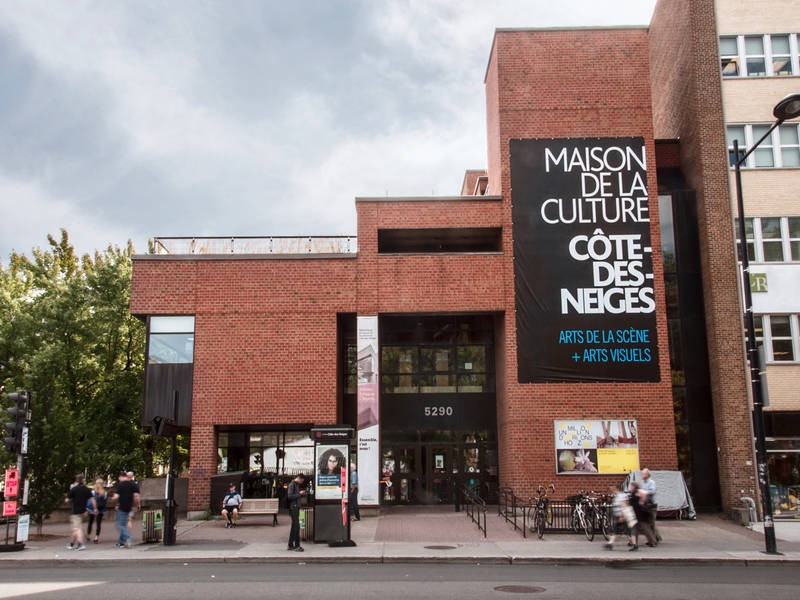 Exterior, Maison de la culture Côte-des-Neiges. Photo by Colin Earp-Lavergne.
Art Volt, the Concordia-based platform aimed at supporting recent Fine Arts graduates and connecting them with the professional art milieu, is accepting submissions for its mentorship program until May 29.
Fannie Gadouas, the coordinator of the program, says that new professional opportunities are now available for this year's cohort, including a partnership with the Maison de la culture Côte-des-Neiges and five local art centres.
"Our goal is to help recent graduates integrate Montreal's cultural ecosystem, whether it be through giving mentees access to tools and production spaces, or through more informal and flexible partnerships that can lead to various opportunities, such as with the Maison de la culture in Côte-des-Neiges," Gadouas says.
Art Volt's mentorship program pairs recent Fine Arts graduates with mentors who are industry professionals in their chosen field. Meetings with mentors begin this summer, and will continue until spring 2023. Each mentee will receive a minimum of 20 hours of direct mentoring.
In its third year, the program has grown by leaps and bounds, says Gadouas. In the first year, the program welcomed 10 mentees; 18 on the second; and 22 this summer. Importantly, Art Volt continues to establish new institutional partnerships that will endure over time.
"I am very pleased that the success of the last two years of the program has not only allowed us to add more mentors and mentees each year, but also new opportunities for them," Gadouas says.
An extraordinary entry point to present work professionally
The partnership with Maison de la culture Côte-des-Neiges ensures the development of at least one mentee's artistic project per cohort .
"I think that the Maisons de la culture, like the one in Côte-des-Neiges, are an extraordinary entry point for students who want to present their work in a professional context," said Colin Earp-Lavergne, who manages the programming at the Côte-des-Neiges maison.
"As the largest municipal cultural network in Canada, it's important that mentees have access to our network, that they learn what it is, and how it works," he adds.
As multidisciplinary centres managed by the city of Montreal, the maisons offer a varied artistic program (theatre, dance, music, visual arts, cinema), free of charge to the public.
Access to space is a barrier to creation for emerging artists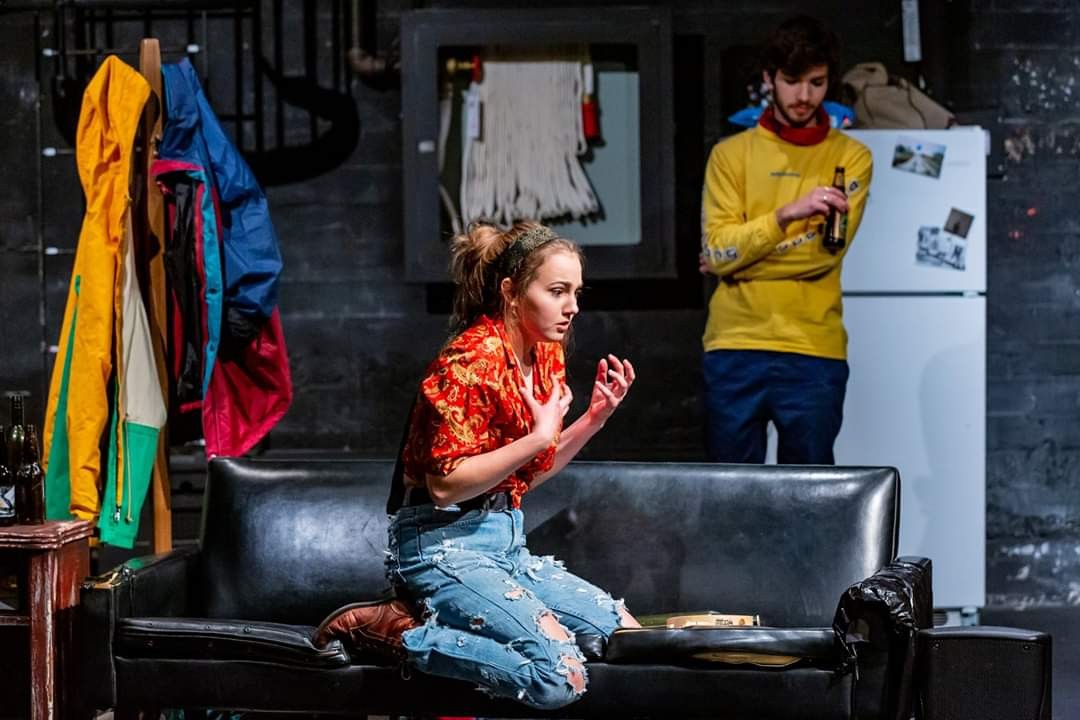 Alumna Masha Mariia Bashmakova performing as a Concordia Theatre student in the department production of Apathy. Credit: Antoine Saito.
Art Volt mentee from the first edition, Masha Mariia Bashmakova, a Performance Creation BFA graduate (2020), began a two-week artistic residency with the Côte-des-Neiges Maison de la culture to develop her own project that she has entitled Plastic People.
"After two years of finding ways to make art in the confines of my apartment and digital space, being in a real, stunning theatre with tech support felt like returning to my craft," says Bashmakova.
"Rehearsal, let alone theatre space, is one of the biggest barriers to creation for emerging artists, and by offering residency space to recent graduates, Maison de la Culture offers opportunities for projects to go from exploration to pre-production stages. So far, I've been able to collaborate with dancers, actors, and artists, rehearse for an upcoming project, and use the space to see a project I had developed in an audio/video format finally projected onto a 3D space," she adds.
A partnership focused on making human connections
Art Volt and Côte-des-Neiges have committed to working together again for three years.
"For us, the important thing is to find at least one student, each year, who could benefit the most from our facilities, and to focus on the human connection with them, on what we can create together," says Earp-Lavergne.
In addition to the partnership with the Côte-des-Neiges maison, Art Volt is adding five new mentors with connections and benefits at other local arts centres: MAI (Montréal Arts Interculturels; multidisciplinary), Vidéographe (film and video art), L'imprimerie (print and photographic arts center), OBORO (visual arts), and Studio 303 (performance art).
To see the full list of participating mentors this, you can go to the Art Volt website and follow the instructions on the call for submissions.
Learn more about the Art Volt Mentorship program.
---