Design and Computation Arts professor honoured with President's Excellence in Teaching Awards

Annual celebration highlights Concordia faculty's commitment to the classroom

This month, Concordia is celebrating the accomplishments of four inspired teachers by honouring them with the President's Excellence in Teaching Awards.
"These Concordians represent the best of the best," says President Alan Shepard.
"We ask a lot of our professors, and they deliver strong, innovative teaching that complements the university's research activities."
The 2013-14 winner from the Faculty of Fine Arts is Santo Romano, part-time faculty member in the Department of Design and Computation Arts.
Alan Shepard was present the 2013-14 President's Excellence in Teaching Awards to Philippe Caignon, Lyes Kadem, Lan Lin and Santo Romano at a special reception on June 4.
Santo Romano: Award for Excellence in Teaching
Santo Romano, a part-time faculty member in the Department of Design and Computation Arts, carries his experience as a rock 'n' roll singer into the classroom.
"What the musician brings to the environment, the audience gives back," he says. "It turns into this beautiful, reciprocal relationship — this symphony of energy."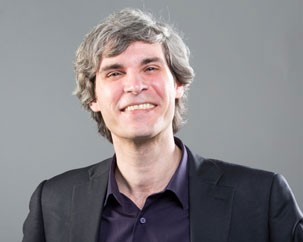 He applies the same principle to his teaching, with the aim of connecting with his students on their own level. Dozens of letters in support of Romano's nomination for the President's Excellence in Teaching Awards prove that his approach works.
"His enthusiasm for the subject matter feeds into the energy of the class and makes for a passionate lecture each and every time," one reads.
As another says, "Any class he teaches will inspire, challenge and motivate you to do work you never believed possible."
Joanna Berzowska, chair of the Department of Design and Computation Arts, nominated Romano for the award. In her mind, there was no question that he deserved it.
"He truly and seamlessly moves between the worlds of art and design and academia and commercial practice, giving students the tools to develop proficiency as professionals and instilling in them the confidence, core skills and abilities essential to their success."
Romano believes that his ability to do that hinges largely on his rapport with his classes.
"It's about looking at our relationship as a partnership more than anything else. It's about trying to give these young people the feeling that somebody believes in them, and that they can actually do this stuff. If you can communicate that successfully to your students, then they'll give it back to you a hundredfold."
Romanos is joined by fellow recipients Philippe Caignon, associate professor and chair of the Département d'études françaises; Lyes Kadem, associate professor in the Department of Mechanical and Industrial Engineering; and Lan Lin, assistant professor in the Department of Building, Civil and Environmental Engineering.
Learn more about the recipients from Concordia's other faculties.
---