Concordia professor ranks among the 10 best in Canada
Philippe Caignon has been awarded 3M National Teaching Fellowship, the country's highest honour for university instructors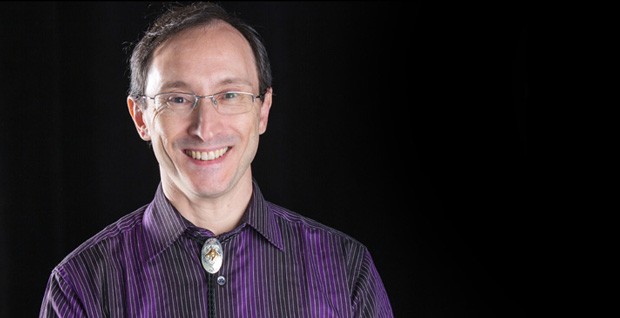 3M National Teaching Fellow Philippe Caignon: "I want my students to create, invent and innovate." | Photo by Concordia
Philippe Caignon's commitment to his profession has earned him Canada's highest honour for university instructors: a 3M National Teaching Fellowship. Presented to 10 professors every year, the award recognizes exceptional contributions to teaching and learning.
"This honour is a reflection of Concordia's commitment to providing our students with the most stimulating classroom experience," says Alan Shepard, the university's president. "Our faculty members are dedicated to their teaching practice and creative in communicating their passion for learning."
Caignon, an associate professor and chair of the Département d'études françaises, is honoured to receive the fellowship. "As a teacher, it is incredible to have your work recognized with an award like this one," he says.
Concordia's former vice-provost of teaching and learning Ollivier Dyens — now deputy provost of student life and learning at McGill University — was unequivocal in his endorsement of Caignon. "I have known Philippe Caignon for more than 13 years. Throughout my university career, I have never known a teacher as dedicated, generous and devoted as him."
Philippe Caignon: "I want my students to amaze me"
Caignon came to Concordia as a part-time professor in 1999. His dedication was immediately apparent to his peers, and in 2007 he won the Arts and Science Faculty Award for Teaching Excellence. Every single member of Caignon's department endorsed his nomination.
His colleagues were similarly supportive of his candidacy for the 3M Fellowship. "From the beginning of his career in the department, Caignon has refused to settle into a comfortable teaching routine. He's always looking for new ways to enrich his students' education," says Lucie Lequin, a professor of in the Département d'études françaises. Lequin nominated Caignon for the award.

Caignon credits Janette Barrington, a teaching consultant at Concordia's Centre for Teaching and Learning Services (CTLS), with helping him grow as a professor in recent years.
In 2008, Barrington invited Caignon to lead a seminar on university teaching for graduate students. Before accepting the gig, he sat in on one. "I was amazed by her competency and knowledge," he says. "She opened my eyes to a lot of theory and practice in university teaching that I was not aware of."
Caignon taught the seminar for the CTLS, but he also applied much of what he learned from Barrington to his own translation and terminology classes. The principle he calls "pedagogical transparency" guides much of his practice.
"Everything I do, I have to explain to my students why I do it. I think it's one of the best things for students, to know that their professor not only knows the material but also understands how to transfer it to them in a really pedagogical way."
Caignon encourages his students to take ownership of everything they are learning. "Professors play with their knowledge, and I want my students to do the same. I want them to create, invent and innovate, and make sure they know that just because they're students doesn't mean they're not allowed to think like a professional or an expert in their domain."
Two tools Caignon uses often in his classes are blogs and wikis. "They allow students to express their knowledge in their own special, individual way," he says.
Through his classes, he encourages students to explore the limits of digital publishing platforms like these. "I don't want them to give me what is typical. I want them to give me something that will amaze me — something that's so different that I don't expect it. And they always do it!"
Empowerment is the keystone of Caignon's teaching philosophy. And as one of Caignon's former terminology students points out, his commitment is contagious.
"Caignon's passion is the sort that gives you the strength to stay the course, knowing that nothing is too rigorous for the curious spirit, that nothing is really beyond the limits of those with enough patience, courage and passion," says Maroussia Beaulieu. "Only an outstanding teacher can teach you lessons that will stay with you for the rest of your life."
The Society for Teaching and Learning in Higher Education (STLHE) and 3M Canada created the 3M National Teaching Fellowship in 1986 to recognize exceptional contributions to teaching and learning at Canadian universities.
Rather than a cash prize, the 3M National Teaching Fellowship allows new winners from across the country to gather together for an event. They are encouraged to engage in discussions on teaching and learning, and to find innovative ways to improve university education in Canada.
Read about Concordia's 2013 3M National Teaching Fellow, marketing professor Jordan LeBel.
---