Celebrating the journalism grads of 2020 and 2021
The department catches up with recent graduates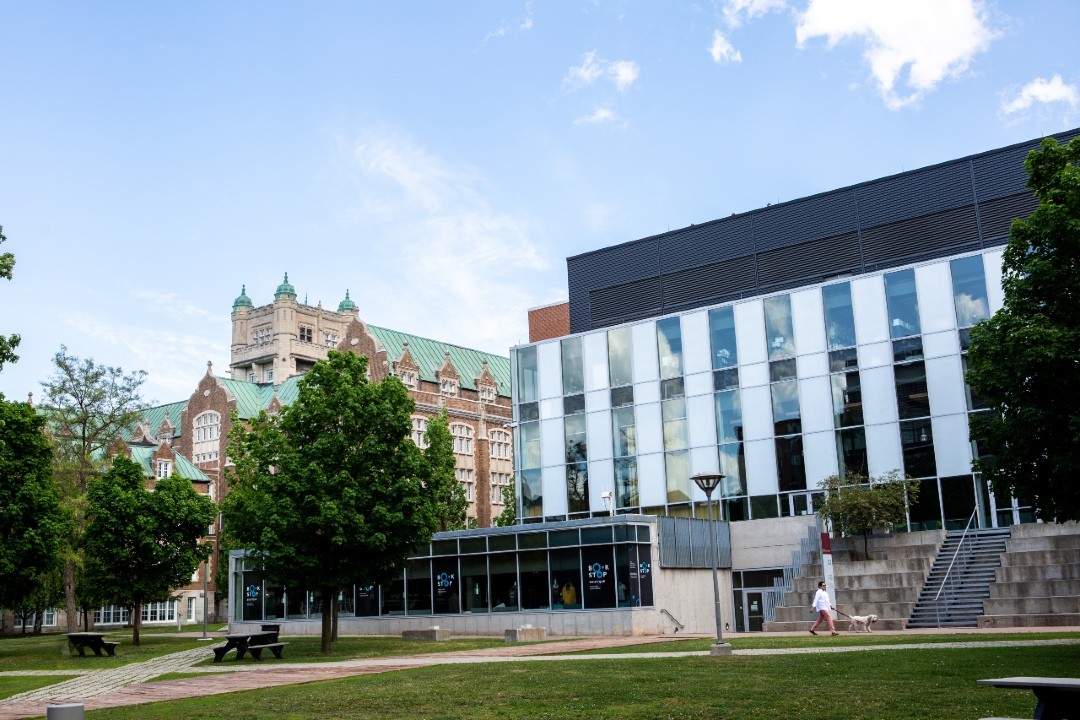 As we celebrate our 2020 and 2021 graduates with in-person convocation ceremonies that were delayed due to the pandemic, the Department of Journalism is excited to catch up with a few recent graduates.
Tom Lundy, who has a BA in Marine Zoology, began the one-year Graduate Diploma in Journalism program in 2020. Since graduating last year, he's been working for Canadian Geographic as an assistant editor.
"Studying remotely prepared me well for working remotely, so I can't say there weren't positives to studying during the pandemic," says Lundy.
"Canadian Geographic is really a dream job for me. I get to write about the things I'm passionate about. I'm very glad I chose to do the graduate diploma as it allowed me to get where I wanted to be."
Lundy says completing the program entirely online bonded his cohort and prepared them for remote work.
"I also gained a great community of journalist friends during my time at Concordia. We all went through the same trials together so we can all relate to each other's challenges post-graduation," he says.
"As a journalist you need to be able to work independently and in a bunch of not-ideal scenarios. Studying during the pandemic gave me good survival skills for working in this industry. We can take pride in the fact that we completed the program on hard mode – maybe employers will recognize and reward that."
'I couldn't be prouder of where I am'
For John Ngala, the pandemic hit at the end of his studies in the Major in Journalism program. After finishing his classes in 2021, he's now a TV reporter for CBC Montreal.
"It's been a worthwhile journey. I couldn't be prouder to be where I am," says Ngala, who also interned at La Presse during his studies.

"I stayed curious, consistent, worked hard, made connections, put myself out there, and most importantly trusted myself," he says.
"Hopefully, I can continue to make strides and tell impactful stories. Because there are not many like me in the field and I want to be an example for the next generation of young BIPOC reporters."
'Experiment with innovation'
Caio Colagrande Castro graduated with a Master's in Digital Innovation in Journalism Studies in 2021, creating an interactive journalistic podcast on a website he coded about the history of his family in Brazil called The Brazilian Fairytale.
The goal of his podcast was to analyze what interactivity is, how it is applied to other media, how to combine it with podcasts, and what the challenges are in doing so. He also experimented with tools for enhancing the audio experience and discovered that there was none for interactivity or for people with hearing disabilities, like himself.
As a result, he created a metro map resembling Brazil's map, and each station is one different episode, allowing users to navigate across episodes at their own pace.
"It was a great journey," he says. "The time I spent at Concordia was a period when I could think about and experiment with innovation in a way that sometimes we can't in a professional environment. It was also a professional turning point in my life, enabling me to start building an international career that has been changing my life ever since."
Pursuing interdisciplinary research
Taylor Kann also graduated from the MA program during the pandemic and her research focused on issues of hype in science journalism about synthetic biology, building off 2012 research regarding the Four Models of Science Journalism by faculty members David Secko and Elyse Amend and University of Ottawa's Terrine Friday.
Her research examined whether it was possible to create a fifth model of science journalism which solely addressed issues of hype in science news coverage.
"My experience with Concordia's MA department was superb," she says. "Concordia has definitely played a significant role in allowing me to pursue interdisciplinary research."
After graduating in 2020 she began her PhD in Concordia's Individualized Program in Humanities.
Her doctoral research focuses on media portrayals of clinical applications of synthetic biology, namely the mRNA coronavirus vaccines, aiming to understand how media portrayals of the mRNA COVID-19 vaccines has impacted public attitudes and opinions towards vaccination.
"I am confident that my PhD will open doors for opportunities in both academic research and industry," she says.
"My doctoral committee at Concordia, which includes Dr. David Secko, Dr. Elyse Amend and Dr. Brandiff Caron, have been hugely helpful in terms of pushing me to produce rigorous work and to consider my future career options both inside and outside of academia."
An unplanned career trajectory
Kayla-Marie Turriciano graduated in the Major in Journalism program in 2021 and has since been working at Il Cittadino Canadese, Canada's Italian newspaper founded in 1941, as a social media manager and reporter.
"It's been such a wonderful experience," Turriciano says.
"I'm grateful to be here and for the somewhat unplanned trajectory of my career; it brought me closer to my heritage, my Italian has improved significantly, and it has brought forth a passion to try to preserve our heritage in the younger generations of Italian-Canadians. I'm very grateful for the privilege of improving my Italian and deepening my connection to my roots on a daily basis."
Turriciano says she's proud to report on her community's stories and attempt to modernize and increase readership of the historic newspaper. And while the pandemic delayed her graduation, she says she's happy to cross the stage at convocation.
"I'm excited to finally cross the stage at convocation and close the chapter of my undergrad," she says. "I think I will feel more accomplished as it is a milestone for my family as I am one of only a few to attend and graduate university."
Learn more about Concordia's Department of Journalism.
---