Films
LOVE IN THE TIME OF FENTANYL — Montreal premiere with protagonist Trey Helten!
---
DATE & TIME
Monday, March 27, 2023
7 p.m. – 9:30 p.m.
SPEAKER(S)
Protagonist Trey Helten
WHEEL CHAIR ACCESSIBLE
Yes
---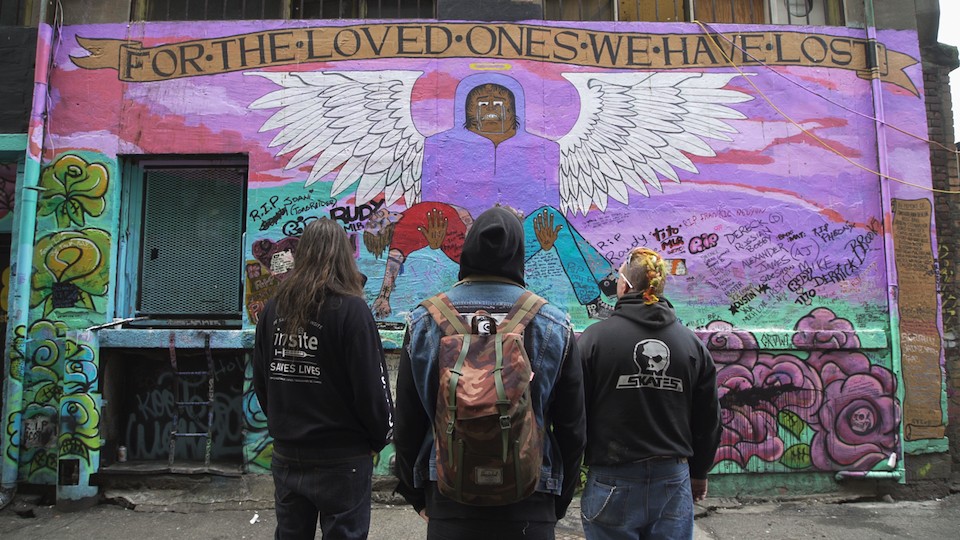 Join Cinema Politica Concordia for the Montreal premiere of LOVE IN THE TIME OF FENTANYL, followed by a Q&A with protagonist Trey Helten, moderated by Pierre Parent from the Indigenous Street Workers Project.

This crucial doc takes us in close to Vancouver's Downtown Eastside, whose frontline workers and residents have taken safe injection and community care into their own hands.
ABOUT THE FILM
LOVE IN THE TIME OF FENTANYL
Colin Askey / Canada / 2022 / 1h20m / English
Set in Vancouver's Downtown Eastside, LOVE IN THE TIME OF FENTANYL is an intimate, observational look beyond the stigma of injection drug users, revealing the courage of those facing terrible tragedy in a neighbourhood often referred to as ground zero of the overdose crisis.
As the number of overdose deaths in Vancouver reaches an all time high, the Overdose Prevention Society (OPS) opens its doors — a renegade safe-injection site that employs primarily current or former drug users, its staff and volunteers save lives and give hope to a deeply marginalized community as the overdose crisis rages.
The film follows Sarah, an activist who opened OPS without government approval, as she strives to raise awareness about the crisis; Trey, a graffiti artist and former heroin user who spends his days reversing overdoses and memorializing lost community members; Ronnie, a seasoned frontline worker nicknamed Narcan Jesus, struggling with burnout from the demanding work and witnessing so much loss; Norma, a much-loved Indigenous elder in the community, who cooks meals for the staff when she's not administering naloxone; and Dana, an active fentanyl user who constantly saves lives at work while struggling with his own drug use.
With loved ones dying in unprecedented numbers, the staff at OPS does whatever it takes to keep the doors open and find radical new ways out of the devastating but widely ignored crisis ravaging their community.
EVENT DETAILS
This event is co-presented by l'Association Québécoise pour la promotion de la santé des personnes utilisatrices de drogues (AQPSUD).
Admission is by donation ($5-10 suggested). The venue is wheelchair accessible. In order to prevent the spreading of COVID 19, wearing a mask at Cinema Politica Concordia events is strongly recommended.
---