Theatre
Subject & Creation
---
DATE & TIME
Thursday, December 1, 2022
8 p.m. – 10 p.m.
Other dates
WHEEL CHAIR ACCESSIBLE
Yes
---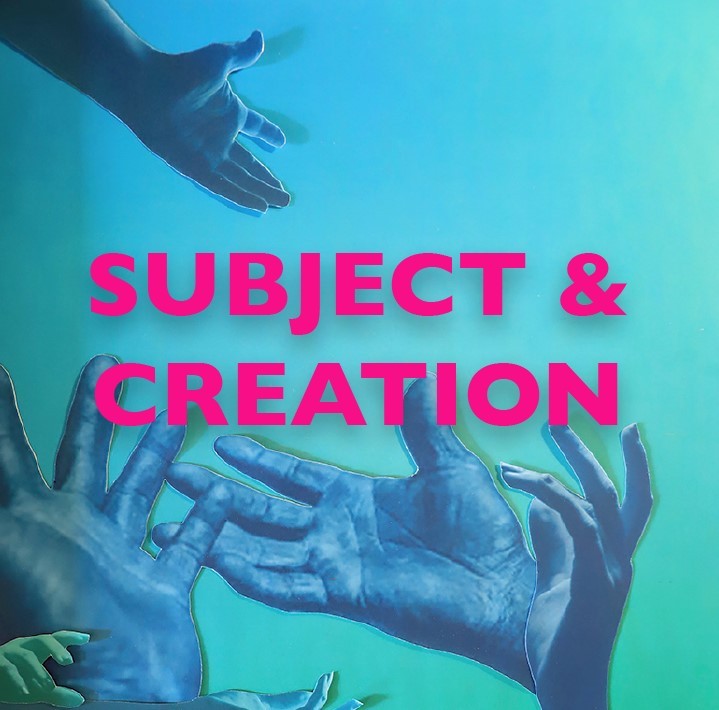 Poster design by Georgia Newsam
Subject & Creation, Directed by Peter Farbridge
Show Times:
Opening
December 1, 2022 at 20:00
Performances
December 2 and 3 at 20:00
SUBJECT & CREATION
I saw Ōta Shōgo's Mizu no Eki when his production was touring around the world in the late 1980s. I'd never seen a slow tempo, silent play before. I remember the challenge of giving over my teenage brain to it. I remember the euphoria of being suspended in the temporal world of its characters. I never forgot it.
By slowing down time, by removing spoken language, The Water Station offers its audiences an escape from the world's cacophonies. It is a manifestation of a death–perhaps not a physical death, but a death of a certain human ego that leads to self-destruction.
Ōta Shōgo developed an artistic aesthetic he called the Theatre of Quietude which explores emptiness of space, silence and slowness. His focus on "being" instead of "doing" on stage highlights human fragility and an existentialist human perspective. In the play, weary travelers encounter an intriguing stream of water and a pile of junk made up from objects other travelers have left behind.
"Subject and Creation" is the name of the course surrounding our adaptation of Ōta Shōgo's Mizu no Eki. We looked at how we as performers/creators can bring our cultural, gender, physical and neurological subjectivities into creation, and what are the socio-political and ethical questions come out of that. We questioned our relationships to each other, and the power structures present in our rehearsal practice. We questioned our use of the dramatic material and preparatory techniques, and brought in guest artists to help us navigate this. Our investigation embraced a fluid, non-rules based approach to rehearsal practice founded in a dynamic ethics of creation.
Peter Farbridge

OTA SHOGO
Ōta Shōgo was born in China to Japanese parents in 1939, on the eve of WWII. As a child, his family, along with other Japanese nationals, were forcibly expelled from China to make the long, difficult journey back to Japan on foot, allowed to take only what they could carry. Shōgo vividly recalls seeing piles of refugees' most precious belongings that were eventually discarded when they were too burdensome to carry. These images and the idea of 'divestiture' stayed with him, and as an adult he chose to explore those themes through his art. Ōta began writing plays in high school. In 1968 he helped found Tenkei Gekijō (Theatre of Transformation) for which he served as house playwright and artistic director until the group was disbanded in 1988
CREATIVE TEAM
Creators, Armias Azariya, Aidan Cottreau, Ian Crane, Peter Farbridge, Léa Fournier, Violette Perron, Julia Pye, Kaleigh Wiens
Director, Peter Farbridge
Stage Manager-Assistant Director, Léa Fournier
Music and Sound Designer, Ian Crane
Video Designer, Aidan Cottreau
Set & Lighting Designer, Peter Farbridge
Ice Block Designers, Dominique Coughlin, Marlène Lucas
Technical Director, Elisabeth Nyveen
Production Assistant, Maryam Nour
Costumes, The Ensemble
Guest Artists, Mariko Tanabe, Laurie-Anne Langis, Philippe Racine
Volunteers, Banafsheh Hassani
Program text, Kaleigh Wiens
CAST
In order of appearance
The Little Girl, Julia Pye
Man A & Man B, Armias Azariya & Aidan Cottreau
Woman with A Parasol, Léa Fournier
Husband & Wife, Ian Crane and Kaleigh Wiens
The Person in the Junkheap, Julia Pye
The Addict, Violette Perron
The Caravan, All
The Man with the Huge Load on His Back, Ian Crane
SPECIAL THANKS
All the team at the CDA, Alvino Alberto Forbes, Anika Paterson
PRODUCTION STAFF
Jen Strahl, Supervisor, Performance Production and Venues
Ted Stafford, Stage Supervisor, D.B. Clarke Theatre
Tristynn Duheme, Technical Coordinator / Lighting
Pietro Cerone, Technical Coordinator / Sound and Multimedia
HeatherEllen Strain, Performance Production AssistantTim Rodrigues, Lighting Coach
John Davis and HeatherEllen Strain, Front of House & Box Office Coordinators
PRODUCTION ASSISTANTS
Banafsheh Hassani
Damien Lovejoy
COSTUME SHOP
Laura Acosta, Head of Costume Shop
Stefne Vallandigham, Eija Loponen Stephenson, Work Study Students, Costume Shop
Leeza Bouchard, Marian Fernanda Briones Sanchez, Gabriella Torchia, Costume Shop Crew
SCENE SHOP
Marlène Lucas, Head of Scene Shop
Lauryn Andersson, Adlin Loud, Breagh Lunn,
Scene Shop crew
PROPERTIES SHOP
Dominique Coughlin, Head of Properties Shop
Ian McCormack, Work Study Student
Keegan Edwards, Izzy Walker-Sherman, Properties Shop Crew
LIGHTING & SOUND CREW
Khushi Chavda, Nicole Kritzinger, Shohreh Lajevardighomi, Naomi Levy, Abigail Sanie
FULL-TIME FACULTY
Meghan Moe Beitiks, Assistant Professor
Raymond Marius Boucher, Senior Lecturer, Artistic Producer
Ana Cappelluto, Professor
Jessica Carmichael, Associate Professor
Micheline Chevrier, Artist-in-Residence
Noah Drew, Associate Professor, Department Chair
Peter Farbridge, Artist-in-Residence
Gene Gibbons, Associate Professor
Shauna Janssen, Associate Professor, Concordia University Chair in Performative Urbanism
Menka Nagrani, Limited Term Appointment
Ursula Neuerburg-Denzer, Associate Professor
Robert Reid, Associate Professor
Luis C. Sotelo Castro, Associate Professor
Mark Sussman, Professor
ADJUNCT PROFESSORS
Floyd Patrick Favel
Emma Tibaldo
PART-TIME FACULTY 2022/23
Leslie Baker, John Battye, Suzanne Cerreta, Elisabeth Couture, Joe De Paul, Jean-François Gagnon, Amy Keith, Mark Krupa, Jonathan Monro, Lenka Novakova, Brian Mitchell Peters, Cathia Pagotto, Gabriela Petrov, Rose Plotek, Catherine Quirk, Anne Sabourin, Warona Setshwaelo, Harry Standjofski, Liz Valdez.
ADMINISTRATIVE STAFF
Maud David Lerebours, Department Administrator
Katherine Scribner, Department Assistant
Ka Kay Daisy Chung, Department Assistant
Chantal Colpron-Morris, Receptionist & Office Assistant
Visual Identity Design for Season 2022-23
Georgia Leigh Newsam
under the supervision of Raymond Marius Boucher
---