Studio arts, Workshops & seminars, Arts & culture
CiCA hosts Jaret Vadera and Tairone Bastien
---
DATE & TIME
Thursday, November 4, 2021
4:30 p.m. – 6 p.m.
---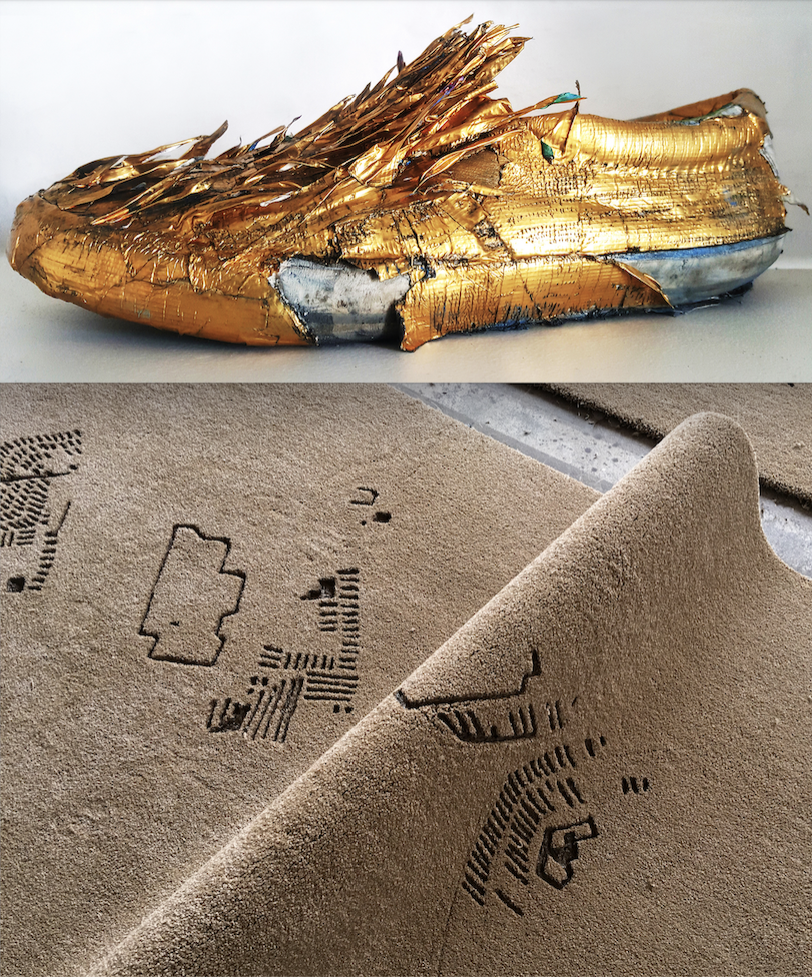 Top image: Jaret Vadera, Dollar Store Dragon, from the all that glitters series, 2018, duct tape, mixed tapes and discarded shoe, size 10 ½, Photo: Courtesy the artist. Bottom image: Hera Büyüktaşçıyan, Reveries of an Underground Forest (detail), 2019, carpets, dimensions variable. Commissioned by the Toronto Biennial of Art. Photo: Courtesy the artist and Green Art Gallery, Dubai.
Jaret Vadera is a transdisciplinary artist whose work examines how images colonize the ways we see the worlds around and within us. Vadera hacks different visual systems, and reconfigures them to rupture, self-destruct, or open up parallel ways of seeing. His work is influenced by decolonial theory, science fiction, and the study of impossible objects.
In parallel, Vadera has worked as a curator, organizer, and writer on projects that focus on art as a catalyst for cultural change. Jaret Vadera is currently based between Brooklyn, New York, and Montreal, Quebec.
Tairone Bastien (he/him) is an independent curator based in Toronto and an Assistant Professor in the Criticism and Curatorial Practice program at Ontario College of Art and Design University. Tairone co-curated the inaugural Toronto Biennial of Art in 2019 and is collaborating on the second edition in 2022. From 2011-2016, Tairone established the arts program at Alserkal Avenue and the Alserkal Residency in Dubai, for artists, curators, and researchers in the Middle East, North Africa and South Asia. From 2005-2010, he was a curator for Performa in New York City, co-organizing the first three editions of the ground-breaking biennial of live performance art. Tairone holds a Master of Art from the Center for Curatorial Studies, Bard College, New York; and a Bachelor's Degree in Art History with a Minor in Critical Studies in Sexuality from the University of British Columbia.
---