Accessing recorded lectures from the Moodle mobile app
Last updated: July 31, 2020, 9:57 a.m.
You can access the online lecture recordings for your courses through Moodle's and YuJa's mobile apps.
To access your online lecture recordings:
1. Open the Moodle mobile app on your device, and then select Dashboard. Your Moodle courses are displayed.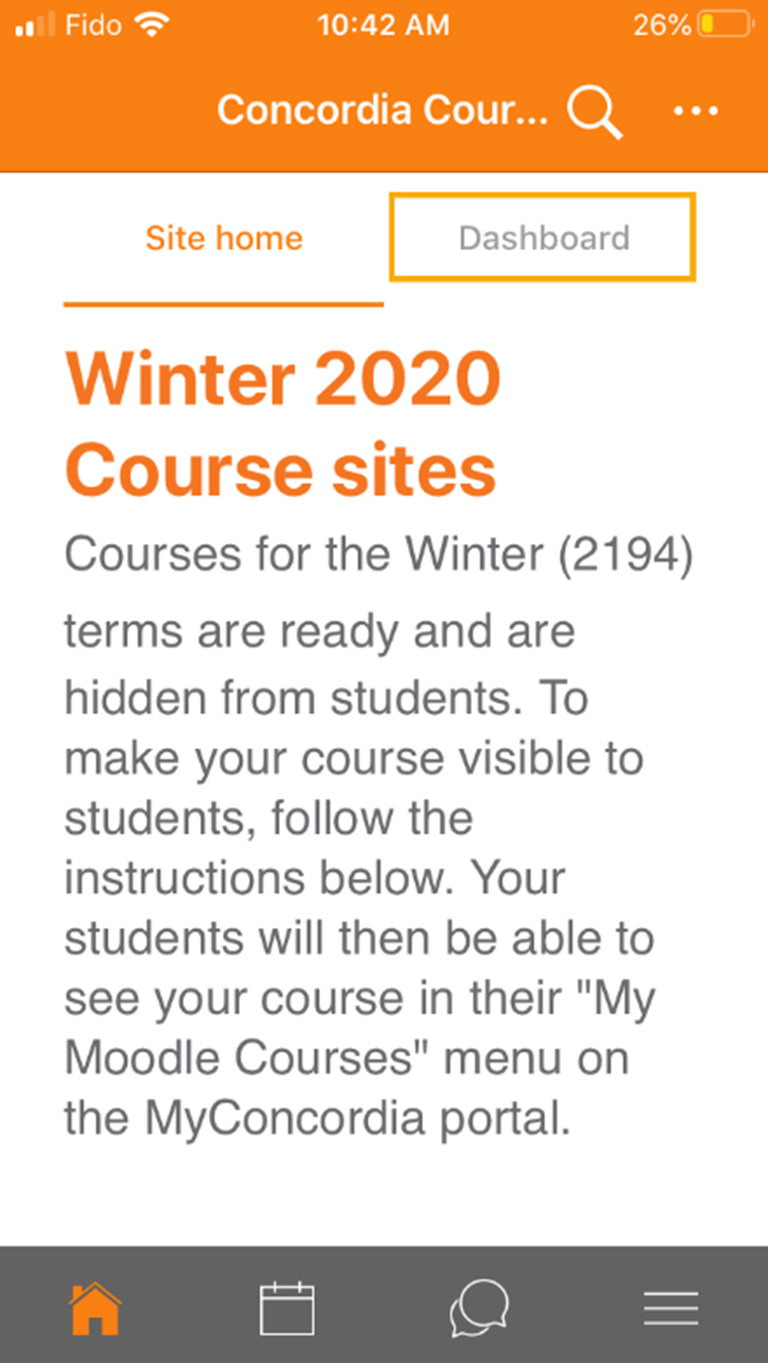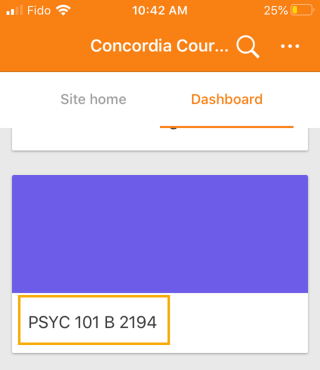 2. Select the name of the course you want to enter (e.g., PSYC 1010 B 2194).
The current week section is displayed on your course page (e.g., 14 March – 20 March).
3. Select the drop-down arrow to view more sections in the course.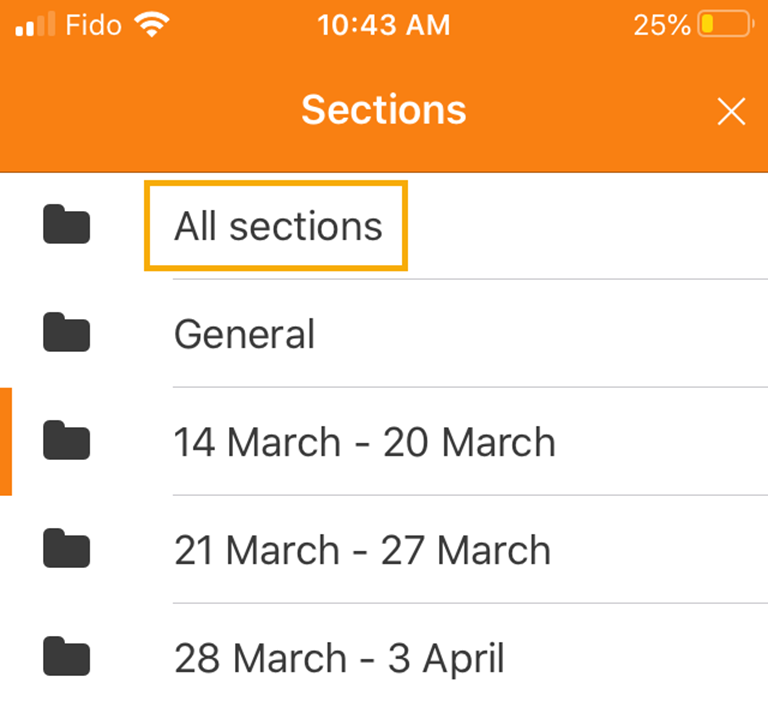 5. Select Lecture Recordings near the top of the course page.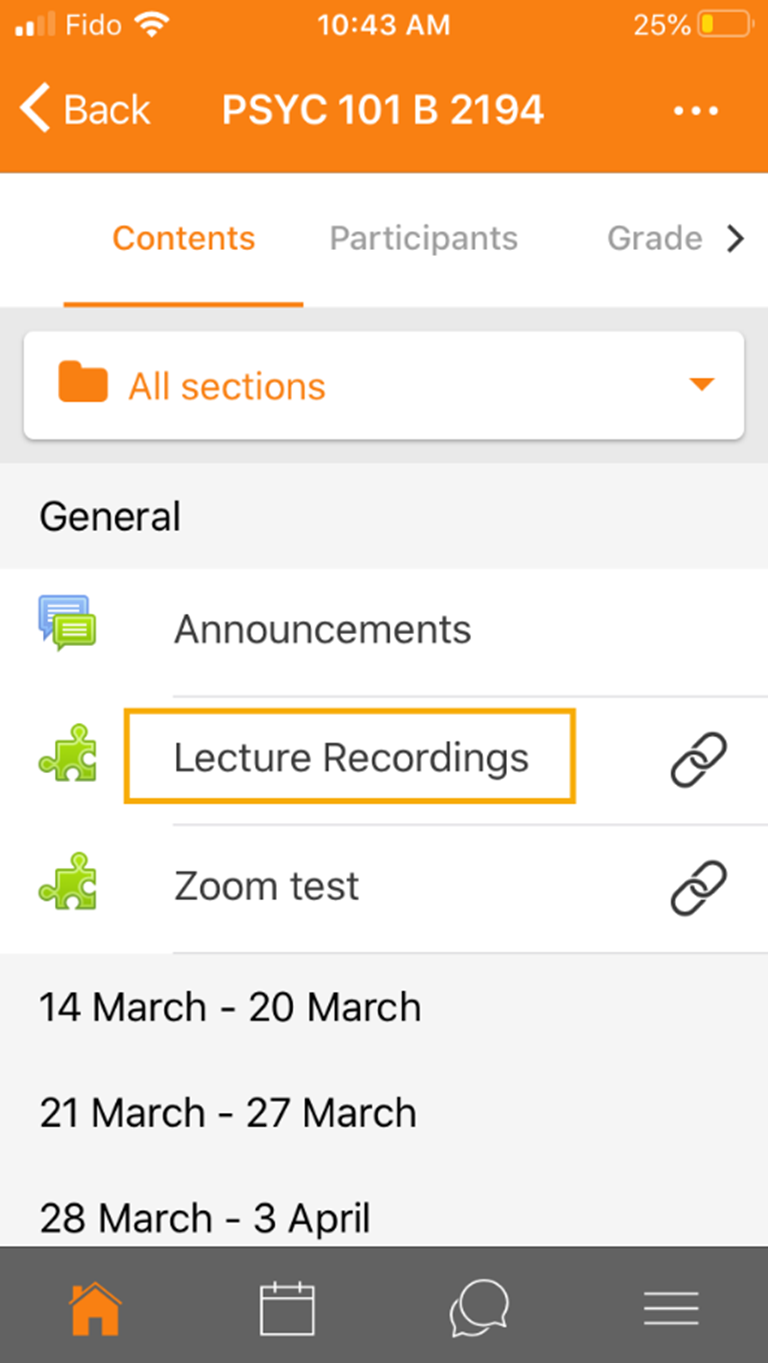 Note: Your instructor might have given a different name to the tool when adding it to the course. If you are uncertain which external tool link to use, please ask your instructor.
6. Select Launch the activity.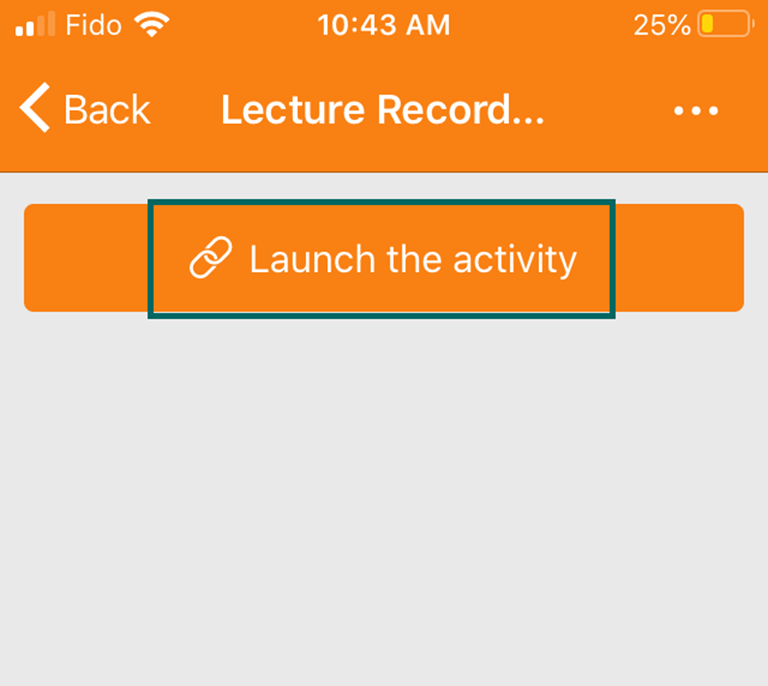 A prompt is displayed asking if you want to connect to YuJa by browser or by using the YuJa Mobile app.
7. Follow the instructions to install the latest YuJa Mobile app.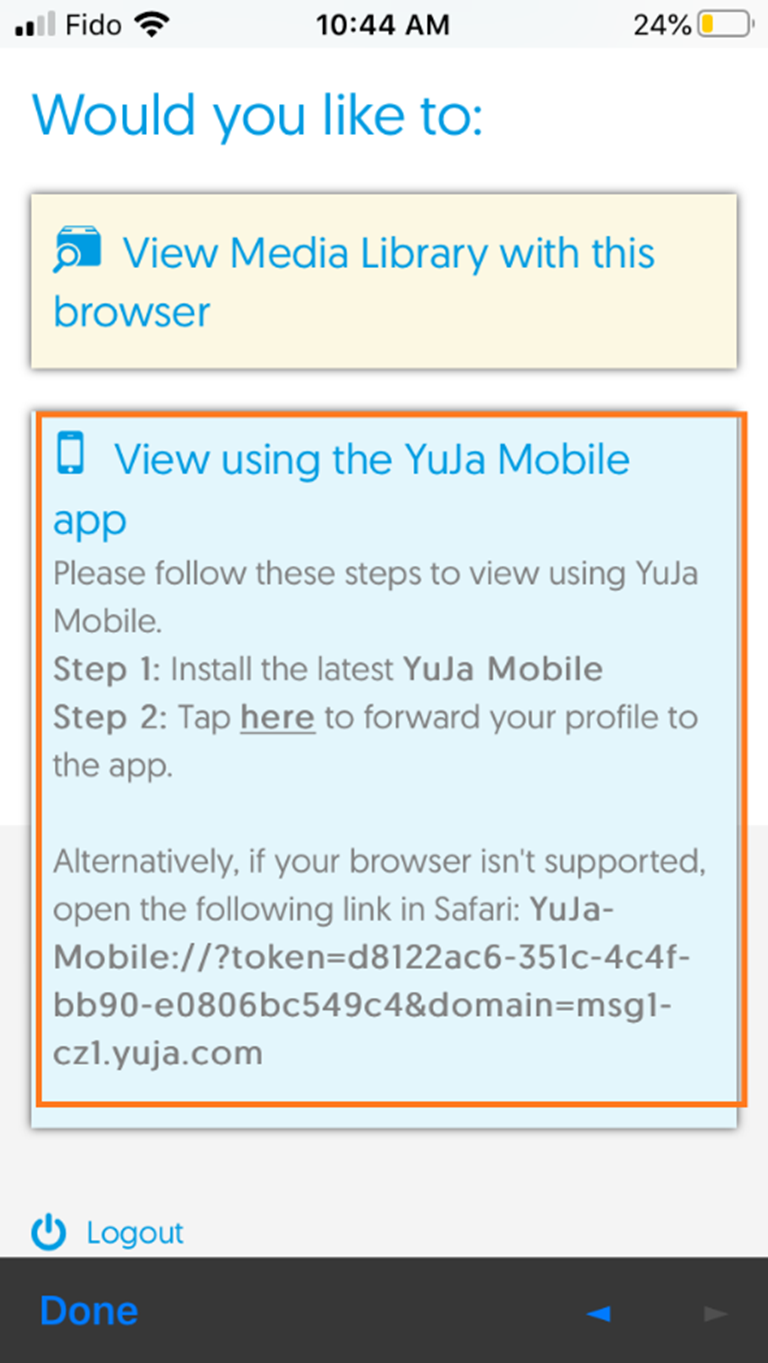 8. After the installation is complete, return to this page by reopening the Moodle mobile app, and then follow Step 2 by tapping the here hyperlink to forward your profile to the YuJa app.
Note: This step syncs your Moodle profile with YuJa Mobile so you can access to the course channel and videos in YuJa.
9. Select the YuJa Mobile link that is displayed at the bottom of the page.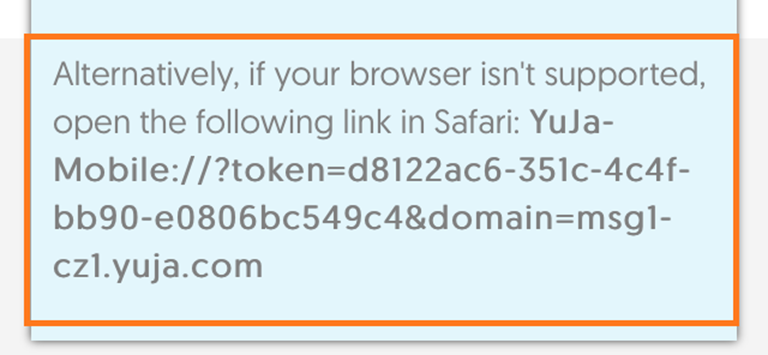 A dialog box is displayed asking if you want to open the page in YuJa Mobile.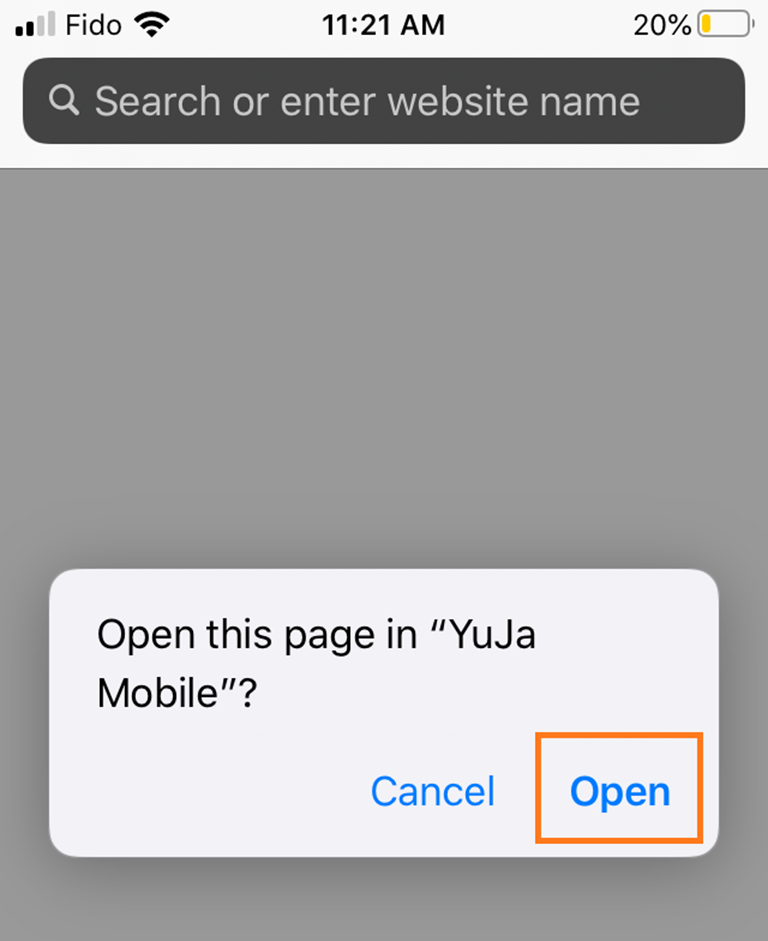 You are redirected to the YuJa Mobile app and your Media Channels are displayed.
Note: If you do not see all your current courses listed under Media Channels, please return to the Moodle app, locate and enter your course, launch the YuJa activity, and then repeat Steps 8-10 on this page.
11. Locate your course channel, and then select the video you want to play.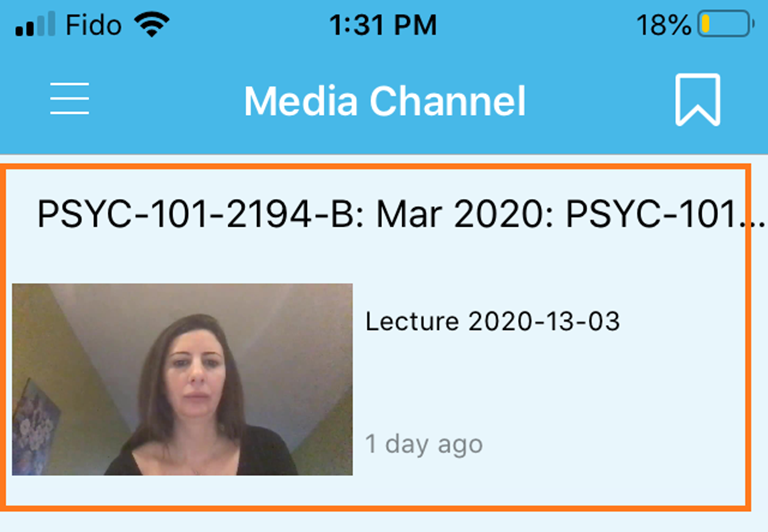 The video is displayed in the media player.
12. To view or download transcripts of the video, click Transcript.