An award-winning individual who 'dares to speak the unspeakable'
Concordia PhD candidate Laurence Parent attracts national recognition for her disability activism and scholarship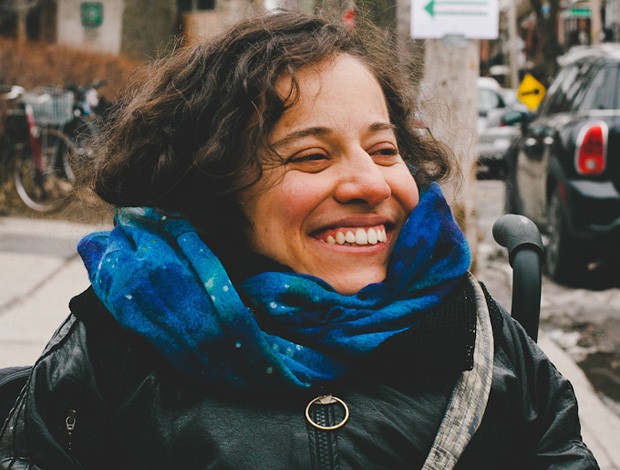 Laurence Parent's exclusion from Montreal's public transit system led her to pursue critical disability studies and activism. | Photo by Magdelena Olszanowski

Laurence Parent has dedicated the last decade of her life to exposing the inequalities inherent in public transportation — a form of passive discrimination rooted in the assumption that everyone can get around on their own two feet.
And now the Concordia University PhD candidate is being recognized for her efforts. Parent is the Francophone recipient of this year's Tanis Doe Award, which is given by the Canadian Disability Studies Association (CDSA) to "an individual who dares to 'speak the unspeakable' in advancing the study and culture of disability."
Parent accepted her award on May 30 via Skype during this year's CDSA conference in Calgary.
"I was very surprised. I didn't know that someone had submitted my name, " she says.
Catherine Duchastel, a former colleague of Parent's at York University, wrote in her nomination letter that "Laurence's political activism and artistic research are making it possible for other disabled people in Quebec to find their voices and see themselves represented in media and culture."
Parent is a member of the Critical Disability Studies Working Group at Concordia — which is part of the university's new Milieux Institute for Arts, Culture and Technology — as well as Québec Accessible, a lobby group fighting for provincial accessibility legislation.

Wheeling GoPro interviews
Last year Parent, who is a wheelchair user herself, collected the testimonies of 30 people with disabilities in Montreal and New York about the obstacles they face in getting around. She calls them wheeling interviews — "like walking interviews, but I call them wheeling because I use a wheelchair" — in which she straps GoPro cameras to both her wheelchair and that of her interviewee.
"For a lot of people it was their first time using the GoPro camera, so they were really excited. And some even got one after, because people go through ridiculous experiences sometimes, and having the camera gives you some power: 'This is recorded, so maybe I can use it to file a complaint,'" Parent says.
The wheeling interviews range from people talking about their own activism, to (mis)representations of disabled people and disability issues in the media and popular culture, to discrimination interviewees have faced and whether they feel they belong in a city.
"I've also tried to get them to talk about their relationship with their wheelchair," Parent says.
The gathered footage will form part of her PhD thesis on disability in the city, which she is doing through an interdisciplinary degree in Concordia's Faculty of Arts and Science. She says she'd like to see Concordia get a disability studies program. Parent holds an MA in Critical Disability Studies from York University.

One of life's most important relationships
Parent began using a wheelchair at the age of five, switching to an electric one at 12 on her doctor's advice. Growing up in a small town near Victoriaville, she was the only kid with a wheelchair. Even so, she says she didn't truly experience discrimination until she moved to Montreal in the early 2000s at the age of 16.
It's here — for better or worse — where she faced an inaccessible public transit system, which she felt intrinsically, bred social exclusion. This led her to discover a penchant for activism and critical studies in disability, as well as to reflect on her own relationship with her wheelchair.
"It's really through my research that I've started to talk more about my wheelchair and how it's one of the most important relationships I have in my life," Parent says. "For me, I love wheeling."

Find out more about what Laurence Parent and others are doing to advance critical disability studies at Concordia.
---