$1.4 million from Scotiabank supports Indigenous and international students at Concordia
Generous community investment in the Campaign for Concordia will advance programs initiated by the Office of Indigenous Directions and Career Management Services, John Molson School of Business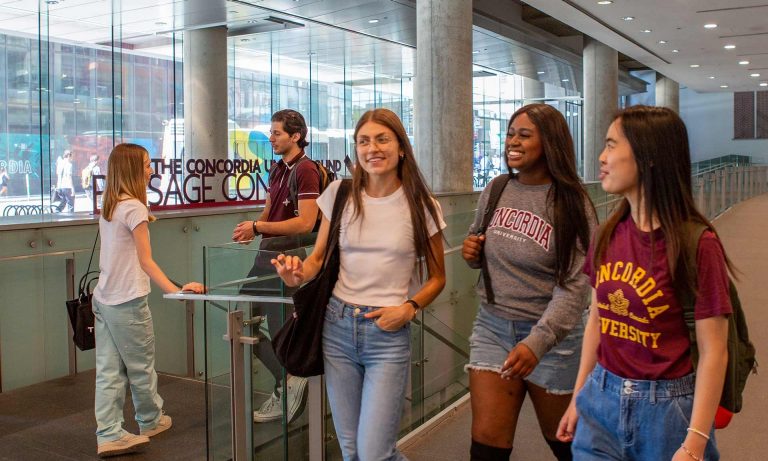 A new community investment of $1.4 million from Scotiabank in the Campaign for Concordia: Next-Gen Now will help Indigenous and international students succeed through the Kaié:ri Nikawerà:ke Indigenous Bridging Program and the Career Roadmap for International Student Excellence (C-RISE).
Kaié:ri Nikawerà:ke — a Kanien'kéha term which translates to "the four winds" or "the four directions" — is open to First Nations, Inuit and Métis peoples who do not meet the standard admissions requirements to enter post-secondary education.
C-RISE, which offers a suite of resources through Career Management Services at the John Molson School of Business, was established as a platform for international students to forge successful careers in Canada after graduation.
"The diversity of our student population and our commitment to accessible, inclusive education are pivotal to making Concordia an innovative, next-gen university," says President and Vice-Chancellor Graham Carr. "This generous gift from Scotiabank speaks to those values by allowing us to create two exciting new pathways to success for our students.
"The Kaié:ri Nikawerà:ke bridging program is perfectly aligned with the goals of our Indigenous Directions Action Plan to make university education responsive to the potential of Indigenous students. Similarly, C-RISE is also designed to support the distinctive needs of international students, who account for close to 25 per cent of our enrolment, enabling them to further enrich Concordia, Quebec and Canada through their achievements."
"Helping youth access the support needed to fully participate in post-secondary education continues to be a key factor for successfully establishing and advancing themselves," says Maria Mangiocavallo, a Concordia graduate and Scotiabank's Regional Vice-President, Commercial Banking, Quebec. "Aligned with our ScotiaRISE initiative, we are proud to partner with Concordia University to help overcome barriers to graduation and provide critical support for students to access career opportunities and plan for their futures."
WATCH: Scotiabank executives — Sylvain Corbeil, Senior Vice-President, National Accounts and Business Banking; and Maria Mangiocavallo, Regional Vice-President, Commercial Banking, Quebec — describe the significance of the gift to Concordia.
Developed by the Office of Indigenous Directions, and supported by Concordia's Student Success Centre and Otsenhákta Student Centre, the Indigenous Bridging Program will, as of the 2023 fall term, admit students who wish to complete a Bachelor of Engineering degree. New bridges to other STEM programs will soon follow.
The creation of the program was one of the steps outlined in Concordia's Indigenous Directions Action Plan, which offers concrete guidelines on how to decolonize and indigenize the university.
Manon Tremblay, BA 03, senior director of Indigenous Directions at Concordia, says that a key objective of the action plan was to remove barriers to post-secondary education for Indigenous students.
"This is one of the needs that we identified as most pressing," says Tremblay. "Many potential students in our Indigenous communities⁠ just don't have access to the prerequisites they need to get into STEM. This is where we want the bridging program to change things."
WATCH: Learn more about the importance of the Kaié:ri Nikawerà:ke Indigenous Bridging Program.
Director of John Molson's Career Management Services, Louise Anne Côté says that C-RISE was also devised to meet a critical need.
"International students are such an important part of our community," says Côté. "They often require special supports to help them acclimate to a new city and country, and to lay the groundwork for life after graduation. That's where a program like C-RISE comes in. Through seminars, workshops and mentorships, we want to give international students the tools to thrive professionally here in Canada."
WATCH: Find out why C-RISE is a game-changer for international students at Concordia.
Paul Chesser, BA 94, GrDip 97, vice-president of University Advancement, notes that more than 500 Concordia alumni are employed by Scotiabank: "We are extremely grateful for this major investment in the Campaign for Concordia by Scotiabank to support two programs that promise to make a lasting difference in the lives of our Indigenous and international students."
---