Concordia University welcomes the new Canadian office of the Canada-ASEAN Business Council (CABC)
The new partnership will help advance Quebec and Canada's strategic goals in the Indo-Pacific region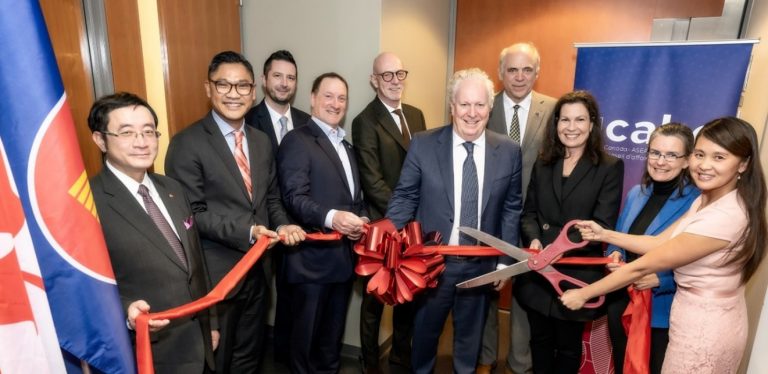 Concordia University is now the site of the newly inaugurated Canadian office of the Canada-ASEAN Business Council (CABC) in the John Molson School of Business. Celebrating its 10th anniversary this year, CABC looks forward to pursuing its advocacy, networking, and education efforts in the Canada and Southeast Asian Nations economic corridor. For Concordia, hosting the organization is the latest step in a rich collaboration between the two organizations and places ASEAN at the heart of Concordia's internationalization strategy.
Concordia University's president, Graham Carr, celebrates this development as an opportunity to deepen ties with Southeast Asian Nations in general and CABC in particular.
"Concordia has a rich history of friendship with Asia," Carr points out. "Hosting CABC's Canada office on our campus expands our collaborations in the area. Academic exchanges, joint research projects and start-ups trainings are only few examples of mutually beneficial opportunities that lie ahead."
Just last month, Concordia took part in a CABC delegation to Southeast Asian countries including Vietnam, Malaysia and Indonesia.
The new partnership comes in the wake of announcements of the new Canada and Quebec Indo-Pacific Strategies. The ASEAN region was established in 1967 and comprises of 10 nations: Brunei, Cambodia, Indonesia, Laos, Malaysia, Myanmar, the Philippines, Singapore, Thailand and Vietnam. It represents a market of over 650 million people with a GDP of US$3.4 trillion.
The CABC Canada office will be led by Thi Be Nguyen, Executive Director in Canada and supported by the former Premier of Québec, the Honorable Jean Charest, and CABC Canada's co-chairs, the former Premier of Saskatchewan Brad Wall and the former CEO of the National Bank of Canada, Louis Vachon. They are giving their support, time and expertise to the organization.
"In 2021, ASEAN was Canada's fourth-largest trading partner, with merchandise trade valued at CAD$31.6 billion. The Indo-Pacific Strategies of both Canadian and Quebec governments will generate further collaborations between Canada and ASEAN," states the Honorable Jean Charest, honorary chair of the CABC.
Louis Vachon, Canada co-chair of CABC, adds: "Many countries are looking for Canadian expertise in domains like renewable energy, financial services and infrastructure. This is an opportunity for Canada to increase its commercial relations in Southeast Asia."
"Concordia University and the John Molson School of Business are institutions renowned for the kind of entrepreneurial spirit that fits well with the CABC's mindset," explains Thi Be Nguyen, executive director of the CABC in Canada. "We look forward to continue facilitating collaboration, trade and investment in the Canada-ASEAN economic corridor, supporting Canadian businesses and institutions to better navigate the Southeast Asian markets as well as Southeast Asian organizations seeking Canadian opportunities."
Anne-Marie Croteau, Dean of the John Molson School of Business, agrees the partnership represents an exciting synergy.
"We look forward to further exploring the practical applications of our research findings with organizations in the CABC network," says Croteau.
While its headquarters are in Singapore, the CABC Canada office is hosted within Concordia's John Molson School of Business located at 1450 rue Guy, 11th floor, Room 11.191 in Montreal.
"For 45 years, Canada and ASEAN have been working towards a mutually beneficial trade agreement, with Canada recently committing to elevate its relationship to a strategic partnership. CABC is proud to be opening this first Canadian office in Montreal because it further represents the strong endorsement of Canada's engagement in the region and a more practical opportunity for businesses to explore opportunities with the help of CABC," declares Wayne Farmer, president of CABC.
---