Concordia doctoral student assesses the positives and negatives of teletherapy
Public Scholar Ghalia Shamayleh is exploring the fast-growing landscape of digital mental health care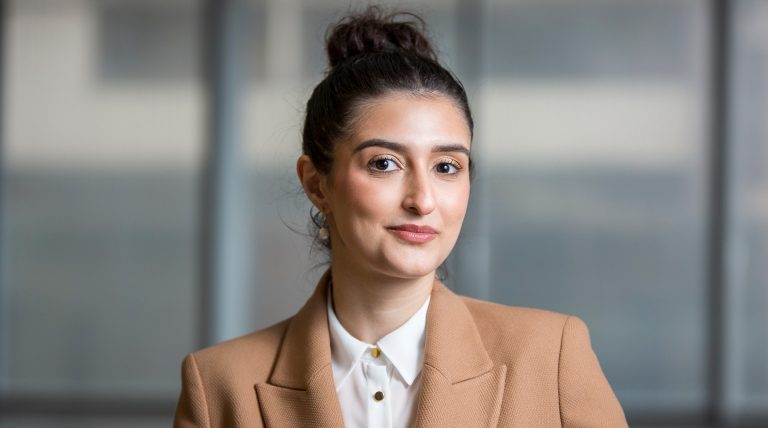 The use of online therapy has exploded since the onset of the COVID-19 pandemic in 2020. Early restrictions on in-person meetings forced those already in therapy to seek remote options with their care providers. Meanwhile, the numerous stressors associated with the pandemic created new demand.
This coupled with dovetailing anxieties over the climate crisis, political strife and economic instability have created a huge market for entrepreneurs as well as growing teletherapy options for the public.
How digitized therapy impacts the delivery of mental health care for both service providers and their clients is at the heart of Concordia Public Scholar Ghalia Shamayleh's research.
Specifically, as part of her doctoral thesis in marketing, Shamayleh is examining what are known as affordances, the enabling or restraining capacities offered by technology to its users. Specifically, she studies how the affordances of mental health care platforms facilitate or impede therapy.
'I want application developers and therapists to understand how platforms impact the therapist-client relationship and interactions'
How do you measure affordance when it comes to digital therapy services?
Ghalia Shamayleh: As a qualitative researcher, I am studying this phenomenon through several methods. I start with the walkthrough method, a method developed by Stefanie Duguay, assistant professor in Concordia's Department of Communication Studies.
Through this method, I explore digital mental health applications as if I were a user and study the capacities they offer through their interface and features. I approach this by considering how the platform can be perceived by its users.
This is a key step I undertake before I conduct interviews so that I am familiar with the platform and can adapt my questions to the platform being developed or used by my participants. My interviews will be with entrepreneurs, therapists and therapy seekers. The interviews introduce data that will help us better understand how platformization has impacted therapy as a service and experience — both as an asset and a setback.
What are some of the positive and negative aspects of teletherapy?
GS: Convenience is a big draw for people as there is no travel required and you can access therapy from any location and in multiple forms, whether it's a recorded meditation exercise via a therapy application or a text to your therapist through the platform.
Accessing therapy from home also means that you don't have to go to a public space for services. There is still the issue of stigma when it comes to mental health, so this form of delivery can help reduce those barriers.
Beyond the issues of potential privacy breaches, in terms of negatives, my interview participants have expressed a certain attachment to the physical space in which they access mental health care. That space can be comforting because they can compartmentalize their care in their therapist's office and leave it behind once the appointment is over. Also, some participants expressed that they miss using the commute to their therapist's office to mentally prepare themselves and recount what they'd like to mention during their session.
Another concern expressed by my participants is their lack of a private space to attend a therapy session at home. Some people have family or roommates around that could hear conversations and this may dissuade them from accessing online therapy.
What kind of impact do you want your research to have?
GS: Therapy is an emotions-based service, so I want application developers and therapists to understand how platforms impact the therapist-client relationship and interactions; the therapy experience and its outcomes. Technological advances will only work if they replicate or improve the quality of service that therapy seekers receive in person.
I would also like my research to influence the government and policymakers to regulate mental health care platforms to protect the privacy of their users and ultimately integrate such services into the public healthcare system.

Learn more about Ghalia Shamayleh's research at A Conversation about the Platformization of Mental Health care on November 25 at 4TH SPACE (1400 De Maisonneuve Blvd. W.) and streamed online.
---