Concordia Paralympian brings home a silver medal from Beijing
The Gina Cody School student and para ice hockey forward works hard to manage both his engineering studies and training schedule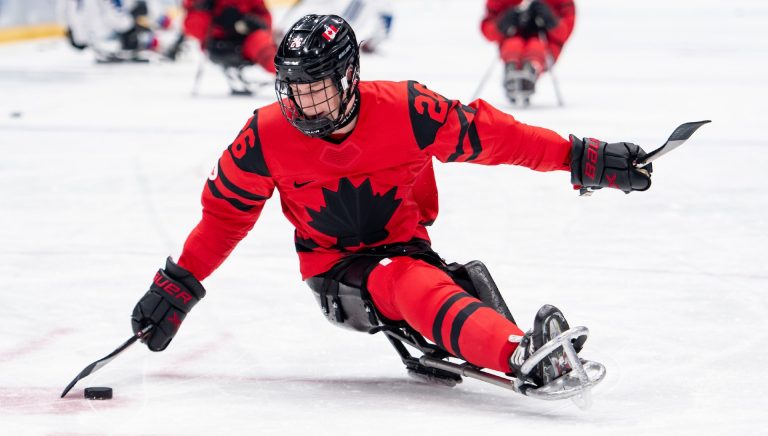 Concordian Anton Jacobs-Webb made his Paralympic Games debut last month at the 2022 Beijing Paralympics, earning a silver medal with Team Canada. The mechanical engineering and Co-op student wore the #26 jersey as a forward on the men's para ice hockey team.
Recently, Jacobs-Webb shared his thoughts on training, his goals and what it's like to study at the Gina Cody School of Engineering and Computer Science.
'The school and the profs have been so flexible and supportive'
How did it all start for you?
Anton Jacobs-Webb: When I was 11, I met Hervé Lord, a player from the national team at the time, and he gave me a bunch of autographed team pictures. He also gave me some hockey cards and invited me out to the local para hockey club in Ottawa. Ever since, my dream has been to play in the Paralympic Games.
I really enjoy playing — being on the ice, just handling the puck, making a pass. I love the physicality, the speed and the team aspect.
How did you go from being a curious 11-year-old to a young Paralympian?
AJW: I made the national team in September 2018. I was at CEGEP in Gatineau, Quebec, studying natural sciences at the time. I was on the team when I got into Concordia. I take summer classes to try to make up for the time I'm away.
COVID-19 really affected our training. We got shut down in March 2020 until January 2021. That's when we held our first training camp. The full team couldn't make it because some players had kids and immunocompromised family members. Our first game as a team since the pandemic was last summer in the Czech Republic.
It was 15 months between our last game and when I played my first World Para Ice Hockey Championship in 2021. At the final game against the United States, everybody was excited just to play again, to be together as a team and have that competition. We got the silver.
That's amazing! What were your goals going into the 2022 Beijing Paralympic Games?
AJW: The team's goal was to win a gold medal. We were the underdogs going in because the U.S. had won three consecutive Paralympic gold medals since we did in Turin in 2006. We were neck-and-neck with the Americans going into the tournament.
When we played against them at the World Championships, we beat them in the preliminary round and they got back at us in the final.
My personal goal for the Paralympics was to enjoy it as much as I could. I wanted to feel like I played a big part in winning a medal. I don't want to be somebody sitting on the bench watching.
(Learn more about Jacobs-Webb's experience in Beijing during an April 26 in-person event at Concordia or online via the live stream.)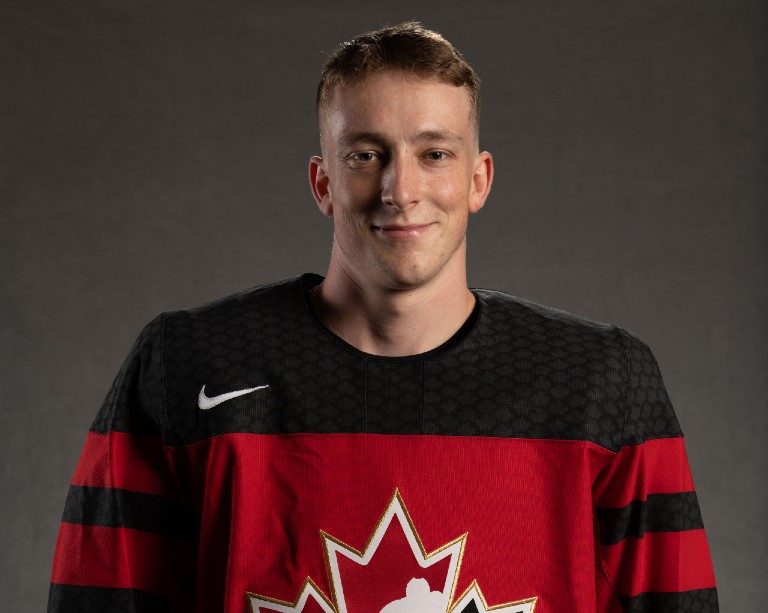 What helps you quiet your mind and focus on your goals?
AJW: I have a pre-game routine. I start the night before, visualizing certain plays. I set my standards and intentions for the game. I usually select a few key words that I want to focus on.
I also meditate before exams. It's helped me manage stress. Being in high-stress environments often, I'm used to it. I'd like to think that I have learnt to manage it well.
I've also been working on strengthening my time management. It's important for me to do this, so I can manage both sport and study. I started working on it in CEGEP when I made the team. In university, it's been completely different. I have to be so much more on top of my schooling.
I find online classes are better — they're more practical for a student athlete like me, especially when I'm away all the time.
There are pros and cons to online learning. Have you been on campus yet to compare?
AJW: I did my first full year online. I didn't know anybody in my program. It was all chat groups. This fall, I got to meet a lot of people when we were in person. I met maybe five or six people in the same classes. It was so helpful to do homework together and talk about the class.
Sometimes I've gone to Le Gym at Concordia to save time. I have a membership just to get a quick workout in after class. It's so nice to be on campus.
How are you enjoying your Gina Cody School experience so far?
AJW: I knew I wanted to come to Concordia for mechanical engineering. I had heard that the courses are more than just applied engineering, which spoke to my interest in gaining a broader understanding of the field. The atmosphere of the school and student life was more in line with the experience I wanted to have. I knew I wanted to have Co-op as part of my degree, but I didn't know how that would work with my training schedule and travel.
Sabrina Poirier, one of the department's undergraduate program advisors, went above and beyond to help me navigate and meet the requirements of the Co-op program. The school and the profs have been so flexible and supportive. So far, it has been as great as I expected.

Don't miss your chance to meet Anton Jacobs-Webb and Concordia Olympic medalists Marion Thénault and Pascal Dion at a special in-person event on Tuesday, April 26, at 1 p.m. in the Concordia Conference Centre, John Molson Building, 9th Floor, 1450 Guy St., Montreal. Register for the in-person event. Or if you're joining from home, register to receive the live-stream link.
---