Concordia researchers explore how our pupils react to familiar brands
An inter-faculty study led by postdoc Léon Franzen has potential to aid in both commercial and clinical settings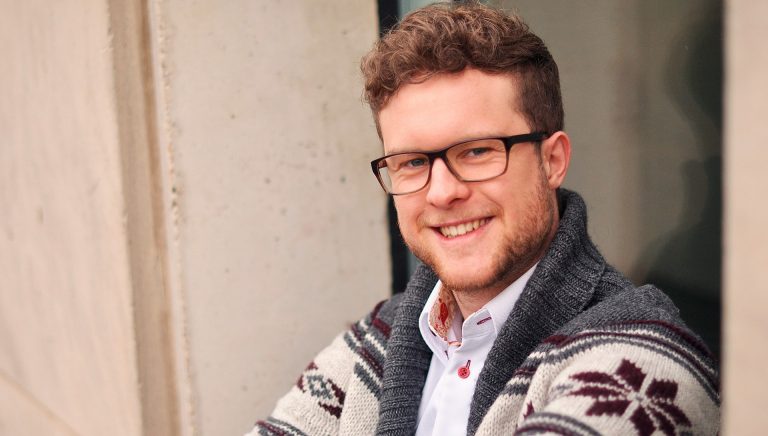 The Nike swoosh. The Campbell's soup can. The famous McDonald's Golden Arches. Many of us don't have to think twice to identify these images.
To understand more about these reflexes, Concordia postdoctoral student Léon Franzen is studying how our pupils change in size when viewing well-known commercial images. He is working with leading researchers from two university faculties: Bianca Grohmann, marketing professor in the John Molson School of Business and Concordia University Research Chair in Consumer Psychology and Visual Marketing; and Aaron Johnson, associate professor of psychology in the Faculty of Arts and Science and a principal investigator at the Concordia Vision Lab.
Psychology undergrad student Amanda Cabugao helped run the study as her thesis project, supervised by Franzen and Johnson. Karine Elalouf, a PhD student in psychology, also contributed to the study.
Their recently published paper, "Individual pupil size changes as a robust indicator of cognitive familiarity differences," involved measuring minute changes in pupil size. It was carried out on Concordia's Loyola Campus, where Johnson's lab has a state-of-the-art eye tracker. The equipment used in the study can track changes down to the millisecond.
Scrambling images
"We scrambled the image of the product we showed before and after the intact image," Franzen explains. Subjects were shown familiar North American products and unfamiliar United Kingdom–based products.
"We wanted to adapt the pupil to the light that's on the screen of one product. And after that, when we showed the intact image, you would see another change in the pupil size."
Franzen began his academic career studying business management before switching to neuropsychology. He completed his PhD at the University of Glasgow on perceptual decision-making in people with dyslexia, inspired by his own experience.
This research led him to collaborate with Johnson, who was already working with Grohmann on pupil dilation in a marketing context. Franzen's postdoctoral research is sponsored by a Horizon Fellowship, and the project also received Fonds de recherche du Québec – Société et culture funding.
A fruitful collaboration
"This research collaboration reflects my interest in identifying factors and processes that influence consumers' perceptions of brands," Grohmann says.
For his part, Johnson highlights the cross-disciplinary nature of the project. "It's a somewhat unique collaboration, to have Arts and Science working together with John Molson."
Franzen sees many potential commercial applications for this research.
"It could be used in a variety of contexts. Companies could use it as a tool to see how familiar their brand is. It could also be used in clinical settings. Our focus has always been on extending this research to vulnerable populations, including those with dyslexia and older people," he notes.
"Concordia has given me fantastic facilities, supervision, support and the opportunity to take the next steps in my postdoc career. It's been a great experience."

Learn more about the Concordia Vision Lab.
Read the cited paper: "Individual pupil size changes as a robust indicator of cognitive familiarity differences."
---