Concordia PhD candidates are recognized for their research on rehab technologies and international development projects
Elahe Rahimian Najafabadi and Nelson Dueñas receive the latest Stand-Out Graduate Research Awards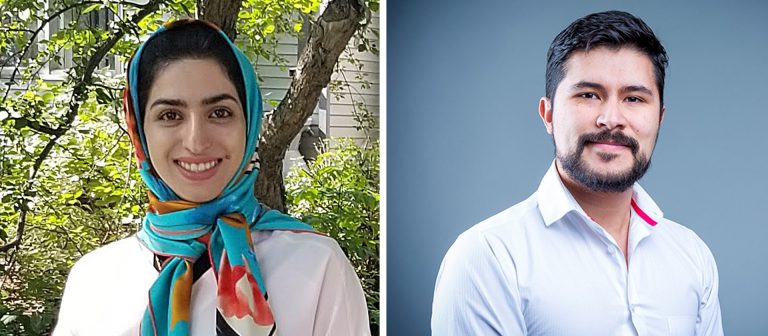 PhD candidates Elahe Rahimian Najafabadi, from the Concordia Institute for Information Systems Engineering (CIISE), and Nelson Dueñas of the Business Administration program, are the fall 2021 recipients of the Stand-Out Graduate Research Awards.
The internal awards recognize the ability of Concordia graduate scholars to communicate the importance of their work to the public. To be eligible, research projects must have been published in the previous seven months.
There are two available awards: one in the Fine Arts, Humanities and Social Sciences category and another for Engineering, Medical Sciences and Natural Sciences.
Winners receive $1,000 each and must also have applied to one of the Fonds de recherche du Québec's Relève étoile grants.
Hand gesture recognition via electromyography
Rahimian Najafabadi's research focuses on the development of machine-learning (ML) models used to improve the quality of life for amputees and people with neuro-physiological disabilities.
She co-authored the article "Few-Shot Learning for Hand Gesture Recognition via Electromyography," which was published in the technical journal IEEE Transactions on Neural Systems and Rehabilitation Engineering last spring.
The work looks at recent advances in deep neural networks (DNNs) and innovations in rehabilitation technologies. Electromyography measures electrical activity in response to a nerve stimulation to the muscle.
"We are especially focused on assisting individuals who suffer from movement disorders," she says.
"I always had a soft spot for cutting-edge research in health-related domains. I'm interested in applying advanced technologies to improve the daily lives of people with disabilities. I hope that my research can contribute to the development of future neuro-rehabilitative systems."
Care, mutual concern and shared values between donors and NGOs
Dueñas's co-authored article "Trust in international cooperation: Emotional and cognitive trust complement each other over time" was published in the journal Critical Perspectives on Accounting.
The piece uses the case study of a Colombian non-governmental organization (NGO).
"My research focuses on understanding how funders and donors of international development projects administratively control and hold accountable the NGOs that implement projects in Global South countries," he says.
"These ideas are relevant because they show that more oversight and bureaucratic accountability does not necessarily lead to improved trust in NGOs."
Originally from Colombia, the researcher draws on his professional experience in his home country.
"I worked as an auditor for international development projects in Colombia and I noticed how administrative requirements and accounting practices are a crucial element of the trust relationship between funders and local NGOs," Dueñas says.
"My research challenges the idea that in international cooperation, trust in NGOs has disappeared in exchange for accountability. Instead, I show that trust involves not only disclosure and accountability but also care, mutual concern and shared values between donors and NGOs."

Find out more about Concordia's School of Graduate Studies.
---