Anne-Marie Croteau reappointed as dean of John Molson
The first woman to lead Concordia's business school will begin her second term in July 2022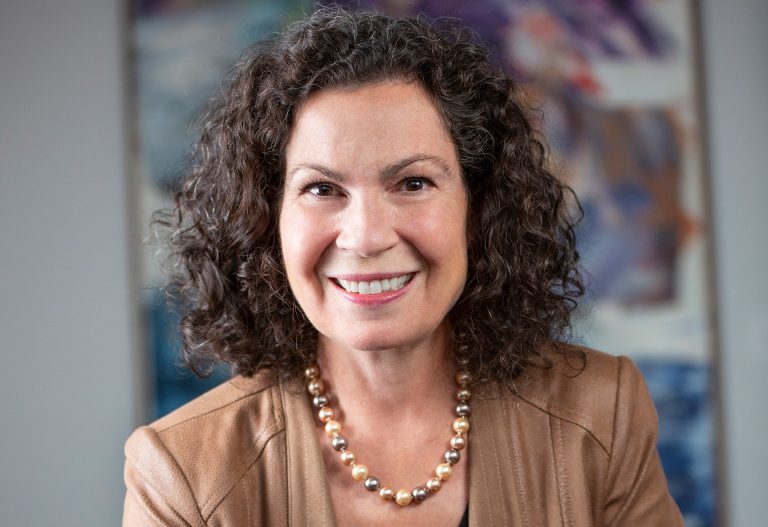 Concordia's Board of Governors confirmed the reappointment of Anne-Marie Croteau as dean of the John Molson School of Business at its October 21 meeting. Her second five-year term leading the Advance Collegiate Schools of Business International (AACSB)-accredited school will begin July 1, 2022.
"John Molson experienced tremendous momentum and achieved significant progress under Anne-Marie's leadership," says Anne Whitelaw, provost and vice-president, academic.
"Since her appointment in June 2017, the faculty demonstrated its commitment to excellence in education, research and training the next generation of business leaders. It also advanced significantly in its mission to become one of the most relevant, responsible and respected business schools in the world, as outlined in its recently adopted strategic plan."
During her tenure as dean, Croteau oversaw the revisions of both the graduate research programs and graduate professional programs, as well as the undergraduate program. The school welcomed the creation of three new research centres: the Jonathan Wener Centre for Real Estate, the Barry F. Lorenzetti Centre for Women Leadership and Entrepreneurship, and the L. Jacques Ménard–BMO Centre for Capital Markets.
John Molson is making great progress toward the coveted triple-crown accreditation — AACSB, EQUIS and Association of MBAs — an accomplishment that would further position John Molson as one of the most internationally recognized and elite business schools. Just over 100 schools internationally bear the triple-crown distinction.
Additionally, under Croteau's guidance, John Molson became the first business school in Canada to receive gender parity certification by Women in Governance, the non-profit organization which supports women in their leadership development, career advancement and access to board seats across Canada.
"I am honoured and thrilled to be reappointed. Our achievements over the last four years have been accomplished thanks to the strong leadership team in place at John Molson," says Croteau.
"The tireless efforts and time given by our faculty, staff, students and donors have transformed our goals into reality. I am proud to be at the helm of our school and a part of Concordia's leadership team. We have a great future in front of us, and together we can keep being one of the best and largest business schools in Canada and in the world."
Croteau is a full professor, specializing in strategic management of information technology. She has more than 30 years of academic experience, including 15 years in leadership. Her highly cited research has been published in esteemed international scientific journals and she has received several awards.
Among other roles, Croteau is chair of the Business Schools Association of Canada and has served on the AACSB's Innovation Committee. She is a chartered director, with 15 years of board member experience. She currently serves on the boards of Hydro-Québec, Collège André-Grasset and Parrains et Marraines de la Jeune Chambre de Commerce de Montréal, and served 10 years on the board of Société de l'assurance automobile du Québec.
Croteau earned a BSc with a specialization in actuarial mathematics from Concordia in 1986. She also holds a BComm and MSc specialized in management information systems from HEC Montréal and was the first woman to earn a PhD in management information systems from Université Laval in Quebec City.
Evaluation committee
The Board's evaluation committee was established with the following membership: Anne Whitelaw (chair), Ken Brooks, Lea Katsanis, Eva Lagou, Colin Long, Suryakumar Ramesh, Rahul Ravi, Ahmet Satir, Robert Soroka and Brooke Welburn, with Danielle Tessier and Shelina Houssenaly serving as secretaries.

Learn more about Anne-Marie Croteau, dean of Concordia's John Molson School of Business.
---