Concordia hosts the first-ever virtual Canadian Higher Education Information Technology Conference
Leaders from across Canada will come together to talk tech after a year like no other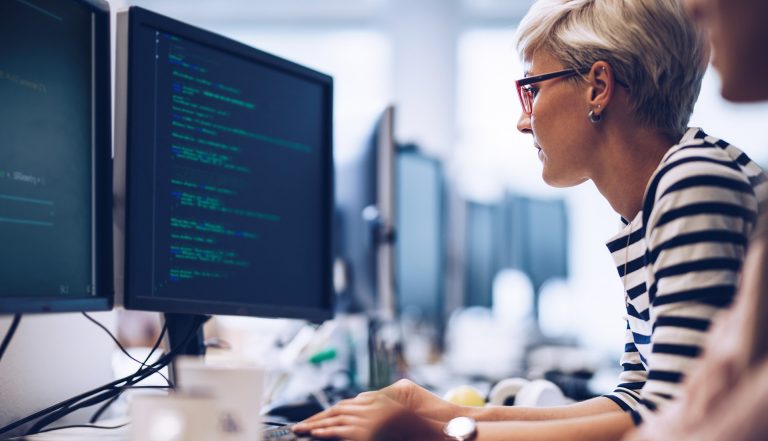 Information technology leaders from colleges and universities from across Canada are coming together virtually from May 31 to June 4. Concordia is hosting the Canadian University Council of Chief Information Officers (CUCCIO) 19th annual Canadian Higher Education Information Technology (CANHEIT) Conference.
As the only national conference for higher education IT professionals in Canada, this important forum gathers key stakeholders each year to share ideas, showcase best practices and learn from each other.
"This year's conference will be interesting because there is certainly a lot to talk about," says host France Bigras, Concordia's chief information officer and associate vice-president of information systems.
Coming together during COVID-19
Bigras's introductory speech, which was pre-filmed in studio at Concordia, begins with "looking to our recent past — what a year it has been." She goes on to say that the connections developed from previous CANHEIT conferences and the wider CUCCIO community have been an invaluable source of information throughout the COVID-19 crisis.
Over the past year, higher education IT departments across the country have had to pivot from in-person learning to online learning overnight.
"Education has changed, and IT has been at the technological forefront," says Bigras, explaining that the shutdown of one learning platform is now the equivalent of a campus-wide closure.
From crisis management to emergency planning to preparing for a possible return to campus, Bigras notes that "through it all we've realized potential weaknesses in our infrastructure and information security systems, and we've met those challenges head on."
She points to communities like CUCCIO and events like CANHEIT as key venues where everyone finally gets to stop, take a moment and review the changes that have taken place. It's about providing an opportunity to learn from one another.
'Artfully innovative'
For Bigras, this crisis has not only presented an opportunity for learning but also for innovation.
"We've begun to think about things differently, to be 'artfully innovative,' to broaden our minds, turn to technology and adapt to our changing circumstances."
"Artfully innovative" is the theme of this year's CANHEIT conference — one that Concordia is taking to heart by hosting the first-ever virtual edition.
Coordinated by Hospitality Concordia, the event will be a showcase of the University featuring a centralized conference platform, Zoom sessions, interactive online social events, an immersive exhibit hall, a tour of the campus with the use of augmented reality, and an augmented reality holographic introduction from Bigras herself.
Hot topics will include discussions on collaboration, cybersecurity, teaching and learning, data analytics and more.
While people may not be able to meet face-to-face this year, the events are representative of our current reality — thinking outside the box, doing things differently and adapting technology to meet shifting needs.

The 2021 Canadian Higher Education Information Technology Conference runs from May 31 to June 4 online, hosted virtually by Concordia. The event is open to higher education IT professionals across Canada.
---