Concordians receive 15 META nominations for their contributions to theatre
Stephen Booth and Sophie El Assaad are among the most nominated alumni at the Montreal English Theatre Awards on November 29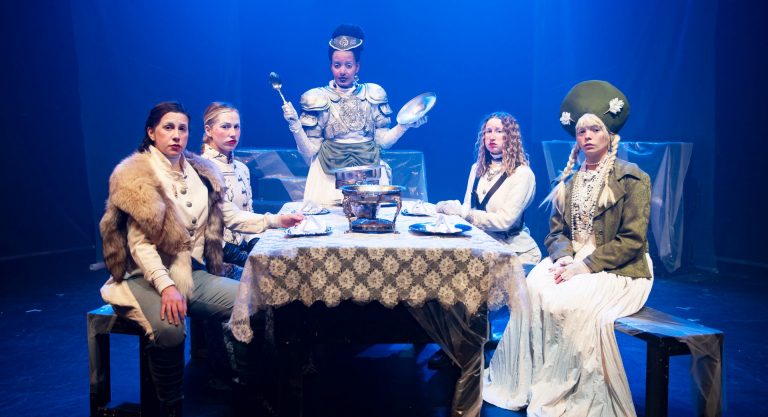 UPDATE: At the META award ceremony held November 29, Stephen Booth (BFA 13) was named Best Emerging Artist (Performance) for his work in Fear of Missing Out/The Water Chronicles; Sophie El Assaad (BFA 15) won Costume Design for Chattermarks; Bruno-Pierre Houle (BFA 10, BFA 14) won the Set Design award for Small Mouth Sounds; and Patrick Lloyd Brennan (BFA 10) won the Unsung Hero of the Theatre Award for his work as managing director of the Quebec Drama Federation.

With over 15 nominations this year, Concordians are once again well represented at the Montreal English Theatre Awards (METAs). Actor Stephen Booth and designer Sophie El Assaad are the two most nominated alumni at the gala. Both are graduates from Concordia's Department of Theatre.
Booth is nominated for Outstanding Lead Performance – Actor and for Outstanding Emerging Artist(s) – Performance for his acting in the play Fear of Missing Out. El Assaad is nominated in two categories: Outstanding Set Design and Outstanding Costume Design for her work in The Water Chronicles, Chattermarks and Small Mouth Sounds.
The METAs will exceptionally be held online this year on November 29.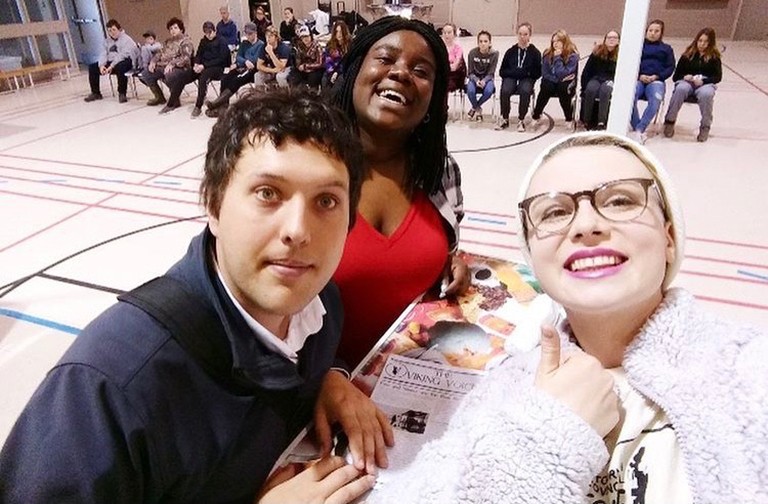 Stephen Booth (left) received two acting nominations for his performance in
Fear of Missing Out.
Two different but equally impressive journeys
Actor and writer Stephen Booth has an increasingly important place in the Montreal English-language theatre community. After performing on stage for the first time at the Fringe Festival in 2018 with The Autism Monologues, he participated in Fear of Missing Out, the play he is nominated for.
He had been touring the production with the Geordie Theatre for seven months when he had to abruptly stop last winter due to social-distancing measures.
"The play was a good opportunity to show what I personally have to deal with — what I had never seen on stage before," he says. Indeed, Fear of Missing Out sensitized its young audience to issues relating to sexual assault and consent, and depicted a character on the autism spectrum, played by Booth.
On the autism spectrum himself, the actor was involved in the project's creation process early on and has been pleased by the very positive reactions to the play and to his character throughout the tour.
Meanwhile, Sophie El Assaad works on several fronts, pursuing her own plays while collaborating with various stage directors on set and costume design. Along with the three METAs already under her belt — Emerging Artist (2017) and Outstanding Costume Design (2017 and 2018) — El Assaad has produced two plays, Vanitas (2015) and Black Balloon (2018) under the umbrella of her own company, Nuaj.
More recently, El Assaad has been working on Tableau D'Hôte Theatre's En Pointe project with Concordia theatre performance graduate Mathieu Murphy-Perron (BFA 08). The project emerged out of the COVID-19 pandemic, following the adventures of interconnected characters in Montreal's Pointe-Saint-Charles neighborhood, directly outside.
"It brought theatre to the communities directly. It was great to bring art to people that way," El Assaad says.
'Taking the time to learn to adapt and looking towards the future'
While Booth and El Assaad stopped performing live last spring, they have used the last few months to embark on new projects, perfect their craft and solidify their place in the Montreal theatre milieu.
As one of the most-sought costume artists in Montreal, El Assaad is not only working to keep touring with her current projects but is also learning new practices and technologies, making the most of her time at home these days.
"These last months have pushed me to write more and gave me new ideas on how to adapt my practice," she says.
"A lot of theatre artists are pushing to film some of their work. I know we're all live artists, but it could also be interesting to explore new avenues at the same time, to think of a new genre," she adds.
Booth has also been writing more. "I was just commissioned to write a show that should be presented live next year," he says. Booth couldn't say too much about the project but asserted that the last few months didn't stop his creative work.
"So many members of the English-language theatre community are from Concordia, either alumni or professors," notes El Assaad. "My first real opportunity, on the professional side, was with Repercussion Theatre, with the artistic director Amanda Kellock (BFA 03). I owe so much to her."

Don't miss the METAs, online, on November 29. The ceremony will be live on Facebook and YouTube.
Learn more about other Concordia nominees at the ceremony.
---