$2.25M to develop next-generation cybersecurity, AI technology and policy
Canada's National Defence invests in research networks at the Gina Cody School of Engineering and Computer Science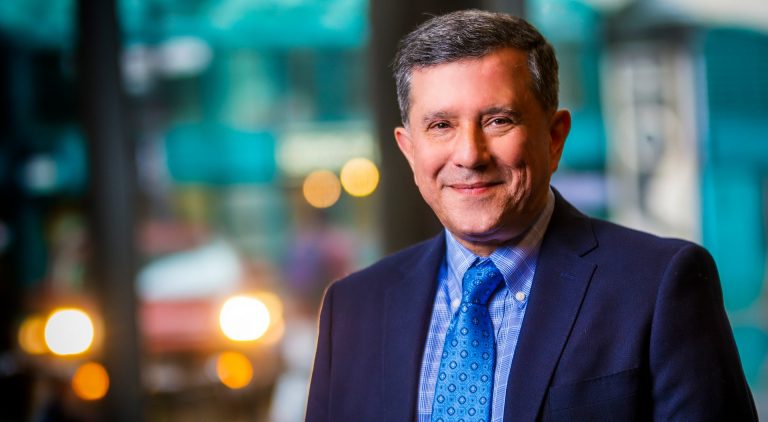 No man, or unmanned vehicle, is an island. Teams at Concordia are improving how unmanned autonomous vehicles operate through ground-breaking multidisciplinary research — now with support from Canada's Department of National Defence (DND).
DND has made significant investments in the Gina Cody School of Engineering and Computer Science. In 2019, they granted Khashayar Khorasani, professor of electrical and computer engineering, a total of $2.25 million over three years. Khorasani will lead two interdisciplinary, collaborative networks to develop innovative defence technologies and define the policies that govern them.
The two grants are focused on the improvement of autonomous systems for unmanned aerial vehicles (think drones) by applying next-generation cybersecurity and artificial intelligence (AI) principles.
About the grants
Khorasani's team, the Cooperative Network of Autonomous Unmanned Vehicles Protection, Trustworthiness, and Resilient Recovery Subject to Faults and Cyber Attacks, was selected as one of six recipients of the coveted $1.5 million grant from the Innovation for Defence Excellence and Security (IDEaS) program.
Their work will pave the way for cutting-edge technology and assure Canada a seat at the global table for defense-based scientific advancements.
The IDEaS Micro Network includes the University of Windsor, École de technologie supérieure (ETS) and McGill University.
The second grant was awarded to Khorasani's Collaborative Network on Public and Defence Policy Challenges and Innovations on AI, Autonomous Systems, and Cybersecurity by the Mobilizing Insights in Defence and Security (MINDS) program. It's an award of $750,000 that is granted to only three institutions per year.
This interdisciplinary network engages partners across industry, academia and government agencies. Academic partners include the University of Windsor, École de technologie supérieure (ETS) and the University of British Columbia.
They will take a holistic approach to develop insights around space and cyberspace, AI and dual-use technology, to guide policy-makers in how they govern.
How funds will be used
"Between 80 and 85 per cent of grants fund graduate students, post-grads and researchers who are the backbone of these projects," Khorasani says. "They are the ones who conduct the research as they are being trained to become highly qualified personnel in both academia and industry."
This comes as no surprise to Paula Wood-Adams, interim vice-president of research and graduate studies, who was thrilled with the funding news.
"It is encouraging when the federal government makes significant investments in two of our six research spotlights: aerospace and artificial intelligence," Wood-Adams says. "It reinforces that Concordia is well-positioned and aligned to industry and government interests."
To further support the research and Concordia's Strategic Directions, the School of Graduate Studies has also awarded the new Horizon Postdoctoral Fellowship to Amir Baniamerian, who is supervised by Khorasani. He is involved with the research to support the success of the IDEaS project.
Why leading collaborative networks are important
"Concordia has created an ecosystem of innovation that attracts top researchers," adds Mourad Debbabi, interim dean of the Gina Cody School. "Positioning ourselves as leaders in research for aerospace has also attracted top industry partners to join our efforts to develop next-generation solutions."
Throughout both projects, students will work directly with leading industry partners. It is an invaluable opportunity to build lasting relationships with companies they wish to pursue for future employment.
These grants position Concordia favourably for future funding with DND, which Khorasani says he is ready to bring to the Gina Cody School.

Learn more about the Security/Policy Nexus of Emerging Technology and the Gina Cody School of Engineering and Computer Science.
---