Jonathan Wener Centre for Real Estate opens at Concordia University
The new reference in real-estate education at the John Molson School of Business was created thanks to a major gift to the Campaign for Concordia: Next-Gen. Now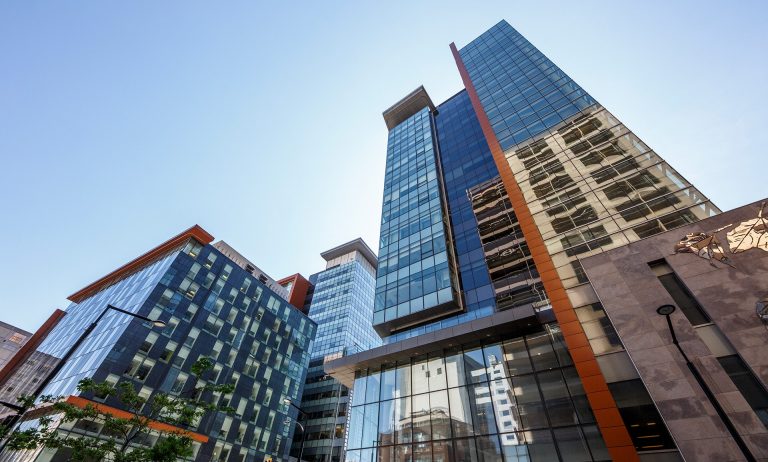 A first-of-its-kind in Canada, the Jonathan Wener Centre for Real Estate has opened at Concordia University's John Molson School of Business. The centre will be a hub for teaching and research on commercial and residential real estate.
"Real estate is a very sophisticated industry, requiring an awful lot of talent and knowledge from the people who enter the workforce," says Jonathan Wener, BComm 71, chairman of Canderel and Concordia chancellor, whose $10 million gift to the Campaign for Concordia: Next-Gen. Now created the centre. "My hope is that our centre will provide the education and backing that our students need in a very demanding world."
The real estate industry is one of the single largest contributors to Canada's gross domestic product and an area of great interest to students. The centre's main goals are to:
Train the next generation of real estate professionals by providing students with the cutting-edge knowledge and real-world experience they need to succeed in the field;
Drive innovation through knowledge creation and provide real estate leaders with insights into an evolving market and industry;
Provide industry players and employees with training and tools to adapt and excel.
"The Jonathan Wener Centre for Real Estate is going to add great momentum for Concordia because of its uniqueness and because of its relevance," says Concordia President Graham Carr. "We are grateful that our chancellor made his transformative gift to allow generations of students to make a dynamic contribution to Canadian society, to Canadian business and to the world in which we live."
Michel Deslauriers, BComm 85, director of the Jonathan Wener Centre for Real Estate and a finance lecturer at Concordia's John Molson School of Business, says demographic trends, technological advancements, environmental and, most recently, health concerns have brought about changes in the real estate industry.
"Given these changes, there has never been a greater need for industry leaders, teachers and innovators to work together," says Deslauriers. "The Jonathan Wener Centre for Real Estate is going to allow our students to enter the industry with a great deal of the knowledge they need to start adding value to their profession right away."
Anne-Marie Croteau, dean of the John Molson School of Business, says: "We are so honoured to be part of this new transformation for the business community, by helping our students to learn the best practices when it comes to real estate."
COVID-19: impact on real estate
The Jonathan Wener Centre for Real Estate will give the next generation of scholars the skills they need to examine how global events, including the COVID-19 pandemic, impact where we work and where we live.
Additionally, experts from the Jonathan Wener Centre for Real Estate can provide media interviews on how COVID-19 will continue to impact the market:
Chongyu Wang recently co-authored a paper entitled, "A first look at the impact of COVID-19 on commercial real estate prices: asset-level evidence."
Erkan Yönder specializes in real estate investment trusts (REITs), commercial real estate, commercial mortgages, green buildings, corporate finance, etc.
---