Concordia engineers help develop an emergency response drone
APRIL 15: Learn how Ambular could save lives during a pandemic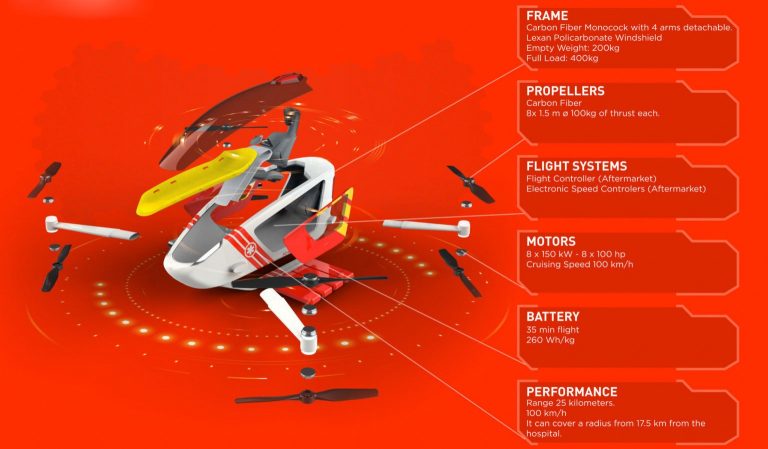 The work of Luis Rodrigues, professor in the Gina Cody School of Engineering and Computer Science, could be extremely helpful in the years ahead, both in emergency response navigation as well as in the context of a pandemic.
Rodrigues is collaborating with the International Civil Aviation Organization (ICAO) in developing autonomous navigation and control for Ambular, an emergency response urban air mobility vehicle. It's an ambulance drone designed to transport people in tight, hazardous urban environments from their homes to the hospital.
Located here in Montreal, ICAO is a specialized agency of the United Nations that determines principles and techniques and promotes safety and orderly growth in the development of international air navigation and transport.
In 2018, Martin Rico, the ICAO team's industrial designer started drafting the first designs of the Ambular, along with Charles Bombardier, whose organization Imaginactive designs thousands of futuristic vehicle concepts.
ICAO's Ambular team, led by Yuri Fattah, decided to build a full-scale mockup of the Ambular in order to better understand the steps, regulations and implications involved in producing it.
In November of last year, members of ICAO approached Rodrigues at their Drone Enable event. The professor of electrical and computer engineering and his research team have been working on flight management and control systems for piloted and autonomous vehicles for more than 13 years.
"In collaboration with my research group, we will design algorithms to plan trajectories and control the vehicle to fly safely from source to destination in response to an emergency," Rodrigues explains.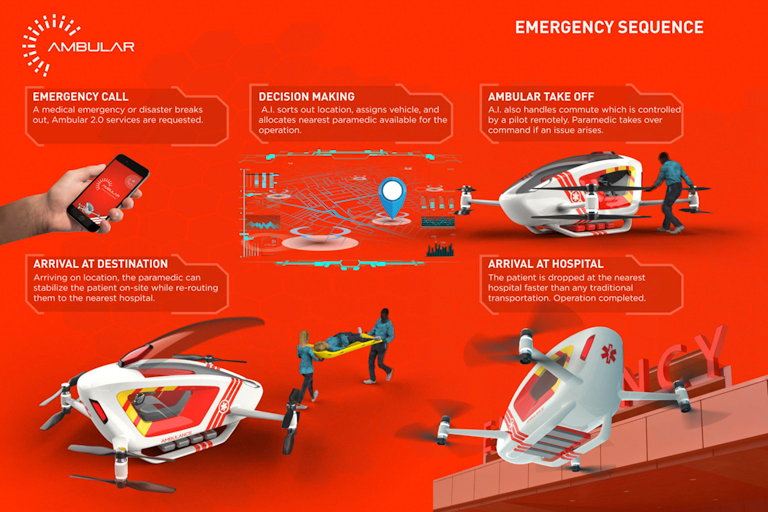 Saving critical minutes saves lives
Ambular's primary purpose is to offer safer and more timely emergency response services, an industry in which saving critical minutes can save lives.
Rodrigues's team takes on the difficult task of ensuring that the engineering of Ambular's navigation and flight paths would be safer and more efficient than road travel.
"A standard ambulance circulates very fast through traffic, which is very dangerous," Rodrigues explains. "Travelling by air is not only faster but safer in terms of potential collisions. The autonomous trajectory planning and control algorithms are key to the operation of a drone ambulance in a safe way. There has to be redundancy in actuators and sensors to increase safety."
He adds that avoiding unforeseen obstacles can be done through what is called "sense and avoid."
"The vehicle must have several sensors that can measure the approaching traffic — for example, birds. And then an avoid algorithm must be programmed into the flight management system to steer the vehicle away from the path followed by those birds."
Rodrigues says one of the biggest concerns in planning safe trajectories for autonomous aircrafts in urban areas in a futuristic scenario will be other air traffic, such as air taxis. "The biggest challenge right now is the lack of regulations for autonomous air traffic in urban areas," he notes. "The regulations must be in place first before it becomes a reality."
Not only would a drone ambulance be faster, safer and more cost effective than traditional ambulances, it would also be capable of airlifting injured or trapped victims from hard-to-access disaster areas, which accounts for the victim's safety as well as a first responder's.
To the best of the Ambular team's knowledge, this is the first ambulance drone in development, and the hope is that it will serve as a platform for future development of autonomous emergency response aircrafts.
"It is expected that in the future autonomous vehicles will be allowed to fly in urban areas," Rodrigues says. "When that happens, it is clear to me that emergency situations would be the highest priority."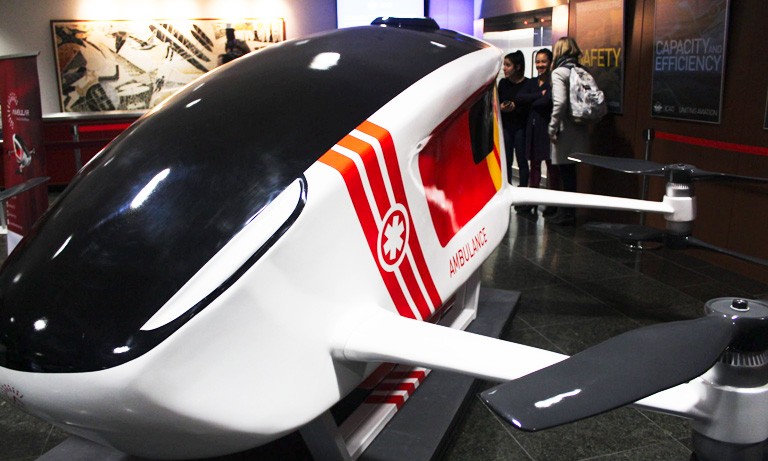 Minimizing contact also saves lives
Rodrigues and the Ambular team also believe their emergency response urban air mobility vehicle would save even more lives in the current global context.
"I think that the Ambular project is of obvious interest for pandemics. If someone is infected in an epidemic and wants to go for a test, that person should not take a taxi or public transportation," Rodrigues points out.
"Since Ambular is an autonomous vehicle without a pilot, it could transport people from their home to the rooftop of a building in a hospital dedicated to infectious diseases. This would prevent the spread of the disease to a pilot or to other personnel on the way from home to the hospital."
The latest Ambular prototype has been on display at Concordia's 4TH SPACE since the first week of March. However, due to COVID-19 measures, the venue closed on March 13.
But on Wednesday, April 15, Rodrigues will be in discussion via webinar with Charles Bombardier and the ICAO Ambular team, led by Yuri Fattah. They will be talking about the drone's function as a new kind of emergency response measure and its potential capacity to increase responsiveness in the health system, especially in the current global context.
The public can join the conversation by watching it live on the 4TH SPACE Facebook page. Other speakers include Dunia Aboud, Valeria Chavez, Martin Javier Rico Martynowicz and Rui Chun.
The webinar is one of many resources being made available through the new CU AT HOME landing page on the Concordia website, a virtual community of support to assist students, staff, faculty, alumni, partners and their families during the time of COVID-19.

On April 15 from 11 a.m. to 12 p.m., watch Concordia prof Luis Rodrigues and the Ambular team discuss the role of their project in the time of a pandemic. The event, which will be broadcast via Facebook Live, is hosted by Concordia's 4TH SPACE.
---