Graduating MFA student to develop a punk opera in Austria this summer
The Jorisch Family Artist Residency will allow Marie-Claude Lepiez to research puppetry and set design in Salzburg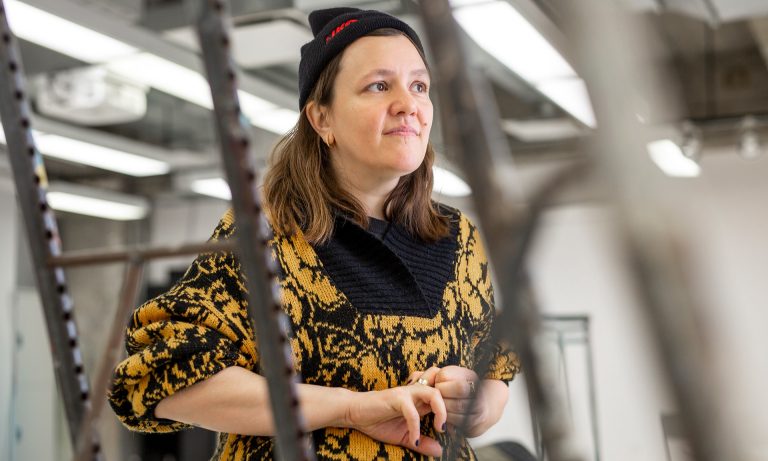 Artist Marie-Claude Lepiez is planning to spend this August in Salzburg, Austria. There she'll be researching opera costumes, set design and puppetry, while drawing, making music and developing her ultimate Gesamtkunstwerk: a punk opera tying her many interests into one work.
Lepiez, a graduating MFA student in the Department of Studio Arts, is the recipient of the 2020 Jorisch Family Artist Residency. The Concordia fellowship supports a four-week stay for outstanding grad students in the Amalie Redlich Tower of Salzburg's Museum der Moderne.
"This is an awesome residency. To have the time to go there, it's a dream. I am very happy," she says.
Kinetic sculpture and implicit anarchy
While Lepiez started at Concordia as a painting and drawing student, a punk DIY spirit at the core of her practice has led her down many new artistic paths.
"I am trying to capture that energy of learning something new. I love the excitement of first discovery and of being bad at something," she says.
In the last two years, Lepiez became interested in kinetic sculpture. At the Leonard and Bina Ellen Art Gallery's 2019 graduate show Ignition 15, she presented a work made from found objects that moved like something in between a cuckoo clock and a record player.
Last summer she built a 2.4-metre-by-2.4-metre cabin with moving parts for her first solo show at the L'écart gallery in Rouyn-Noranda, Quebec. The cabin, featuring a clown painting holding a brush and palette, will reappear in her graduate thesis show at the MFA Gallery this April.
"It's made out of crappy wood I picked up on the streets of Montreal. I painted it, cut it, made it like a patchwork quilt. I am always into layering and cutting and using found pieces."
Both creations have an implicit anarchy that makes the artwork seem on the verge of falling apart.
"That is what I really like, the fact that everything is not solid. It works, but it feels like if you look at it, it is just going to collapse."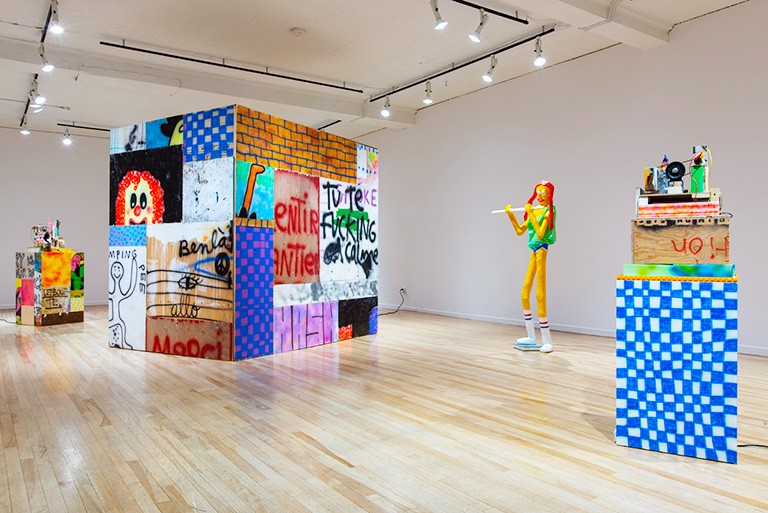 Marie-Claude Lepiez's first solo show at the L'écart gallery in Quebec. | Image courtesy of the artist
Jorisch residency is a perfect fit
After Lepiez had the idea of making a punk opera with sculptures that move, inspired by what Jos de Gruyter and Harald Thys did at the Venice Biennale in the Belgian pavilion last year, she applied for the Jorisch residency, seeing it as a perfect fit.
"There is a museum of puppets in Salzburg, and it's an opera capital, so there are lots of costumes and big sets," she says. "I want to know the logic behind the puppetry and how they move so I can apply that to my sculptures. Also, I plan on taking a video class, so I can integrate that into my research."
The opera concept brings together all the avenues of research-creation she's pursued at Concordia, plus her career as a set designer in the film industry. It also gives her the chance to work on new avenues like performance, animation and video, investigating ways to bring herself into the work.
"I want to be part of this opera like my kinetic sculptures. I want to become someone else, a character. I thought maybe I should be a mechanic. I could be part of it, just fixing things all the time!"
While Lepiez sees this realistically as a long-term project, her month in Austria will put some shape to all these threads.
"I am not quite confident yet. I am still exploring. I think it's going to be a lot of fun!"

Find out more about Concordia's Faculty of Fine Arts.
---