ConUHacks V gets set to welcome 800 participants from Ontario, Quebec and beyond
JAN. 25-26: This year's event boasts more sponsors than ever before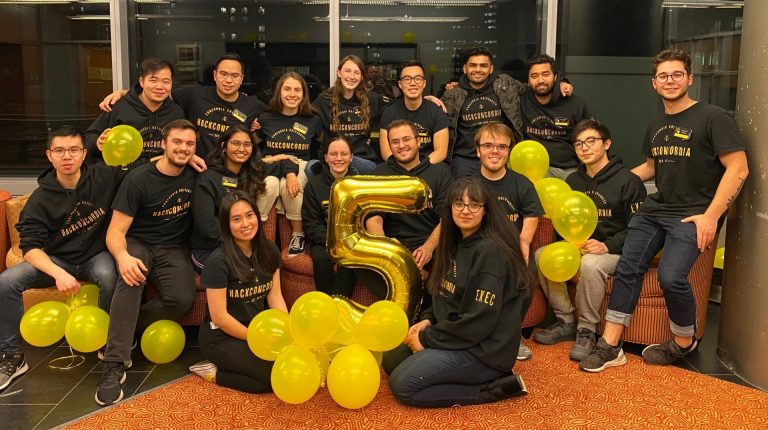 Hundreds of student competitors are gearing up for ConUHacks V.
The annual hackathon challenges up-and-coming computer programmers and software developers to collaborate in creating something unique in just 24 hours.
This year's event is taking place at Concordia's John Molson (MB) Building beginning Saturday, January 25, and continuing into the wee hours of the following morning.
Organized by the student group HackConcordia, ConUHacks is Montreal's largest hackathon. More than 2,500 people applied and between 750 and 800 are expected to compete. They have one day to create technology-based projects, such as robotic tools, video games, innovative websites, and mobile, web and virtual-reality applications.
Organizers expect representatives from 45 academic programs from 40 different schools, including Montreal high schools and CEGEPs and universities across Quebec and Ontario. Some applications came from as far away as British Columbia and California.
HackConcordia's co-president Zachary Bys says he most looks forward to the project demos. "Getting to see what these students create in just 24 hours is amazing. Many of their projects are creative, innovative and technically difficult."
More sponsors than ever
"This year we have 49 sponsors," says Bys. "It's the most we've ever had, and there are 38 companies showing up to the event who can bring four sponsor reps each."
One of the biggest attractions of ConUHacks is the opportunity for students to interact with businesses and vice versa. While students get a chance to impress potential employers, the sponsor representatives are also keen to mentor participants and recruit new talent.
"The sponsors are there in booths to give information about their company," Bys explains. "They also provide amazing workshops on topics ranging from idea generation to machine learning."
Challenges and prizes
ConUHacks takes pride in being an open-themed hackathon that allows students to pursue whatever projects inspire them.
No one can stop participants from thinking of an idea beforehand, but they aren't allowed to code their projects prior to the event.
Upon arriving, every student receives a swag bag filled with fun items such as shirts, beanies and mugs. Throughout the day and night they are also treated to three meals, snacks and refreshments.
The sponsors provide funding as well as technology to access their application programming interfaces. They also present challenges and prizes related to their technology, so that students can develop projects to answer those problems.
In addition, there are also three overall prizes for the top projects developed, but those remain a surprise until the time is up.
The hackathon grind
Last year 124 projects were submitted, and this year the organizers hope to judge even more.
Jeremiah-David Wreh, a fourth-year software engineering student at Concordia's Gina Cody School of Engineering and Computer Science, has experienced the hackathon grind before.
"I'm most looking forward to coming up with a fun idea to hack on with friends. And not having to think about schoolwork for a bit," he says.
"Two important things I'm bringing are warm clothing and an inflatable mattress."

Learn more about ConUHacks V, or read tweets about the event.
---