Concordia mourns the 30th anniversary of the École Polytechnique Tragedy
3 alumnae engineers reflect on gender in their field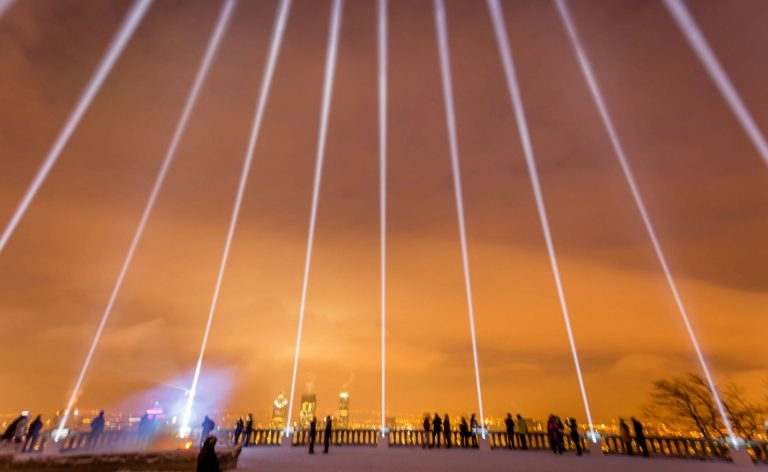 December 6 is a sombre date, when we commemorate the murder of 14 young women at Polytechnique Montréal at the hands of a gunman who targeted them because of their gender.
This year, on the 30th anniversary of the tragedy, Concordia pauses to mark their passing, reflect on progress in equality and listen to women role models in engineering.
Here, three Concordia graduates recall how they were affected by the École Polytechnique Massacre, look to the future and discuss the importance of encouraging women to play a bigger part in the field.
Gina Cody on Inclusion
For Gina (Parvaneh Baktash) Cody (MEng 81, PhD 89), namesake of the Gina Cody School of Engineering and Computer Science, the massacre stirs up powerful emotions.
Her voice breaking as she speaks, Cody recalls how shocked she was to hear about the mass shooting in Canada, her peaceful, adopted country.
"It left a deep scar," Cody says. "That tragic experience gives us a chance to reflect on how women are treated, and it reminds us that we have to pave the way for others. More than anything, it gave me determination and strength to stand up for our rights."
While impatient that the gender gap in STEM still exists, Cody is heartened that today's young women don't have to fight the same level of blatant sexism she encountered in the field 40 years ago.
"I'm hopeful because we're talking about it, because we now have an engineering school named after a woman and because more young women finally feel like they belong in engineering and computer science," she notes.
"The 30th anniversary of the massacre is an opportunity to break out of the shackles of tradition and stereotypes. The only way to heal the pain is through action and to come out from under the shadow of men in engineering and computer science."
Cody wants to make sure women are key players in the 4th Industrial Revolution — the next wave of automation that deploys big data, artificial intelligence and the Internet of Things to shape a new era.
"If women, as well as minorities, aren't represented in engineering and computer science, a portion of the population will be left behind during the 4th Industrial Revolution and the world will continue to be made for and by men," Cody says. "It needs to be more inclusive to serve all our needs."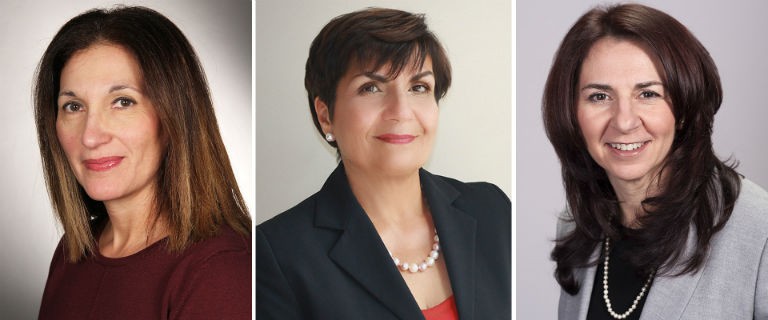 Carmelina Borsellino, Gina Cody and Marina Mississian
Marina Mississian on Engineers Canada's 30 by 30 initiative
Concordia graduate Marina Mississian (BEng 89) says the École Polytechnique Massacre ingrained in her a social obligation to encourage and promote women in engineering.
Mississian is an electrical engineer and the senior director of Global Space Systems at Honeywell Aerospace, where she runs the International Space business, supplying equipment for the satellite communications, earth observation, and space exploration markets.
She is pleased by Engineers Canada's 30 by 30 initiative, which has as its goal to raise the percentage of newly licensed engineers who are women to 30 per cent by the year 2030.
"The intention is certainly there," says Mississian. "We'll get to a better place for equality, but we need to start early, when girls are really young."
Mississian was a recent graduate from Concordia when the massacre occurred.
"My sister and I were glued to the television at my parents' home in Montreal," she recalls. "It was hard to come to terms with. Like many people, it made me angry, but it also heightened my awareness of gender when I started my working life. I think I made a subconscious, and eventually conscious, decision to encourage and promote women whenever possible."
Carmelina Borsellino on hiring equality
Engineer Carmelina Borsellino (BEng 86) had only been working for three years on that fateful night in December.
"It shook up the entire city," recalls Borsellino, now the vice-president and chief engineer at FM Global, a multinational property insurance company based in Rhode Island, where she is responsible for establishing and managing the global integrity, direction and development of loss prevention engineering related to fire and explosion, natural hazards, boiler and machinery and cyber situations.
"It really hit home because I could have been one of those women. I knew what it was like to be one among many men in an engineering classroom at night. They must have been terrified."
Borsellino is glad to see the number of women in her field rising.
"But the numbers aren't high enough," she notes. "As a member of the Society of Women Engineers, we've upped our recruiting efforts across the US, Canada and abroad. And I always try to do my part in employee recruitment, helping to raise the number of qualified field engineers — the entry position — to 47 per cent women at FM Global. There were only about six per cent of women in the field at the time of the massacre, so the needle is moving."
A current student's perpective
Riya Dutta, a 4th-year software engineering student and president of the Women in Engineering – Concordia, was shocked when she first learned about the Massacre.
"I Googled it and it really sunk in when I saw the photos of 14 female students," recalls Dutta, who came to Canada from India six years ago.
Dutta's reports that her male peers — students and internship supervisors — don't question her ability or her right suitability to be in the field.
"But engineering can still be a boys' club environment," she notes. "You need to call them out on it. Some aren't even aware they're doing it. We need male allies to recognize that the problem isn't just a women's issue. It's also a men's issue."

Attend the candlelit vigil organized by Concordia's Women in Engineering student association on December 6 from 12:30 to 1 p.m. in the atrium of the J.W. McConnell Building (LB), at 1455 De Maisonneuve Blvd. W.
Learn more about the Gina Cody School of Engineering and Computer Science.
UPDATE: The Feminist Media Studio commemorated the 30th anniversary of the Polytechnique Tragedy with small written reflections by members and allies.
---