Concordia students go behind the scenes with Montreal Impact executives
John Molson Sports Marketing Committee members learn what it takes to run a successful major league soccer team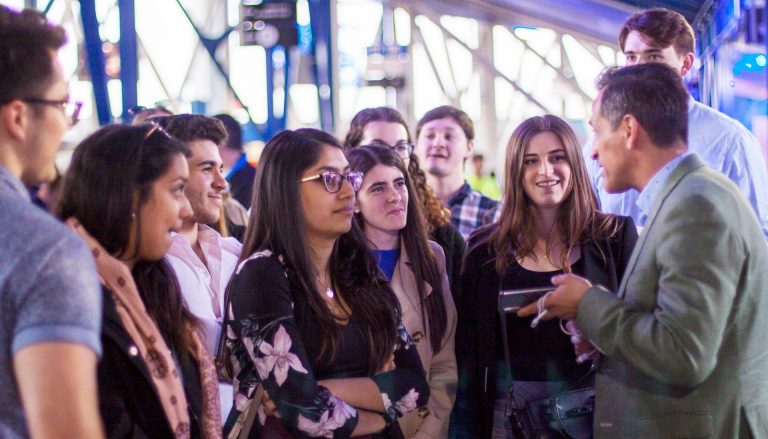 As part of Summer@Concordia, student members of the John Molson Sports Marketing Committee had the opportunity to meet face-to-face with some major league sports executives.
Back in June, the group sat down with Montreal Impact president Kevin Gilmore at Saputo Stadium to discuss professional sports event management, tour the facilities and take in the Impact's game against the Seattle Sounders FC, courtesy of the Mirella and Lino Saputo Foundation.
"We got to see the inner workings of a professional sports team and learn about the business side of things," says Fatima Malik, an international business and finance undergraduate student at the John Molson School of Business who participated in the initiative.
"Oftentimes, we're only exposed to the actual game, but our trip allowed us to get first-hand exposure to the complexity of the sports business."
'A major springboard'
Malik says Gilmore began by detailing his career path and discussing the importance of taking calculated risks and understanding the significance of one's decisions.
"Being an uber-exclusive industry, we tend to think that it's all about luck. But his story is one that highlights the importance of passion, determination and hard work."
Marketing professor Bryan Barbieri prepped the students prior to the visit and accompanied them on their trip. He agrees that Gilmore's emphasis on the importance of being the best that you can be at whatever it is that you do was a powerful message.
"If you have a strong work ethic and are very capable in your responsibilities, you will be noticed both within your organization and by other organizations," Barbieri says.
"This can serve as a major springboard to accelerating the achievement of your sports industry career goals."
Modern marketing strategies in action
Malik says the tour of the stadium, led by the Impact's director of corporate partnerships, Saverino Folino, was an eye-opening experience.
"Mr. Folino took us around and explained the strategy behind every touchpoint: every section, every activation booth and every food stand. Everything you see, hear and smell is intentional," she adds.
"It was extremely interesting to see how flawlessly they have implemented modern marketing strategies and removed friction from the fan experience while creating unparalleled value for their corporate partners."
Barbieri, who regularly brings guest speakers into his sports marketing class, says that in-person exposure to industry executives provides students with a unique learning experience.
"One can learn a lot in a classroom," he says. "But there is a greatly enhanced credibility when a learning principle or piece of advice comes directly from a person of authority who is doing it now."

Find out more about Concordia's John Molson School of Business.
---