A Concordia student report on reconciliation in Northern Ontario is live on CTV Montreal
from shore to sky tells the story of a solar energy project in the Kiashke Zaaging Anishinaabek-Gull Bay First Nation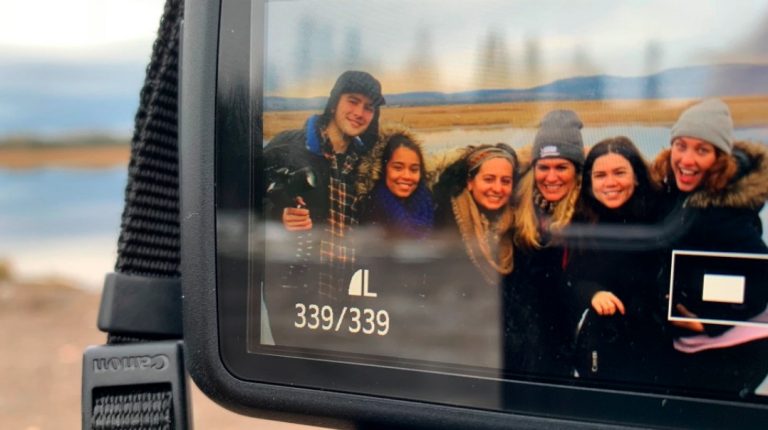 Five journalism students and one professor, Aphrodite Salas, recently headed to a remote community 200 km north of Thunder Bay, Ontario, to undertake an ambitious multimedia report.
They set out to tell the story of a unique solar energy project in the Kiashke Zaaging Anishinaabek-Gull Bay First Nation.
Today, from shore to sky: a reconciliation story, went live on the CTV Montreal web page. The story is already gaining national attention across the CTV network.
Salas says the documentary initiative was inspired by the final report of Canada's Truth and Reconciliation Commission.
"It calls upon Canadian journalism programs to require education for all students on Indigenous issues," she says. "Long-term, I hope to continue educating students by highlighting more examples of climate leadership from those who have been stewards of this land for thousands of years."
Ontario energy corporations built hydroelectric dams on the nearby Nipigon River during the first half of the 20th century. The dams flooded the land around the KZA-Gull Bay First Nation and eroded the shoreline, destroying burial grounds.
The Indigenous community wasn't warned about the rising water, and ironically, it never benefited from the energy the dams produced. Instead it was forced to rely entirely on diesel power. Until now.
The community is working together with Ontario Power Generation and several development partners to build a solar plant that will power the community.
"Our goal is to be self-sufficient, self-sustaining in a green way," says Wilfred King, Chief of the KZA-Gull Bay First Nation, in the documentary.
Salas says the clean energy project is an attempt to right a longstanding wrong.
"The scope of the project is impressive, as is the genuine effort at reconciliation by Ontario Power Generation and several other partners," she says.
"The impact of our reporting is meant to be positive by focusing on a strong example of climate leadership and reconciliation emerging from the North."
They trusted us to share this story
Journalism student Katelyn Thomas says the people of Gull Bay treated the Concordia team like part of the community.
"I am deeply honoured that they trusted us to share this story," she says.
Her teammate, Virginie Ann, says their shared desire to tell this story brought the students closer together and strengthened their bond with the KZA-Gull Bay First Nation.
"From the very first moment, we had no other choice but to trust each other. To me, there is no greater human value and lesson than this."
Salas says the students rose to the challenge in ways she never expected.
"We believe the result is a story of finding solutions in our complicated world, of discovering reservoirs of resilience where it might not seem possible, and of looking to our collective future with hope."
The multimedia project was supported by Concordia, the Rossy Foundation and CTV Montreal.

Check out from shore to sky: a reconciliation story, on CTV Montreal. Find out more about Concordia's Department of Journalism.
---