Concordia women's hockey goaltender Katherine Purchase is a high achiever — on and off the ice
The Stingers co-captain and four-time Academic All-Canadian is back in action this month after sustaining a pre-season injury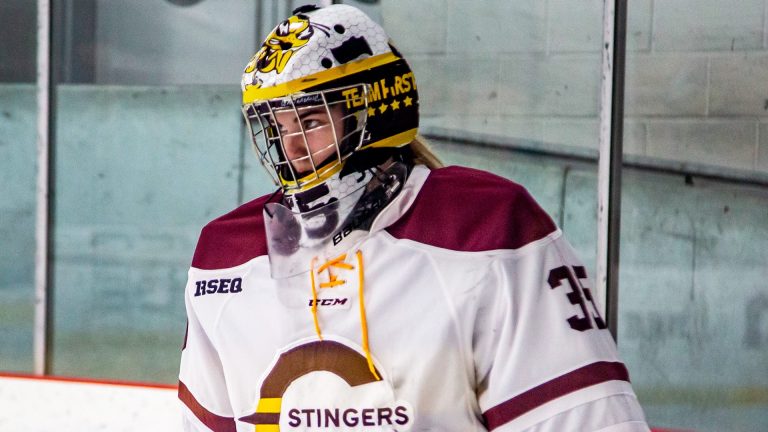 Veteran Concordia women's hockey goaltender Katherine Purchase has been a stalwart force for the Stingers over the past five years.
At the U SPORTS national championships last spring, the Stingers co-captain shone with a stunning .977 save percentage over three games.
In the bronze-medal match against the Saskatchewan Huskies, she blocked 37 shots, leading the Stingers to a 4-0 victory.
This season is Purchase's last at Concordia — her last chance to lead the Stingers to glory. It didn't get off to a promising start.
The impact
At the Team Canada Fall Festival camp in September, Purchase was guarding the net during an exhibition game against a Junior B men's team. As she was sliding across the ice, an opponent cut to the net to reach the puck and tried to jump over her.
"His shin ended up hitting me in the side of the head," Purchase recalls. "I knew pretty much right away that I had a concussion."
Within seconds, she felt pressure and pain in her head, and stayed down on the ice until the medical trainer could get to her. The following day Purchase felt fine and thought she'd be back on the ice within the next week. Instead, her symptoms worsened and lingered.
The recovery process kept her out of class — and off the ice — for months.
Road to recovery
The 22-year-old accounting student is a high achiever outside of hockey. She's received academic scholarships four years in a row, made the Dean's List for the last three years and was named Concordia's 2014-15 Top Academic Athlete.
Purchase is also a four-time U Sports Academic All-Canadian, an honour given to varsity student-athletes who achieve an academic standing of 80 per cent or better.
In short, she's not someone used to skipping classes or sitting on the bench.
It was a long road back, but after getting rehab exercises from an osteopath who specialized in concussions her condition started to improve.
"By mid-November I was able to go back to my schoolwork and start to resume a normal life again," Purchase says.
Later that month, she was well enough to attend the Beta Gamma Sigma Global Leadership Summit, an annual event for the best-performing students from the top five per cent of the world's business schools. Anne-Marie Croteau, dean of the John Molson School of Business, (JMSB) suggested that Purchase attend as a representative of Concordia.
"It was a really cool experience," Purchase said. "People from all over the world were there, and I made a couple of connections that I want to hang onto."
A supportive presence
When she got back from the conference, Purchase had to cram hard to pass her classes, joking that she "had a heavy term at the end."
As for hockey, Purchase was eventually cleared to return to the rink in December. Yet even during her recovery, Purchase made a point to be there for the Stingers, advising her teammates between games and offering support throughout the fall.
"We have a lot of rookies this season, so I wanted to help as much as I could in making sure they felt comfortable, understood the team culture coming in and were able to assimilate with the group easily."
It's something that Purchase's friends say is typical of her personality.
"She's a very team-first player; she wants the best for us," says Melinda Prévost, Purchase's friend of four years and a forward on the Stingers. "When she was injured she was always still so supportive, even though I'm sure she struggled with not being able to play."
Purchase attended practices in December and played an exhibition game over the break. While the Stingers lost, for Purchase it was a relief to get back in the saddle.
"It's good to get all the rust off," she says. "Now that I've been to practice for two weeks I feel like my old self again."
Prévost says that even after four months away, Purchase is "challenging us as if she didn't miss anything. She sets the standard high and is a really hard worker."
Back in action
The regular season resumed January 12, with Concordia losing to McGill University 5-1. Purchase jumped on for the last 10 minutes.
The next day against Carleton, she was in the starting line-up. The Stingers bounced back with a convincing 6-0 victory.
"We had a tough loss on Saturday, so as a team we knew we had to have a great game against Carleton. That's all I was focused on," she said.
"I had a good week of practice and that gave me confidence for the game, and the girls played great. I was just happy to be back in action and I'm super happy with the outcome of the game."
'The whole team depends on you'
Born and raised in the Maritimes, Purchase began playing hockey when she was nine and started goaltending when she was 12.
"It was mostly just the gear. It looked like a fun position," she says with a laugh. "People say goalies are weird, but I don't believe that stereotype."
Relaxed in life but competitive on the ice, Purchase says that today she's drawn to the position due to the pressure involved. "The whole team depends on how you play, and I think it's challenging because you're always going up against someone in particular."
As a teenager, Purchase played for Metro Boston Pizza, a midget AAA team, as well as for her high school. In her final year, she was recruited by then-coach of the Concordia women's team, Les Lawton, and she applied to the JMSB accounting program.
Currently in her final year at Concordia, Purchase is the vice-president, Academic, of the Commerce and Administration Students' Association (CASA), where she works to improve the resources students have to fulfil their academic goals.
After graduation, she has a job lined up at EY in Toronto, and plans to start working towards becoming a chartered professional accountant.
"It does get pretty busy sometimes," Purchase admits. "But I'm a pretty laid-back person so I think that helps me. And I have a supportive coach and teammates."
'She's brought the team to another level'
For the last two years, Purchase's teammates elected her co-captain.
"She's a good leader on the ice," says Stingers forward Claudia Dubois, Purchase's roommate and friend of four years. "She's brought the team to another level by talking to us in the locker room and pushing us to be better on the ice. She's there for everyone and she leads by example."
Head coach, Julie Chu, agrees.
"I can't say enough about what an all-around great person Katherine is and what she brings to our team," she says.
Chu also notes that goalies are not often voted team captain because they're removed from the bench during the game. "It says a lot about Katherine and her voice in the locker room. She gives us a lot of confidence."
For Purchase, being named co-captain was quite significant.
"It's just a huge compliment to know my teammates believe in me, support me and look to me," she says. "Not a lot of teams do a player vote, and it meant a lot to me that my teammates think of me like that."

Check out upcoming Concordia Stingers women's hockey games this season.
---