A 1.5°C increase in global temperatures may be reached in fewer than 16 years — but the damage can still be reversed!
From December 5 to 7, check out the Climate Clock on Concordia's Sir George Williams Campus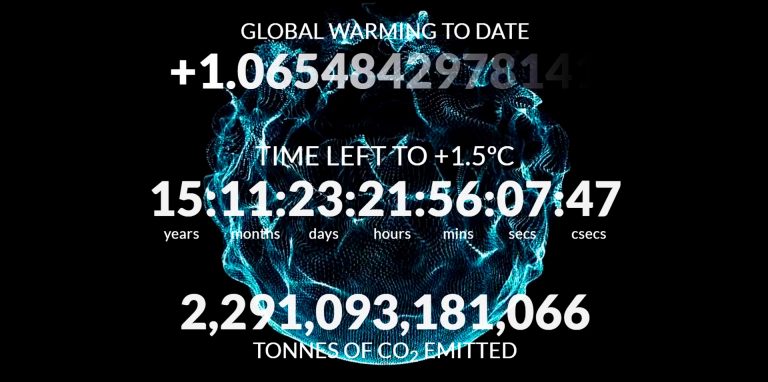 The outcome of climate change isn't written on the wall. Yet the time we have to act on it is — at least at Concordia.
From December 5 to 7, 2018, the Climate Clock will be projected at the corner of De Maisonneuve Boulevard and MacKay Street, thanks in part to Damon Matthews, professor in the Department of Geography, Planning and Environment and Concordia Research Chair in Climate Science and Sustainability.
"If greenhouse gas emissions continue to increase, we will reach 1.5°C of global warming in less than 16 years. This is the direction we're headed right now, but it's important to stress that this is not the direction we need to take," Matthews says.
"There are actions all of us can take to reduce our carbon emissions and add time to the clock."
The projection of the clock will coincide with COP 24, a United Nations climate change conference in Poland. The event will also mark the release of new data about carbon emissions, to be published by the Global Carbon Project.
Take stock of the clock
The Climate Clock is a visualization tool developed by Matthews and author, musician and entrepreneur David Usher. It harnesses data, art, technology and interactivity to add to the conversation about climate change.
"Time is a metric that we can all understand," says Usher. "We all know that climate change will have dangerous consequences, but showing just how little time remains to act makes the challenge that much more real and urgent."
Since its creation, the clock has attracted some high profile attention, including that of one of Canada's most influential environmentalists, David Suzuki.
"Climate change is an issue that should not be partisan, and I hope we can make this the number-one issue for all political parties in the next election," he says.
"We have been given a very short window of opportunity by the Intergovernmental Panel on Climate Change (IPCC) — that's why the Climate Clock is so important. The clock is ticking and we need to be reminded of how little time we have left to act."
Dealing with data
The clock focuses on three new pieces of data: global CO2 emissions for 2018, the amount of temperature change caused by all human emissions and the remaining carbon budget, which tells us how much we are still allowed to emit.
"On December 5, those paying attention to the clock will notice a change. The recent IPCC Special Report gave us a slightly expanded window of opportunity to remain below 1.5°C. However, 2018 CO2 emissions are expected to increase by 2.7 per cent, which pulls the date of 1.5°C closer in time. The combined effect of this new data is to revise our estimate of the time we will reach 1.5°C to the end of the year 2034," Matthews says.
Despite the new emissions data, Matthews sees reason for optimism.
"If we look at the past 10 years, there is evidence that emissions are starting to stabilize. But it is critical that we consider all the options on the table to allow the world to now start decreasing emissions to meet commitments set through the Paris Agreement."
Promoting the Pact
To add time to the clock, Matthews asserts that individuals need to do whatever they can to reduce their carbon footprints. A good place to start is by signing The Pact, a recent Quebec initiative to get people to make a two-year commitment to reduce their greenhouse gas emissions. Since its launch on November 7, more than 238,000 people have signed on.
"This is an amazing statement," says Matthews, who is also on the scientific advisory board of The Pact.
"If we do want to shift the needle, it's going to take everyone's involvement, and our goal of a million signatories to The Pact would send a very strong message."
Matthews stresses that this involvement means thinking about how we lead our individual lives and about how those choices can influence the decisions of our political leaders.
"The Pact is a really interesting effort to demonstrate broad public support for making positive changes."

Check out the Climate Clock predictions by turning your gaze upwards at the corner of De Maisonneuve Boulevard and Mackay Street on Concordia's Sir George Williams Campus. Projections run from 4:30 to 9:30 p.m. on December 5, 6 and 7, 2018.
---