Linda Kay (1951-2018): Pulitzer Prize-winning journalist and 'a phenomenal teacher and mentor'
Concordia mourns the beloved professor and former department chair, who was the first female sports reporter at the Chicago Tribune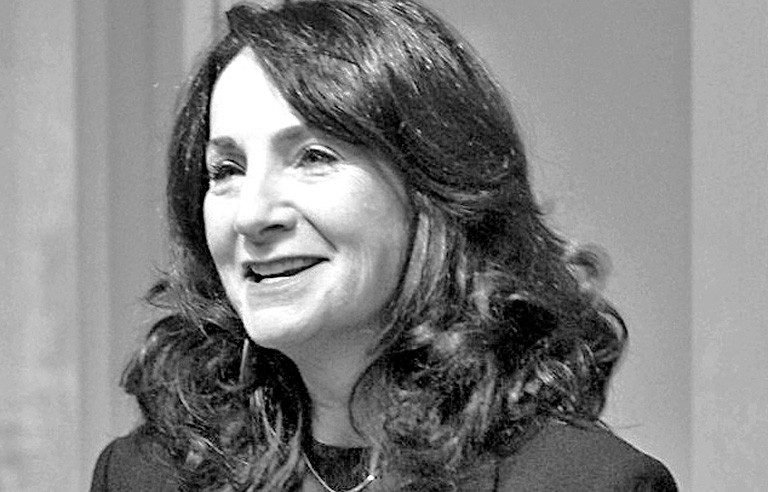 Linda Kay, a professor emerita who served for over 20 years in Concordia's Department of Journalism — as professor, graduate diploma director and chair — passed away on Friday, October 12, 2018.
"Linda was a deeply respected professor who led the department to new heights," says David Secko, chair of journalism.
"She was such an amazing teacher to everyone, students, faculty and staff, and we will sorely miss her."
André Roy, dean of the Faculty of Arts and Science, says: "This is a tremendous loss for us in the Faculty and for the journalism industry as a whole. Linda was a wonderful colleague and she will be missed."
Tributes flooded social media from colleagues and former students. Each message expressed a deep respect for her talent and generosity of spirit.
"I always knew I wanted to be a journalist. But Linda Kay @Concordia was THAT professor that solidified my dreams and aspirations," wrote Caryn Lieberman, digital broadcast journalist for Global News Toronto, in a tweet on Saturday.
Brian Gabrial, professor emeritus in the Department of Journalism and long-time friend of Kay, says her devotion to the craft, her students and Concordia was tireless.
"Journalism is a small department and Linda cared deeply about it and was always the first to volunteer when something needed to be done," he adds.
"When I replaced Linda as chair, I turned to her frequently to seek out advice on what needed to be done. She always had the answer. As for Concordia, I cannot think of a single instance when she declined to serve."
Gabrial says Kay had infinite patience for her students, and always viewed their work in the most positive and supportive of ways.
"She encouraged them. She mentored them. She made them better journalists. As a result, so many have become nationally recognized journalists because of her instruction."
On Facebook, this very story played out in a post by La Presse journalist Hugo Pilon-Larose, who credited Kay with helping him to succeed in Concordia's journalism program as a young student struggling with English.
"I remember walking into Linda Kay's news writing class in 2009 — my first class, my first day. I was practically paralyzed — the fear of not being fluent enough in English made me think I was stealing the seat of someone else. Professor Kay proved to me I was wrong," he writes.
"From day one, even when she wrote on my first assignment 'please come see me' (because my English was very poor), she never made me feel I should leave Concordia to go back to a Francophone university. C'est grâce à Mme Kay si j'ai persévéré à Concordia et c'est entre autres grâce à elle si j'ai été admis à la maîtrise quelques années plus tard à l'Université de Montréal."
A major impact on Canadian journalism
Andy Blatchford
"For a generation of reporters in Montreal, you didn't learn the trade without being schooled by Linda Kay," tweeted Montreal Gazette reporter Christopher Curtis.
"Linda drilled us in the fundamentals, but — for many of us — she was our introduction to feminism and the idea of fair representation."
The effect Kay had on her students is matched by the one she had on the industry as a whole, as expressed in a tweet from Andy Blatchford of The Canadian Press. Blatchford wrote that Kay "had a huge influence on me and a major impact on Canadian journalism."
Indeed, she discovered the untold story of groundbreaking French and English-speaking female journalists reporting on the 1904 St. Louis World's Fair.
Motivated by her own distinction of being the first female sports reporter at The Chicago Tribune in the 1980s, Kay set out to unearth the story of the women writers who came before her.
"I wanted to know more about the women who were erased from the journalism textbooks and never mentioned in autobiographies penned by the men with whom they worked," she wrote in a blog post for International Women's Day in 2015.
Her research resulted in her 2012 book, The Sweet Sixteen: The Journey that Inspired the Canadian Women's Press Club, published by McGill-Queen's University Press. A French translation, Elles étaient seize : Les premières femmes journalistes au Canada, was published in 2016 by Les Presses de l'Université de Montréal.

The French version was a finalist for the 2016 Prix du Canada, given to works that have made exceptional contributions to scholarship and have enriched Canadian cultural, social and intellectual life.
Kay donated the research materials she used in writing her book to Concordia's Records Management and Archives. The archives include correspondence, articles and photocopies of documents dating back to 1887, as well as interviews with Canadian Women's Press Club members conducted during the club's centennial anniversary in 2004.
During her research career, Kay probed into other aspects of the industry that had previously received little attention, including journalists and trauma. While at Concordia, she explored the effect of journalists' coverage of tragedies on the communities where they took place.
In 2013, a study in the Journal of Mass Media Ethics by Kay along with Elyse Amend, assistant professor in the Department of Journalism, and Rosemary Reilly, associate professor in the Department of Applied Human Sciences, revealed that simulations are an effective training tool for journalists reporting on a traumatic event.
The research results provide invaluable preparation for young journalists navigating difficult stories.
Loved by many near and far
Susan Mas
Kay joined Concordia in 1990 and became a full professor in 2014. She began her journalism career at the Paterson News in New Jersey, followed by the San Diego Tribune where she was the paper's first female sportswriter.
In 1979, Kay was part of a team that won a Pulitzer Prize for best local reporting for a story covering an airplane crash. She joined The Chicago Tribune as a columnist and the paper's first female sportswriter.
Among the many outlets Kay wrote for were The Globe and Mail, The London Free Press, the Montreal Gazette and magazines including Chatelaine and Newsweek.
In 2013, she was named a Woman of Distinction in Communications from the Women's Y Foundation of Montreal and won the Dean's Award for Teaching Excellence in the Faculty of Arts and Science in 2007.
Susan Mas, freelance reporter and Carleton University professor, who collected many social media testimonials here, wrote in a tweet that Kay was "loved by many near and far."
"I would not be the same reporter I am today without her encouragement and influence," says CTV national correspondent Michel Boyer. "It is a true honour to have been her student."
EDITOR'S NOTE: This story was updated on Friday, October 19, 2018.

---