Danish political party works with artists to reimagine unused Montreal spaces
Workshop on urban vacancy held at Expo 67 sees Concordia students integrate an artistic vision into a single community project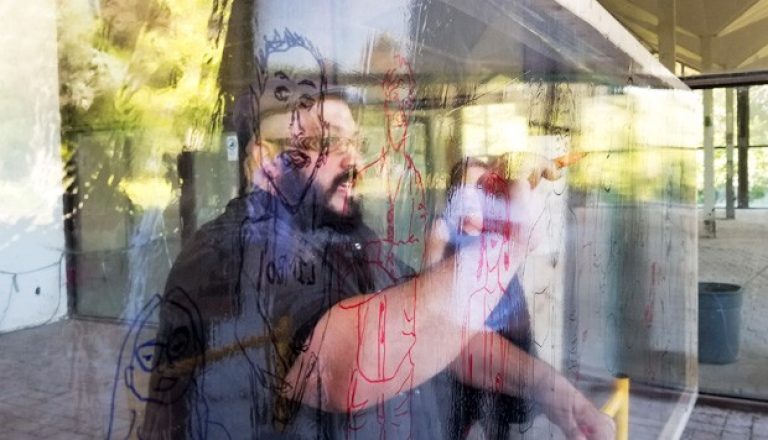 Eduardo Della Foresta, a sculptor and Concordia MFA candidate in studio arts, drove his art truck Atelier Mobile Montréal to the steps of the former Expo 67 Canadian Pavilion site at Montreal's Parc Jean-Drapeau.
"I don't know what will come of this, but I know we're making ripples, and that gets me excited," he says.
Della Foresta met with Concordia students participating in an independent studies course with the Danish political party The Alternative, who are currently Concordia's political-party-in-residence.
His interactive art installation workshop was part of The Alternative's second residency, which ran from September 13 to 17, 2018. Faculty, students and politicians spent several days engaged in intensive workshops at the former Expo 67 site.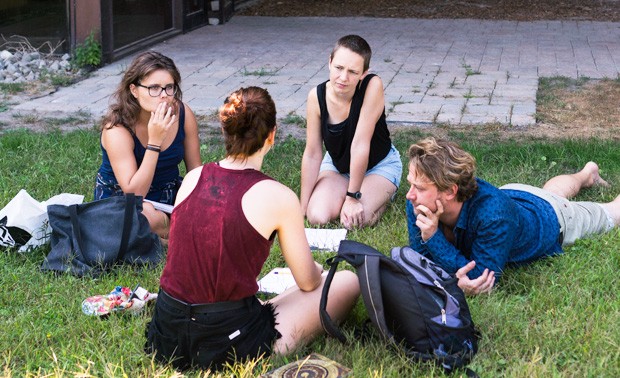 Students engaged in group discussions with Mark Beanland from the Danish political party, The Alternative.
A common language
Rebecca Duclos
The group participating in the residency gathered in Théâtre des Îles, an unused space in the Canadian Pavilion, to discuss urban vacancy. Jonathan Lapalme, a project mentor whose organization Entremise is focused on connecting people to unused spaces in Montreal, negotiated access to the site with La Société du Parc Jean-Drapeau.
Over the four-day event, the class split into groups to explore projects that addressed how to activate vacant and underused spaces in Parc Jean Drapeau. They presented their ideas, analyzed challenges, goals and stakeholders, and voted on proposals.
Half of each day was dedicated to politics and the other half to art.
"In our first session, we met one another and developed a common language," says Rebecca Duclos, dean of Concordia's Faculty of Fine Arts and co-organizer of the event.
"In this session, we dove deep into one another's methods and methodologies. In The Alternative's case, it was their political laboratories and consensus decision-making process. For our part, we shared a diverse set of artistic methodologies — how we try to make difference happen."
Interdisciplinary activities drew on many artistic streams, including design, dance, theatre and studio art. Together, they began to integrate an artistic vision into a single community project aimed at changing the course of public dialogue.
You start to question everything
Della Foresta
Imogen Hunter, an exchange student from University of New South Wales in Australia, works on the project design team. Her goal is to help artists and designers build agency to give back to the community.
"As an artist, you're questioning the world around you — giving a perspective that's different from the norm," she says. "Back home I do a lot of work with a refugee legal advocacy group and this is in a similar spirit."
For Della Foresta, it's all about the journey. His mobile workshop provides tools and supplies for those who are excluded from cultural exchanges due to socio-economic factors.
"You start to question everything, which is great because it's in that doubt that all this possibility comes forward. I think the process of working toward something is a lot more important than the arriving."
Students and faculty gathered with members of The Alternative for a group photo.
A model for how education can happen
Uffe Elbaek
Members of The Alternative found the sessions equally challenging and inspiring.
"There's something incredibly interesting about the sort of disturbance that bringing artists into other organizations can create," says Mark Beanland, personal advisor to The Alternative's leader Uffe Elbaek.
"This notion of doing it the other way around, bringing politicians into the educational environment, makes for a very worthwhile exploration."
"Education can be so much more than what it is normally," says Elbaek. He encouraged the students to create a space where they can "be the best version of themselves, defined by themselves."
He adds, "That's politics for me as well. Because that's the kind of society I want to build. I hope this can be a model for how education can happen in a university."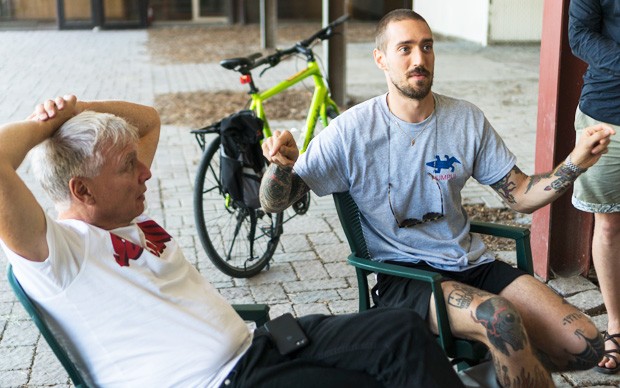 Uffe Elbaek (left) with student Jesse Massumi during a discussion at the Expo 67 site.
We're challenging the structures of teacher and learner
Mikaela Clark-Gardner
Elbaek's message struck a chord with participant Mikaela Clark-Gardner, academic and advocacy coordinator at the Concordia Student Union and an art education student.
"I think this just reaffirms how important it is to consult the students themselves," she says.
As both student politician and art educator, Clark-Gardner said the workshop got her rethinking power structures and patterns of hierarchy in the classroom. She sees the future of education as more of a give-and-take between students and faculty through participatory engagement.
"I'm in this because I like to expand my understanding of what education is and what learning is. We're challenging the structures of teacher and learner. I think that's the future," she says.
Students in the residency are now working toward their third session in November 2018, which will focus on preparing for a two-day "catalyst event" open to the public, designed to build interest in the site and present a speculative longer-term future for underused spaces in Parc Jean Drapeau.

Read part one of the series on The Alternative's residency. Learn more about Concordia's Faculty of Fine Arts.
---