District 3 centre ushering in the fourth industrial revolution
Concordia innovation hub uses multidisciplinary approach, local expertise and latest tech to move ideas to fruition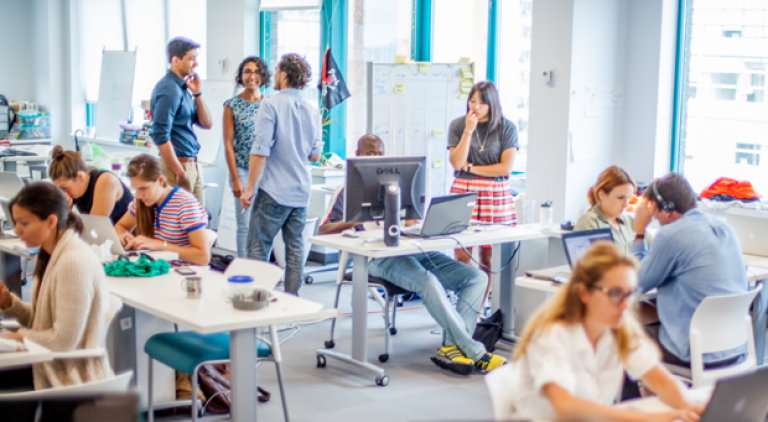 Khalil Haddad is the marketing and communications manager for Concordia's District 3 (D3) Center for Innovation and Entrepreneurship.
We are experiencing the beginnings of the fourth industrial revolution. Emerging technologies are radically changing our society and the way we live, work and relate to one another at an unprecedented rate.
In its scale and complexity, the transformation will be unlike anything humankind has experienced before. The time to develop new ways of adapting to these significant changes is here.
There is a fundamental conviction among the team at Concordia's District 3 (D3) Center for Innovation and Entrepreneurship that we need to embrace emerging technologies. More importantly, there is a desire to empower students to become innovation leaders and job creators of the future.
Collaborative and multidisciplinary
D3 embraces rational optimism with a vision of creating a multidisciplinary innovation hub to build a prosperous tomorrow. The startup incubator equips students with the skills to succeed in an incredibly complex environment.
As Concordia promises to offer a next-generation education that is transformative and fit for the times, D3 takes the leap forward to support and deliver this new direction of experiential learning.
The centre collaborates with organizations and startups — each of which mandate teams of students and researchers to turn ideas into practical solutions — and helps break down perceived barriers between academic disciplines.
D3 aims to transform the way industry and universities can learn, work and collaborate to accelerate innovation.
Beginning in 2017, the centre teamed up with the Gina School of Engineering and Computer Science's Centre for Engineering in Society to offer the Graduate Certificate in Innovation, Technology and Society. The eight-month program focuses on learning innovation best practices and includes an in-house practicum. Students must also complete a residency program.
In summer 2018, 15 Concordia student residents from the university's four academic faculties developed solutions for six organizations and startups, all the while collaborating with experts, researchers and entrepreneurs.
The residents explored emerging technologies and their implications in different case studies, including the use of artificial intelligence in enhancing mental health, blockchain applications, sustainable food and access to medical clinics.
A hyper-dynamic and friendly environment
Alberto Perez
Alberto Perez, a student in Concordia's Department of Mechanical, Industrial and Aerospace Engineering, appreciates how the program really encouraged him to learn new skills.
"From public speaking and service design to interviewing and conducting market research with my team — I did all of this in a hyper-dynamic and friendly environment full of energy and vibrancy," Perez says.
While many of the students found working in a multidisciplinary environment challenging, they were able to expand their understandings of technology and uncover new uses for them.
Sofia Munera, a recent Department of Communication Studies and the Liberal Arts College graduate, applied for the residency because it offered her an opportunity to see the inner workings of startups and better understand how to be an entrepreneur.
"The residency challenged me to get out of my comfort zone and to see the world from a multiplicity of perspectives," Munera says.
Pushing the boundaries of change
University is merely the beginning for a life of learning. In Montreal and around the world, people are working to redefine the ways we interact with each other, our environments and the structures surrounding us. Every day at District 3, innovators come to work with determination and grit, creating a hard-working yet human-centred environment.
In order to chase innovation with such conviction, students must be willing to go off-script. Experiential learning and collaboration with others brings clarity and a depth of understanding students need to widen their scope and push the boundaries of change.
Innovation is definable — it is the spirit of taking risks, the willingness to explore, and the drive to collaborate with new and exciting perspectives. Innovation combines theory with experience to solve problems and build a better world. Empowering students early in their careers can help us achieve these goals and much more.
I believe in expanding my horizons
Daniel Marro
Recent D3 student residents share their thoughts about their experiences.
Sathsala Perera, Business Administration
"The most challenging part was stepping outside my comfort zone. I very much plan to work within the startup ecosystem after completing my studies."
Lindsey Carter, Design and Print Media
"At the beginning of the program, we were encouraged to write and sketch in pen only so we couldn't erase our ideas. That was the most difficult part for me because I was shy about others seeing my unfinished work."
Camila Duarte, Business Administration and Management
"I work as a resident at D3, where I continue learning about startups and the shared knowledge found in them. It has been exciting and motivating coming to work every day to combine different approaches and get hands-on experience with startups."
Daniel Marro, Innovation, Technology and Society
"I applied to the residency because I believe in expanding my horizons. It has a culture that is vastly different from the ones I've known in my previous studies."
Victoria Cooke, Innovation, Technology and Society
"I chose to apply to the program because I really wanted to find ways to put the theory that I learned in my undergrad into practice. Often we can talk about things like systemic oppression but not actively seek new ways of living with and communicating with each other. I think design thinking — one of the (imperfect) concepts we're learning about — can offer some insights into how we might imagine equitable futures."
Find out how you can accelerate your career with Concordia's District 3.
---