Excellence in experiential learning is a win-win
Showcase and awards night celebrates employers, co-operative education students and the benefits of work terms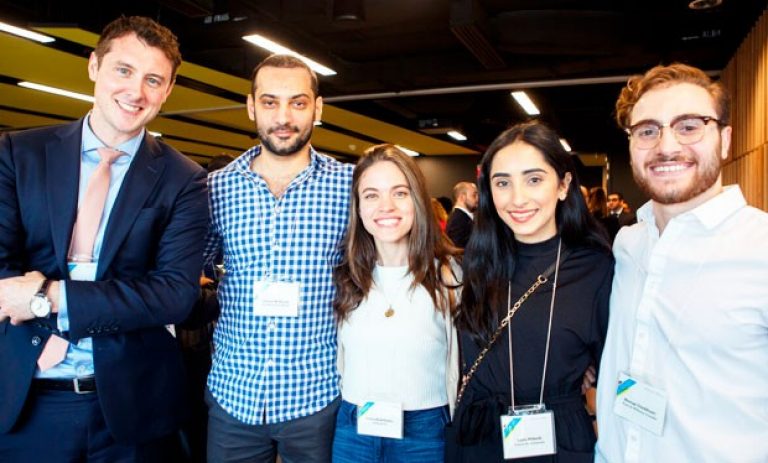 This past year, more than 2,000 Concordia Co-op students, representing over 40 undergraduate and graduate programs, completed work terms with hundreds of employers.
On Thursday, May 24, Concordia's Institute for Co-operative Education highlighted the students' on-the-job learning and achievements at the Co-op Awards of Recognition Event (CARE). The annual celebration honours both students and employers who go the extra mile.
"Tonight, I welcome you to celebrate excellence in the form of people who are dedicated, passionate, and accomplished," said Claude Martel, director of Co-op, before giving out more than $12,500 in awards.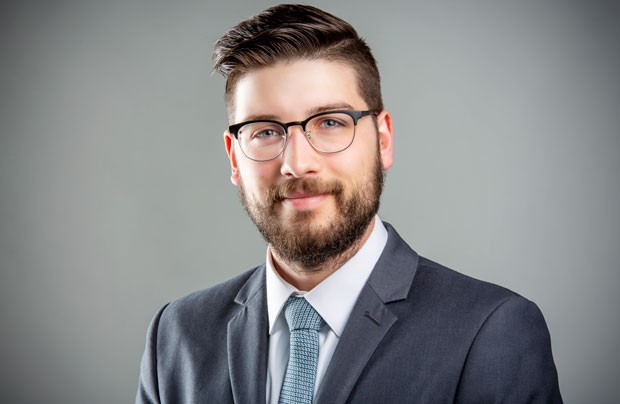 Samuel Shulman: "Co-op was one of the prime reasons I chose to study at Concordia."
Samuel Shulman is the winner of this year's Alexandre Quintal Co-op Student of the Year Award. The engineering graduate completed internships at Kingston Byers and Deloitte.
"Co-op was one of the prime reasons I chose to study at Concordia," Shulman told the CARE audience. "I give it a lot of credit for the fact I secured a job a good two months before graduating."
Shulman said Co-op opened his eyes to what it meant to work as an engineer, and made university more exciting. "It motivated me as a student by giving me a real idea of where my career path could take me."
Bombardier, CN, KLOX Technologies Inc., Matrox and Mega Brands received Co-op Top Employer Awards.
Standout students
Preceding the award ceremony was the Co-op Showcase, where 27 exceptional Co-op undergraduate and graduate students presented posters bearing details about their internships and discussed them with attendees.
"It's an opportunity for students to show the impact of their work terms, experiential growth and the benefits of Co-op in a visual format," said Stefanie Corona, Co-op's coordinator of student learning and professional development, and one of the evening's organizers.
"It also encourages new employment opportunities."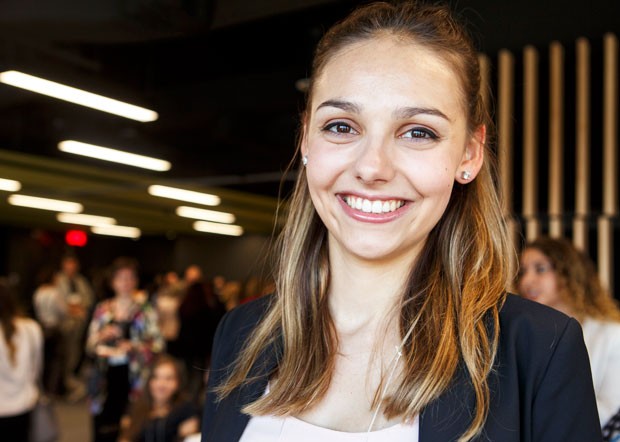 Co-op student Mariya Krasteva: "I was very fortunate."
Physics student Mariya Krasteva's Co-op experience took her on a journey — first to the McGill Space Institute, next to a quantum physics lab in Dusseldorf, and finally to the Netherlands. There, she worked at the European Space Agency — on the Gaia mission that seeks to chart a three-dimensional map of our Galaxy.
"The Gaia mission is revolutionary to the field of astronomy, making new data accessible to astronomers all over the world," said Krasteva.
"I was very fortunate to work directly with the lead project scientist on the mission. To me, it was beyond a blessing."
Krasteva says the experience pointed her towards a master's in space instrumentation. But first, she's flying off to Hawaii for the summer to work with the Canada-France Hawaii Telescope (CFHT), through the Institute for Research on Exoplanets — thanks in part to the experience and connections she forged through Co-op.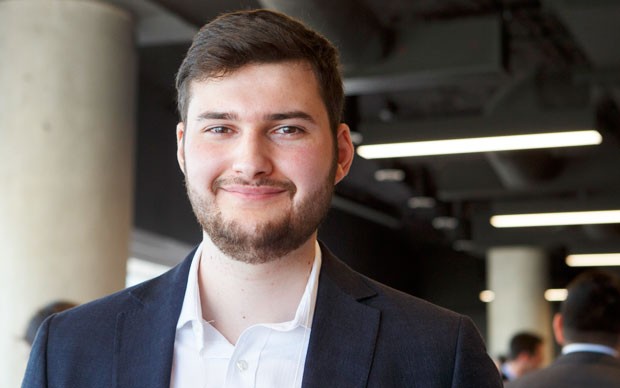 Co-op student Justino Donovan: "I got to learn information systems in a massive workplace."
JMSB graduate Justino Donovan's Co-op experience let him explore both the marketing and business technology management sides of his double major.
His first two internships were at Seevibes and Ensuite Media, where he did social media marketing. Donovan then worked as a change-adoption analyst — developing training plans and user system procedures — during his last internship with McKesson Canada.
"I got to grow my BTM background and learn information systems in a massive workplace," said Donovan, who graduated with multiple job offers.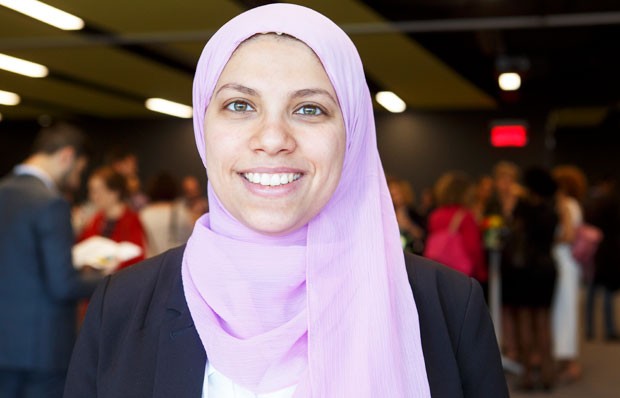 Co-op student Salma Aly: "I got to experience this whole new world."
For Salma Aly, who graduates this June with a degree in software engineering, Co-op provided a range of perspectives on her chosen industry through two very different internships with Microsoft — in Vancouver, BC and Redmond, Washington.
At her first Microsoft internship, Aly developed a holographic, mixed-reality application for neuro-anatomy students to help them better envision the brain. In the second, she was introduced to machine learning.
"It was a great experience for me, which touched on things I never learned in school," says Aly.
"I got to experience this whole new world while also observing how a very established software company develops their programming cycle."
The future looks bold
Martel promised massive growth for Co-op — where enrolment increased by 24 per cent this past year — before highlighting the Institute's newest program: the Accelerated Career Experience (ACE), a 16-month internship created in collaboration with Bombardier.
"We're going to start moving with all sorts of new programs," he said.
"We're going to expand ACE by bringing other employers into the fold and look into research programs for masters' students. It's time to reinvent the wheel and transition to be better adapted to this ever-changing world."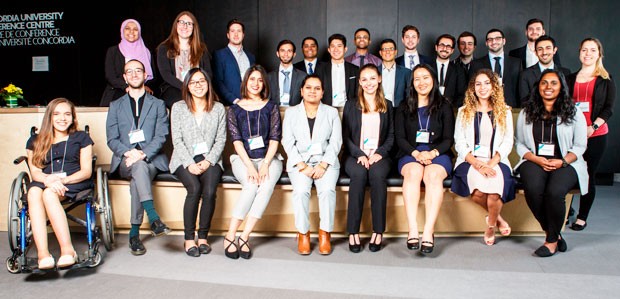 The 2018 Co-op Showcase participants.
A transformative outlook
Co-op employer Karine Roy, director of learning and innovation at Element AI, spoke about the benefits of co-op programs and how, as someone who has been in the software industry for two decades, they've always been part of her strategy.
"Co-op gives students first-hand exposure to the industry, but it also gives us access to the next generation of bright minds. In the world of AI, tapping into that talent is key," she said, adding that around 30 members (10 per cent) of Element AI's work force are interns and co-op students.
Roy described how the ability to learn and adapt is key to success. And while technical skills are always important, soft skills such as self-awareness, collaboration and creative thinking are just as critical.
"We are living in one of the coolest eras, as we have the ability to craft the future and design our world," she added.
"It's our responsibility to embrace this transformation and work together to continue to support our students, so they can craft it with us. Because this future is for them."
---