The sky's the limit for Concordia's new 16-month internships with Bombardier
The Institute for Co-operative Education launches ACE, a 'deep recruiting' program that prepares students to jump headfirst into the workforce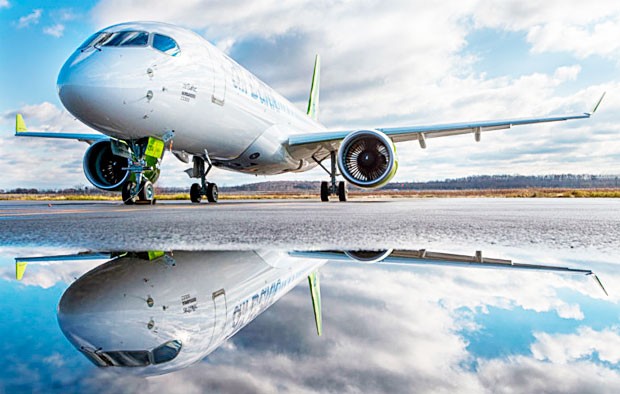 Students in the ACE program will complete 16-month work terms. | Photo courtesy of Bombardier

Four Concordia engineering students are getting ready to embark on an elite internship with a global aerospace giant.
The Institute for Co-operative Education (Co-op) has partnered with Bombardier to launch the Accelerated Career Experience (ACE). Senior engineering students in the program will complete a 16-month work term with the company.
Third-year students David Dunleavy, Julia McDonald, Michael Anthony Farinaccio and Marc Nasr will inaugurate the internships later this month. They will become part of daily operations and contribute to long-term projects, such as production of the C Series jetliners.
"It's truly a career-launching opportunity," says Nadia Mazzaferro, Co-op program coordinator for engineering.
"The idea behind ACE is not to fill a temporary need, but to recruit and groom top emerging talent for strategic higher-level positions."
Over the course of their internships, students will receive one-on-one training and coaching from Bombardier higher-ups. During the last four months, the students will serve as mentors to the next group of ACE recruits, before returning to Concordia to complete their Capstone year.

'A deep recruiting program'
The length and nature of ACE internships separate them from traditional Co-op programs. Currently, students in Co-op participate in up to three four-month internships throughout their studies.
Mazzaferro explains that while Co-op is great for diversifying one's portfolio, ACE is tailored for senior students who want to become members of a planning, management or production team.
"These internships are for students who know exactly where they're heading post-graduation," she says.
While the program requires students to add an extra year to their studies, Mazzaferro says participants will leave Concordia with the experience, knowledge and confidence to jump headfirst into a career in industry.
ACE graduates are also prime candidates for strategic jobs at Bombardier.
"When we discussed the creation of this internship with Bombardier we asked them what their expectation was in terms of the percentage of students who would get jobs from it — they said over 80 per cent," says Claude Martel, director of Co-op.
"ACE is much more than an internship — it's a deep recruiting program."

"Bombardier is just the beginning"
Martel adds that these first four placements with Bombardier mark just the beginning for ACE. The program is slated to grow exponentially over the coming year as different companies and faculties join the fold.
"The ball is already rolling with half a dozen other large international companies who've eagerly expressed a willingness to jump on the ACE bandwagon," says Martel, adding that he estimates between 20 and 50 new internships will be created by next year.
"This program really came out of a demand from employers to recruit not only at the entry level, but at the second tier of employment. They're looking for people who, in a couple of years, will be their specialists or mid-level managers."

Eligibility
ACE is available to third-year engineering students in the Department of Mechanical, Industrial and Aerospace Engineering, as well as senior students in Electrical Engineering. Eligible students must have also completed 65 credits and have a minimum GPA of 2.7.
Applicants go through an initial screening by Co-op. The best applications are then forwarded to Bombardier for a round of interviews.
Registration for the next ACE cohort opens January 2019. Mazzaferro says the most important thing for students who are interested in applying is to get involved.
"Join associations, projects, case competitions, hackathons," she says.
"It's not necessarily your part-time work experience or GPA that will make you the ideal candidate. Often times, employers are looking at interesting extra-curricular activities and community involvement. They're looking for a team player — someone whose active, flexible and ambitious."

Find out more about Concordia's Institute for Co-operative Education.
---