6 Concordia faculty recognized for their mentorship, academic leadership and career achievements
Annual ceremony sees three awards granted, three profs inducted into the Provost's Circle of Distinction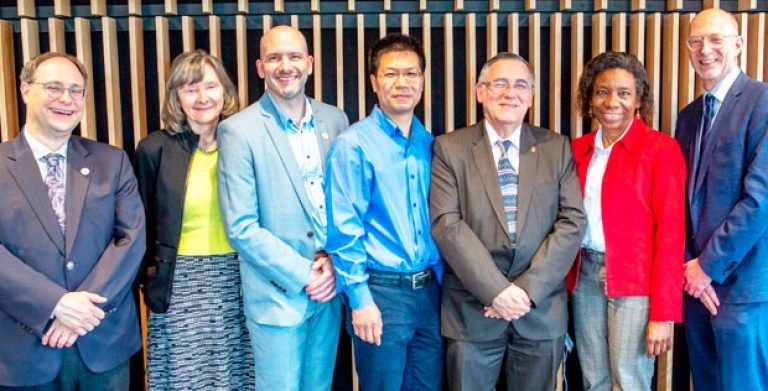 From inspired graduate student mentorship to feats of administrative prowess, the annual Provost's Celebration recognizes the achievements of outstanding Concordia faculty members and librarians.
"Ultimately, it's the contributions of faculty and librarians that make universities great by inspiring students, surpassing frontiers in research and creative activity, and providing service and leadership that is recognized by their peers at Concordia and externally," said Graham Carr, provost and vice-president of Academic Affairs.
"It's a privilege to honor the tireless commitment of these outstanding individuals and to celebrate the accomplishments that make Concordia proud."
Six Concordia faculty members received awards for their work in a ceremony held on Tuesday, May 22, at the John Molson School of Business (JMSB). Three were inducted into the prestigious Provost's Circle of Distinction, two were given Academic Leadership Awards, and one received a Graduate Mentoring Award.
Provost's Circle of Distinction
Invitations to the Provost's Circle of Distinction are extended to faculty members and librarians who earned external awards for career achievements — such as the 3M National Teaching Fellowship, the Order of Canada and the Order of Quebec — or were made fellows of scholarly associations, such as the Royal Society. Three new faculty members were inducted into the Provost's Circle this year:
Simon Bacon is a professor and the CIHR SPOR Chair in innovative, patient-oriented, behavioural clinical trials in the Department of Exercise Science. He is world renowned for his research into the role of lifestyle factors and health behaviours in non-communicable chronic diseases.
Adding to his already-impressive repertoire of accolades, Bacon became a fellow of the Academy of Behavioral Medicine Research in 2017 and the Canadian Cardiovascular Society in 2016.
Louis Patrick Leroux is a professor in both the English and Études Françaises departments, founder and director of the Montreal Working Group of Circus Research and an associate researcher at the National Circus School.
His research contributions to circus studies earned Leroux membership to the College of New Scholars, Artists and Scientists of the Royal Society of Canada last year.
Zhibin Ye is a professor in the Department of Chemical and Materials Engineering, where he researches how to design new polymers and nanomaterials for new applications in the chemical, biomedical and composite materials industries.
Ye was recently admitted as a Fellow of the Royal Society of Chemistry in the U.K. for his outstanding contribution to the advancement of chemical sciences.
Academic Leadership Awards
Academic Leadership Awards recognize faculty members and librarians who have demonstrated exceptional leadership abilities and accomplished significant administrative achievements.
Award recipient Linda Dyer, professor in the JMSB's Department of Management, has just completed a six-year term as its chair. Dyer conducts research on the organizational impact of demographic diversity and the relationships between small firm owners and their employees, as well as how owner-managers interact with professional business advisors.
As department chair, Dyer implemented various initiatives to promote a positive atmosphere and ensure a smooth-functioning department, while maintaining an impressive research agenda and a high level of graduate student supervision.
Dyer's other contributions include coordinating the JMSB's Annual Graduate Research Exposition since 2010, being the chief negotiator for the CUFA collective agreement for 2014-2015, and running workshops for the Centre for Teaching and Learning and the Women's Faculty Summit.
The other Academic Leadership Award was presented to Ted Stathopoulos, professor in the Department of Building, Civil and Environmental Engineering, for running a 38-year marathon of administrative excellence.
This includes serving as president of CUFA since 2013, developing and maintaining a world-class laboratory and computational facility at the Centre for Building Studies in his time as director from 1998 to 2001, and successfully leading the CEAB accreditation of all engineering programs offered by the Faculty of Engineering and Computer Science, as well as the accreditation of a new program in Industrial Engineering.
A world expert in wind engineering and building aerodynamics, Stathopoulos has published more than 500 papers, has been a member of the Provost's Circle of Distinction since 2009 and is the editor of the Journal of Wind Engineering and Industrial Aerodynamics.
Ann English receives the Award for Graduate Mentoring
Ann English, professor emerita in the Department of Chemistry and Biochemistry and honorary university research chair in bioinorganic chemistry, was crowned winner of the 2017 Graduate Mentoring Award.
Described in her nomination for the award as "a pioneer of modern bioorganic chemistry within Canada," English's world-class research training involves assigning students their own projects and giving them freedom to independently develop and manage their research. Her students' research, supported by NSERC, CIHR, FRQNT and the private sector, has been published in close to 130 peer-reviewed publications and presented at over 125 national and international lectures.

Read more about Concordia's nine strategic directions, including take pride, teach for tomorrow, double our research and go beyond.
---