Exceptional mentor Gordon Dionne remembered (1968-2018)
Paradign-shifting manage helped lead nation-wide dialogues around accessibility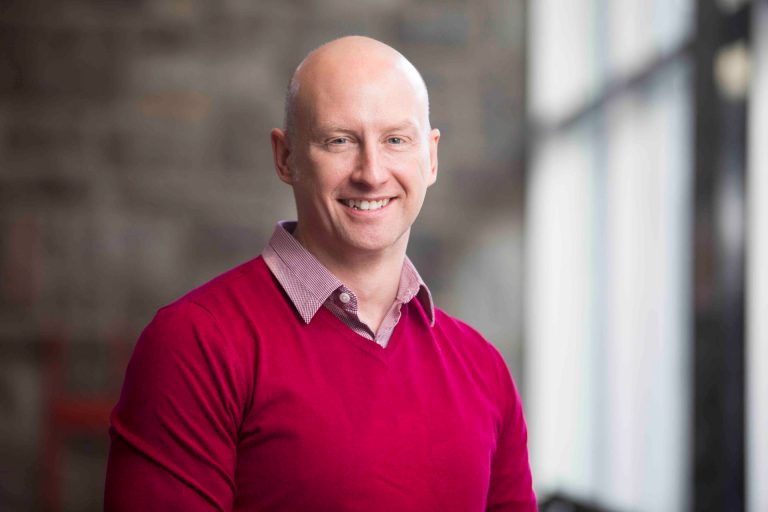 It is with great sadness that family, friends and Concordia colleagues mourn Gordon Dionne, manager of Concordia's Access Centre for Students with Disabilities (ACSD). Dionne passed away after a battle with cancer on Friday, May 11.

After a stint as an accessibility advisor at McGill University, Dionne came to Concordia in 2013. Anna Barrafato worked under him at ACSD as a disability accommodation specialist. She says Dionne's arrival at Concordia represented a paradigm shift in how students with disabilities were supported on campus.
"When Gordon became manager, we were in the midst of a significant change in our student population. More and more, we were noticing demand for services for 'hidden' disabilities such as learning disabilities and mental health conditions, instead of mobility issues and other physical disabilities."
Dionne was ahead of his time in conceptualizing and bringing attention to Quebec's changing landscape. With his signature compassion and determination, he helped lead nation-wide dialogues around accessibility so that students with any form of disability could meaningfully engage in their education.

"Gordon wanted to ensure that all students with disabilities could benefit from the same challenging and rewarding academic experience that their peers without a disability got to experience every day," Barrafato says.

"He was a mentor and a leader who believed that accessibility on campus was more than a social justice issue, it was the hallmark of a campus community that truly cared about all its members and left no one behind."

Dionne was well known and respected in disability services across Canada and the United States. Colleagues describe him as a pivotal member of the Canadian Association of College and University Student Services (CACUSS), the Association québécoise interuniversitaire des conseillers aux étudiants en situation de handicap (AQICESH), the Association on Higher Education and Disability (AHEAD), the Canadian Association of Disability Service Providers in Post-Secondary Education (CADSPPE), and the newly formed Community of Practice.

His own team members at Concordia remember Dionne as an exceptional mentor who inspired the best in everyone he met. Through initiatives such as "Pings of the Future" to help professionals read the future by examining the present, and through an open-door policy, Dionne always took the time to listen to anyone needing him. He gave freely of himself, never expecting anything in return.

Gaya Arasaratnam, director of Campus Wellness and Support Services, recollects the strengths Dionne brought to ACSD and the Concordia community as a whole. "Gordon had a rare gift for looking at the world with the eyes of an artist and a strategist — a unique ability to see creative potential with wit, compassion, and acumen," she says.
"He saw the innate power that people held within themselves, and at every opportunity he found a way to help them recognize that power and unleash it."


The visitation will be held at Collins Clarke MacGillivray Funeral Home (5610 Sherbrooke St. West) on Wednesday, May 16, 2018 between 5 p.m. and 9 p.m. Funeral Services will be held at St. Ignatius of Loyola Church (4455 West Broadway) on Thursday, May 17 at 10 a.m. Dionne's obituary can be found here.
---