Using nanoparticle research to improve current MRI techniques
A Concordia PhD student's research infuses carbon dots with metal ions to give them magnetic properties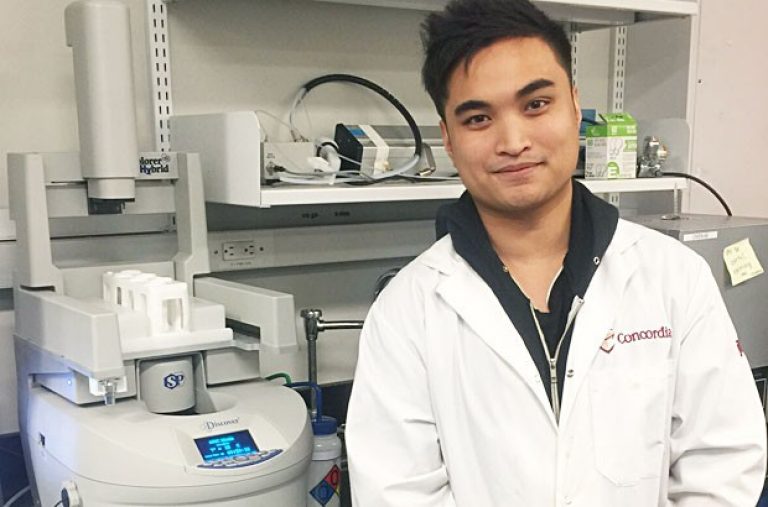 In Concordia's Naccache Lab, researchers study how metallic and luminescent nanoparticles interact, with far-reaching implications for medicine, optics and electronics.
Phd student Jun-Ray Macairan's work is focused on the potential of "carbon dots."
First discovered in 2004, carbon dots are useful in bioimaging applications because of their fluorescence emissions and biocompatibility. Macairan's research infuses carbon dots with metal ions to give them magnetic properties.
His results could improve both fluorescence imaging and magnetic resonance imaging (MRI) by creating an amalgam of the two techniques. "This could allow for quick and accurate data collection and disease diagnosis," he says.
Macairan began his master's in chemistry in the Naccache Lab, housed in Concordia's Department of Chemistry and Biochemistry, in fall 2017. Recently, he was fast-tracked into the PhD program under the supervision of assistant professor Rafik Naccache.
We challenge each other to become better scientists
Jun-Ray Macairan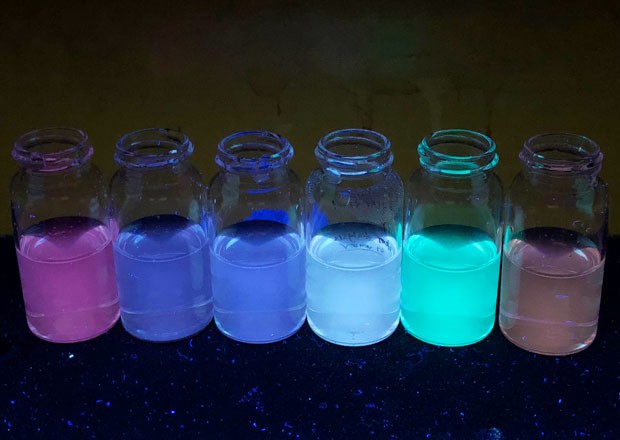 How does this specific image relate to your research at Concordia?
The picture shows carbon dots emitting light at various colours. This is one of the interesting features of these nanoparticles: their optical properties can be controlled such that the light emitted changes depending on how it's made. This has a lot of potential for various applications such as bioimaging or sensors.
What is the hoped-for result of your project? And what impact could you see it having on people's lives?
My project aims to create a non-invasive bioimaging probe that can be used for both fluorescence imaging and magnetic resonance imaging (MRI).
The reason for researching an approach to combining the two techniques is that each imaging technology has its advantages and limitations. For example, fluorescence imaging has a high sensitivity but low resolution, whereas MRI has a high resolution and low sensitivity. Having a single imaging probe for both would address their respective shortcomings by having the best of both worlds. This could allow for quick and accurate data collection and disease diagnosis.
What are some of the major challenges you face in your research? What are some of the key areas where your work could be applied?
As a scientist, I welcome any challenges coming my way. Optimizing the conditions to yield the best results is one challenge I encounter frequently. This is done by changing various reaction parameters (reaction time, temperature, amounts of starting material).
In addition, because the nanoparticles I am working with were discovered only a little over a decade ago, the lack of literature on them can often cause headaches.
What person, experience or moment in time first inspired you to study this subject and get involved in the field?
Initially, my goal was to become a mechanical engineer. This changed once I took Suzanne Black's General Chemistry class in CEGEP and I discovered my appreciation for chemistry.
From there, I took a leap of faith by going into the undergraduate Biochemistry Program at Concordia – a decision I'll never regret. Concordia is where I developed a passion for chemistry. Surrounding myself with esteemed faculty members and a strong culture of research inspired me to make a meaningful contribution to the field.
I couldn't be more pleased with my decision to work in the Naccache Lab for my graduate studies. We have a very good dynamic in our lab. We challenge each other every day to be better scientists, while having fun. I strive to become the best at what I'm doing and the people around me pave the way to success. I couldn't ask for a better fit.
How can interested STEM students get involved in this line of research? And what advice would you give them?
It's important to have a taste of what you're getting into. Volunteering in research labs is one way of gaining insight. Another way to get involved is to do an undergrad project in a lab. That's what I did.
I worked in associate professor and Canada Research Chair in Chemistry and Biochemistry John Oh's lab during my last year as an undergrad. It was a pleasant experience as I got to interact with grad students and develop necessary lab skills for the future.
Once you find your topic of interest, it's important to show your interest and to be active in that field.
What do you like best about being at Concordia?
It feels like being part of one big family. Just like in Cheers, everybody knows your name. From grad students to faculty members, everyone is reachable.
Whether it's to ask a question about how to analyze certain data, to ask for help setting up experiments or simply to talk about the latest episode of Game of Thrones (after work hours), you can always count on someone.
Are there any partners, agencies or other funding/support attached to your research?
I have funding from the Natural Sciences and Engineering Research Council of Canada (NSERC) and the university.

Learn more about the Naccache Lab, in the Department of Chemistry and Biochemistry.
---