With a focus on critical thinking and sustainable material practices, Design students work independently or in collaborative teams to create works that engage the imagination and explore the social implications of design now and in the future.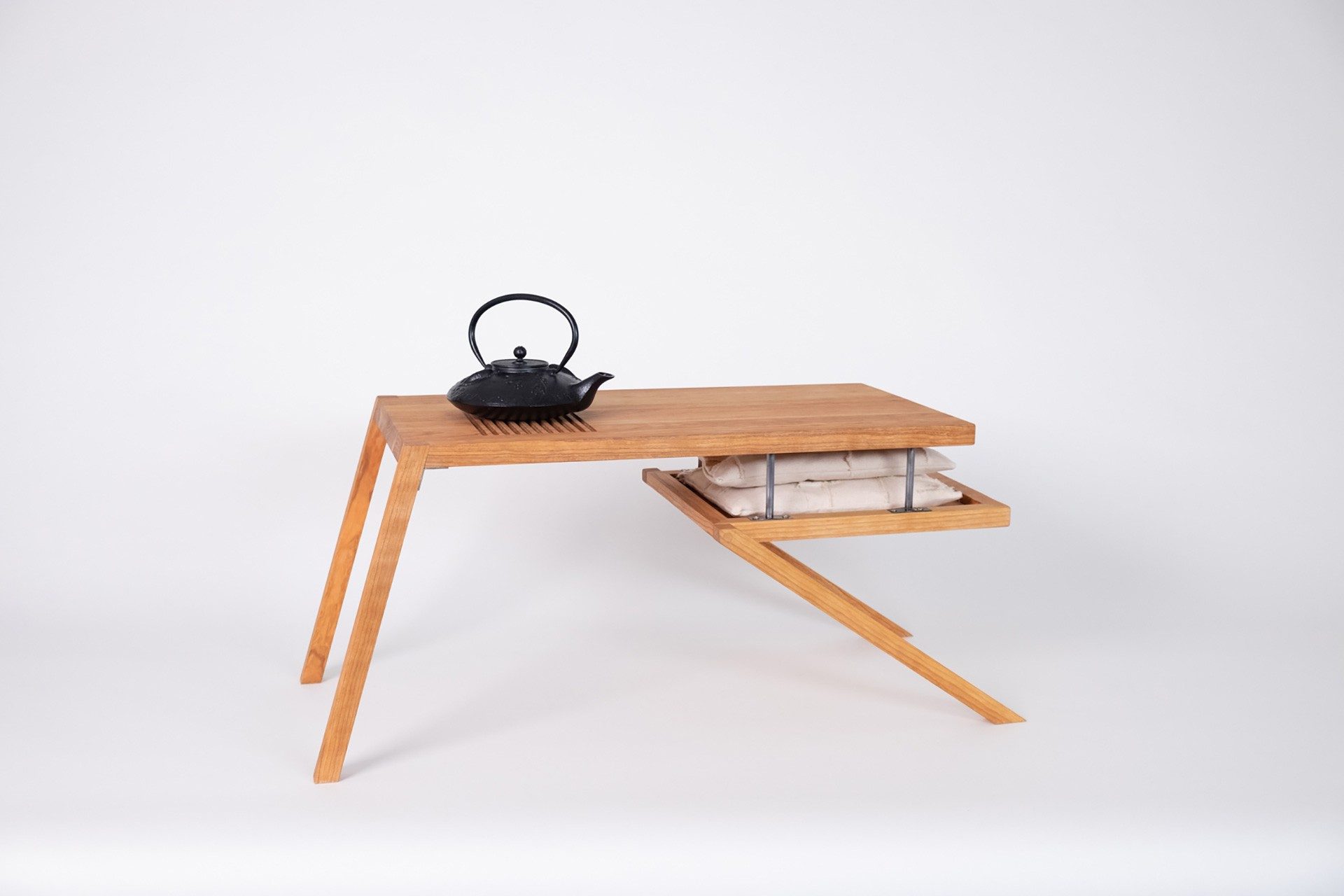 By Stefanie Auger-Roy, Melissa Muggeo, Judith Maltais
Material: Wood, metal
Our work was developed around the Bonsai tree and the Japanese terms "mu" and "ma". In definition, "mu" conveys "absence" or "non-existence" whereas "ma" defines the concept of space and the intervals or gaps in space. By using these elements as inspiration, we've challenged ourselves into reversing our thought process and considering first the negative spaces rather than the occupied space. Like "mu" and "ma", our goal was to render a light design with pure lines. Like the Bonsai tree, we've concentrated on the delicate but stable branches of the tree to create an impactful design; one that seems almost impossible yet is achieved. Finally, favouring the use of the tea table and the small size of the Bonsai tree, we explored smaller dimensions as a means to bring people together in a social ritual.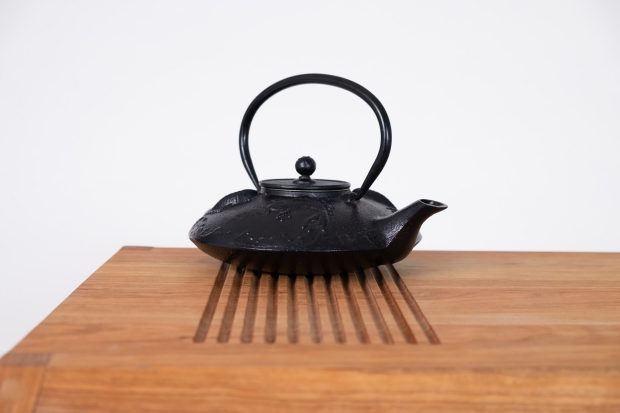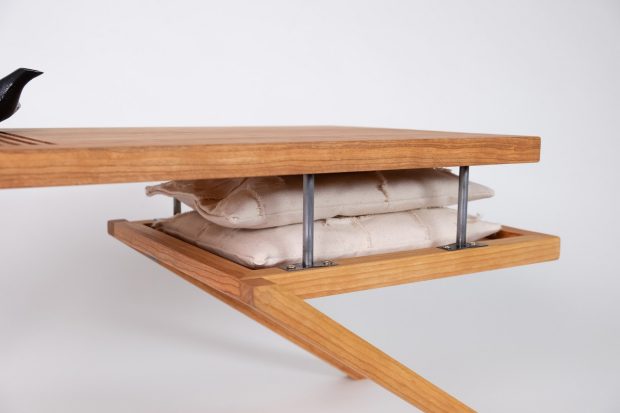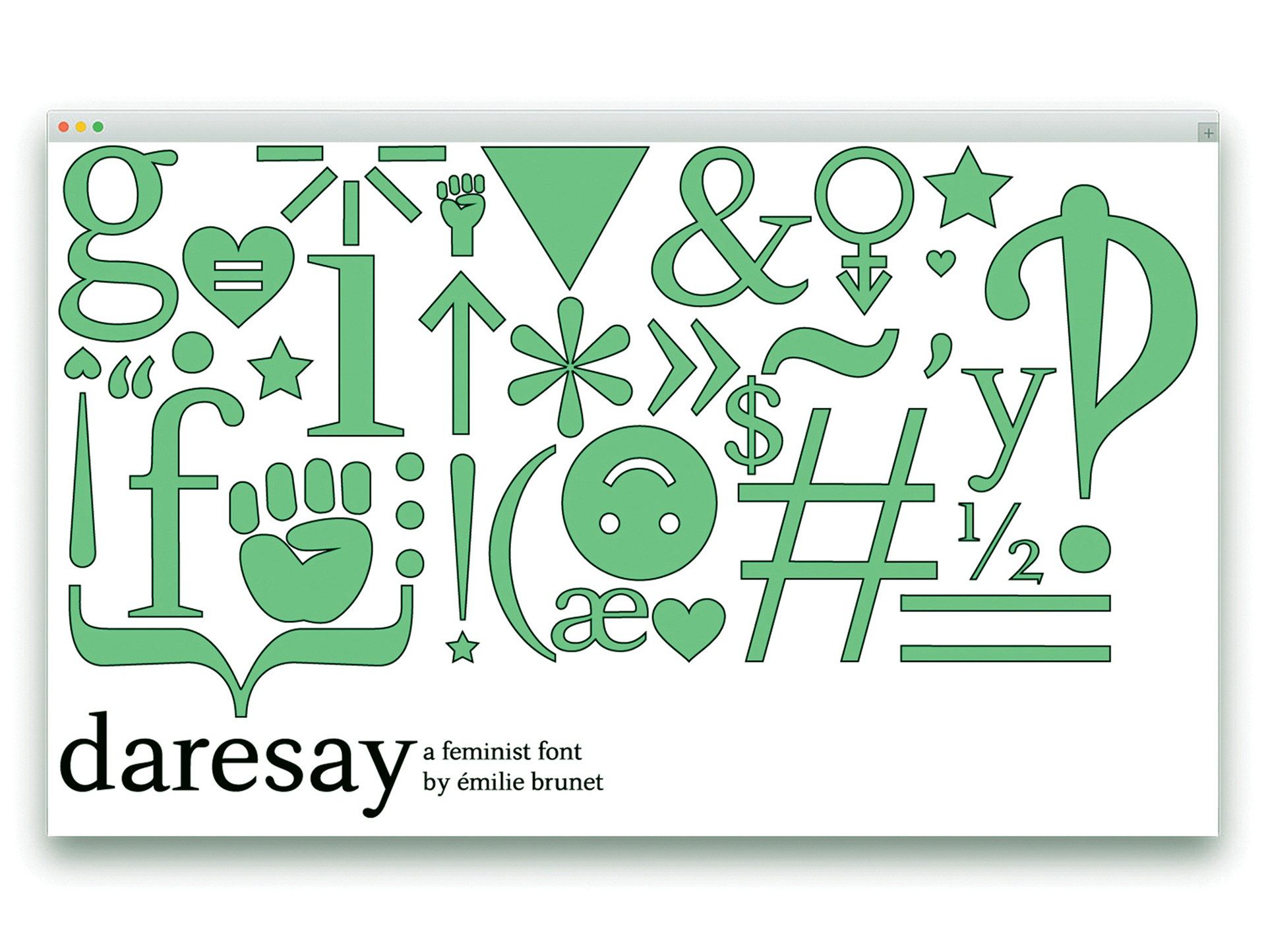 By Émilie Brunet
Material: Typeface design
Daresay is a unicase serif typeface that is concerned with the communication of feminist theory and practice. It is unique in that it has been made only in lowercase letterforms, and symbols have been created in the place of capital letters. This disruption of grammar conventions catalyzes a shift in the perceptions of language and sparks dialogue. Using only lowercase letters creates a situation where all words are equal and of the same visual impact. The end result is an accessible font that has the potential for use in myriad contexts to communicate critical voices with unique type treatments. Daresay can be downloaded for free and used for any purposes with only one condition; that it is used to protest, not oppress!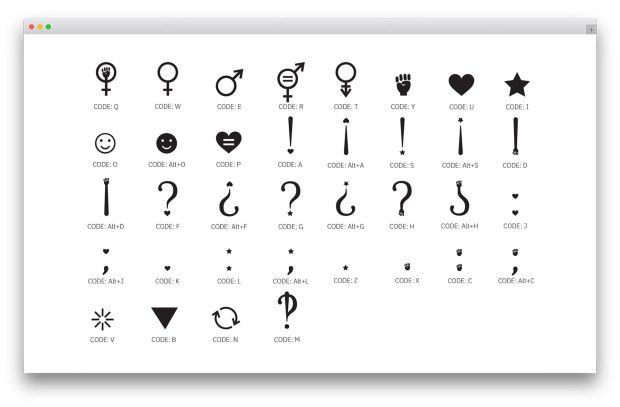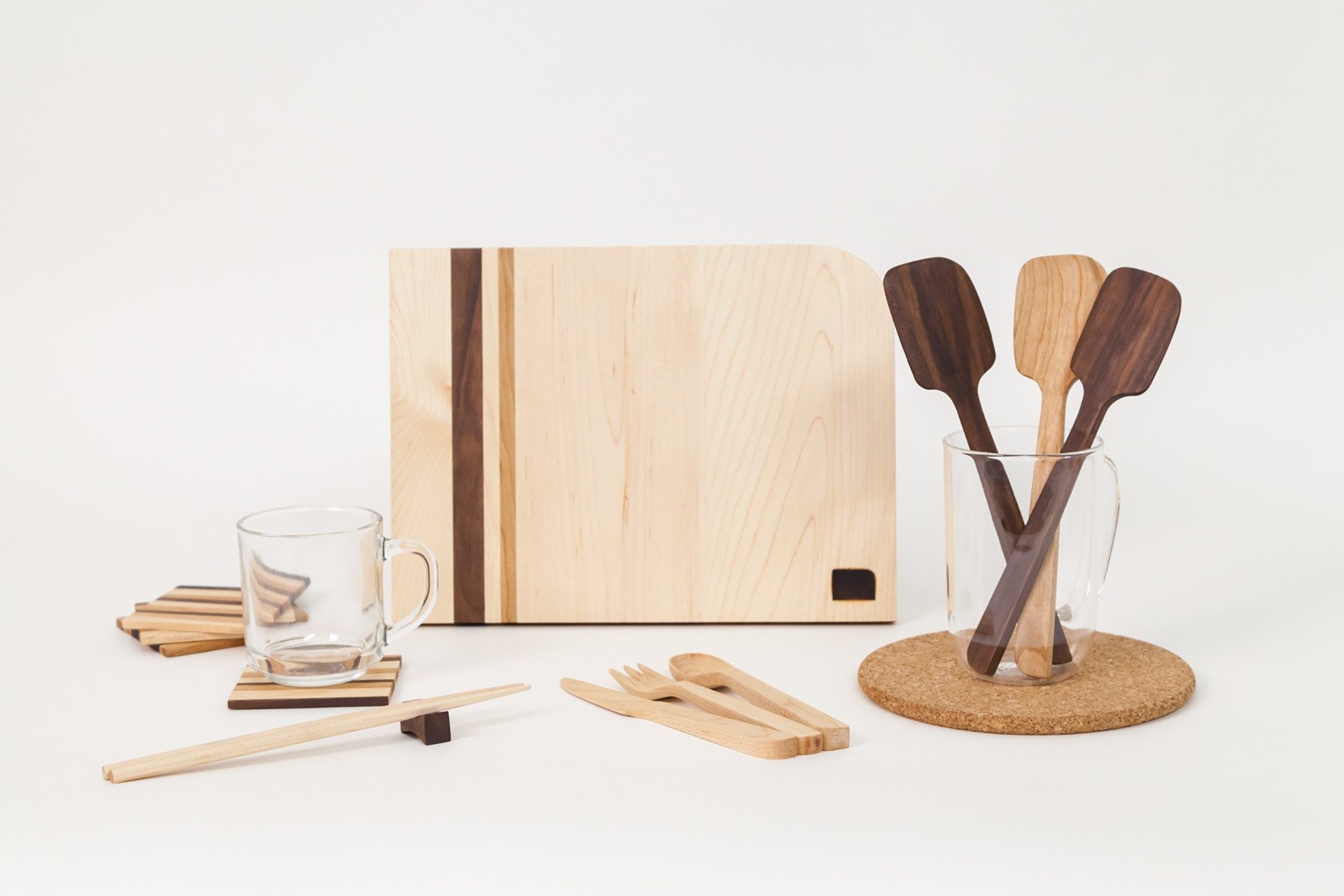 By Elsa Orme, Kevin Montgomery, Mairi Watson, Jason Elaschuk, and Mark Khoury
Material: Wood (cherry, maple, walnut), sail cloth, screen printing
Chow Down was a collaborative design project undertaken for Rosie's Animal Adoption to create products that we could sell to raise funds to donate to the organization. The Chow Down collection consists of five products, all made with local wood species and sealed with sustainable and food safe finishes. Using cherry, walnut and maple, the team handmade kitchen accessories including travel utensil sets, chopsticks, cutting boards, coasters, and spatulas. Our goal was to create beautiful, functional and sustainable products that would cater to our target consumers in order to raise as much money as possible for the charity.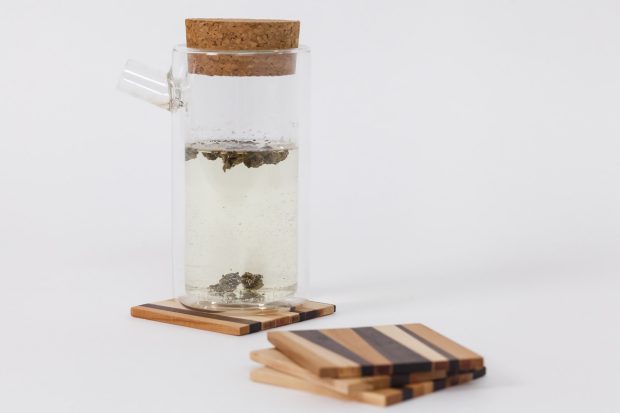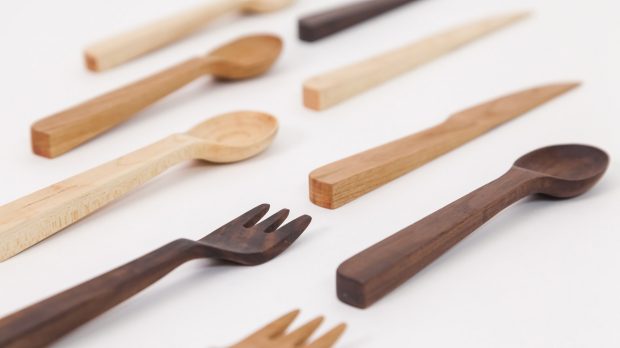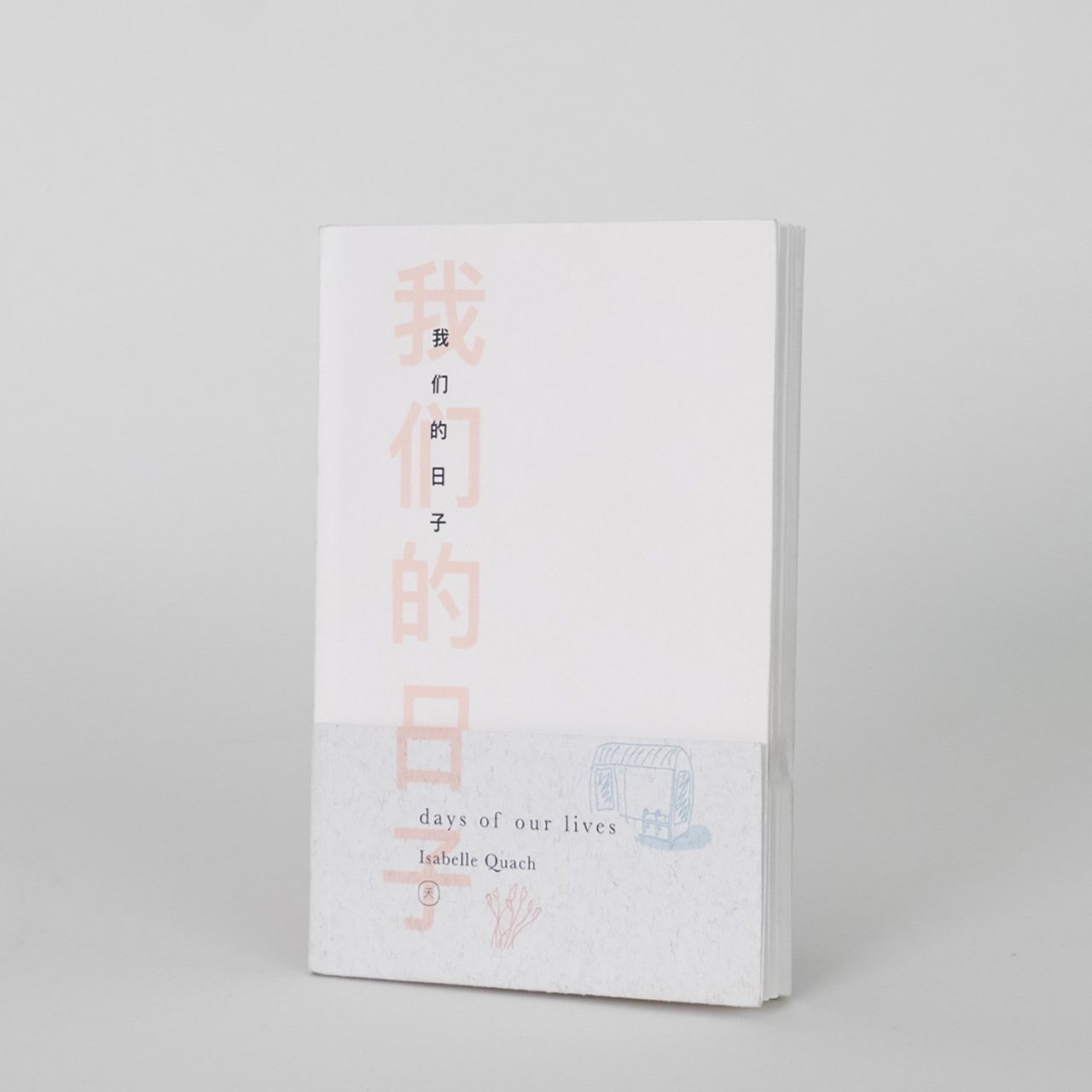 By Isabelle Quach
Material: Watercolor paper, drawing paper, adhesive glue, inkjet print
In this little journal, the designer/author wrote down her own stories and put them side by side with the ones her mother has. Different, but yet similar, it was a fascinating way to observe how their lives that are so opposite, can resemble quite a lot at certain moments. The aim was to let people from multiple backgrounds discover the book and be able to relate (or not) to certain moments, souvenirs and anecdotes.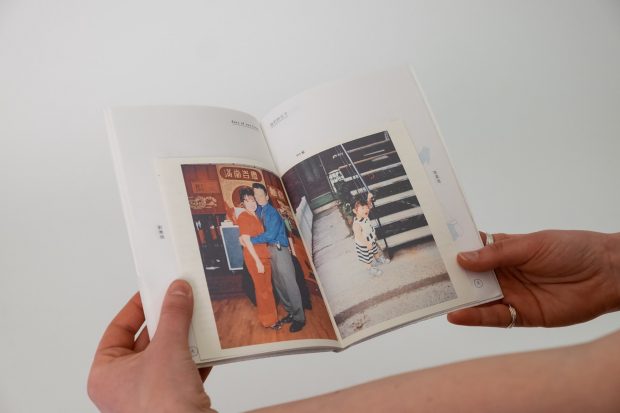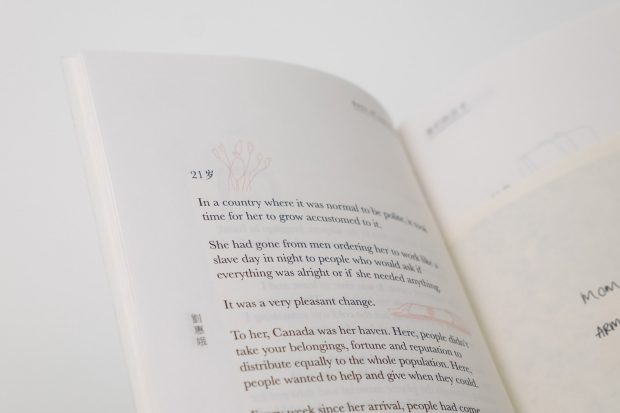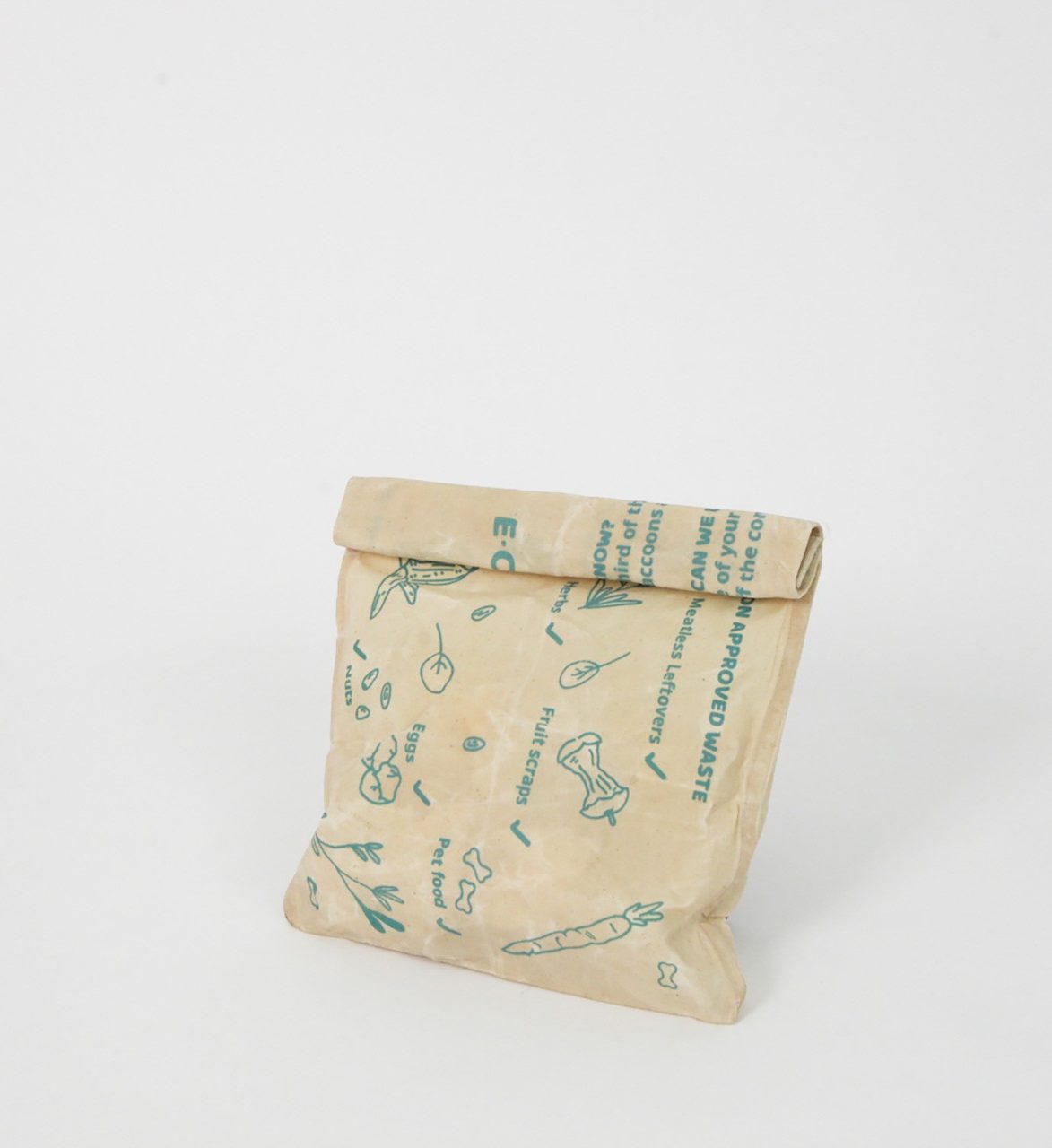 By Mairi Watson, Elise Arsenault, Elsa Orme, Gaby Flood
Material: Fabric, beeswax, silkscreen printing
This piece was part of a semester-long project with the goal of designing for the non-human. In this project, we choose to focus on urban raccoons and humans and their role in food waste management. We asked ourselves, how can we facilitate safe scavenging for urban raccoons while inciting humans to change their food waste habits? Our concept is a soft-surface compost waste bag that could be used to facilitate the disposal of food waste in households, while providing safe consumable food for raccoons. The food waste in the ECOexist bags can then be dropped at the Safe Scavenging Sites when they were full. These Safe Scavenging points are located in parks and green spaces across Montreal with dense raccoon populations. The waste bag can be folded into a pocket-size book, which provides a guide on what types of food waste are suitable for raccoons to eat. The bag is made out of ecological fabric and sealed with a natural beeswax to prevent leakage.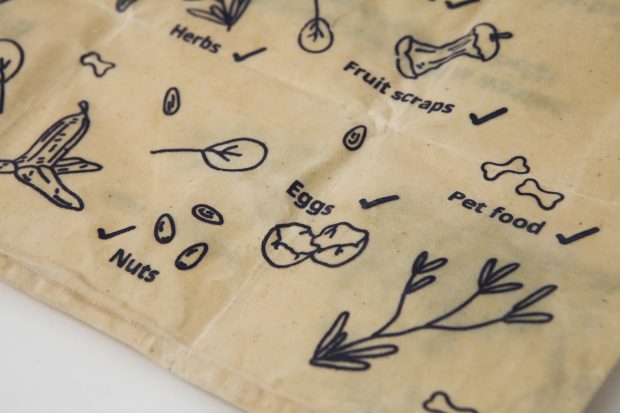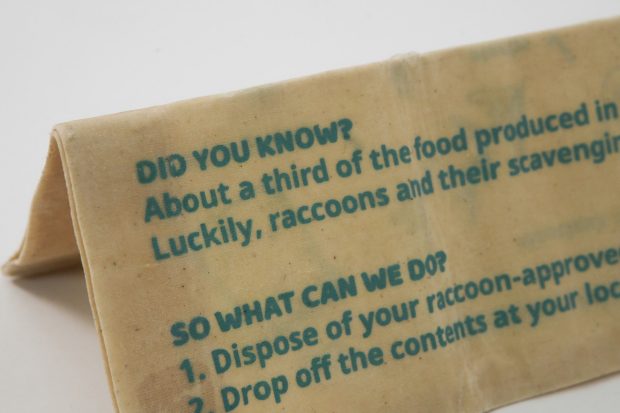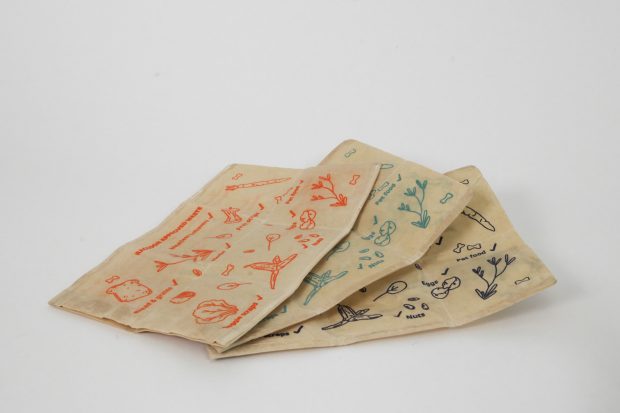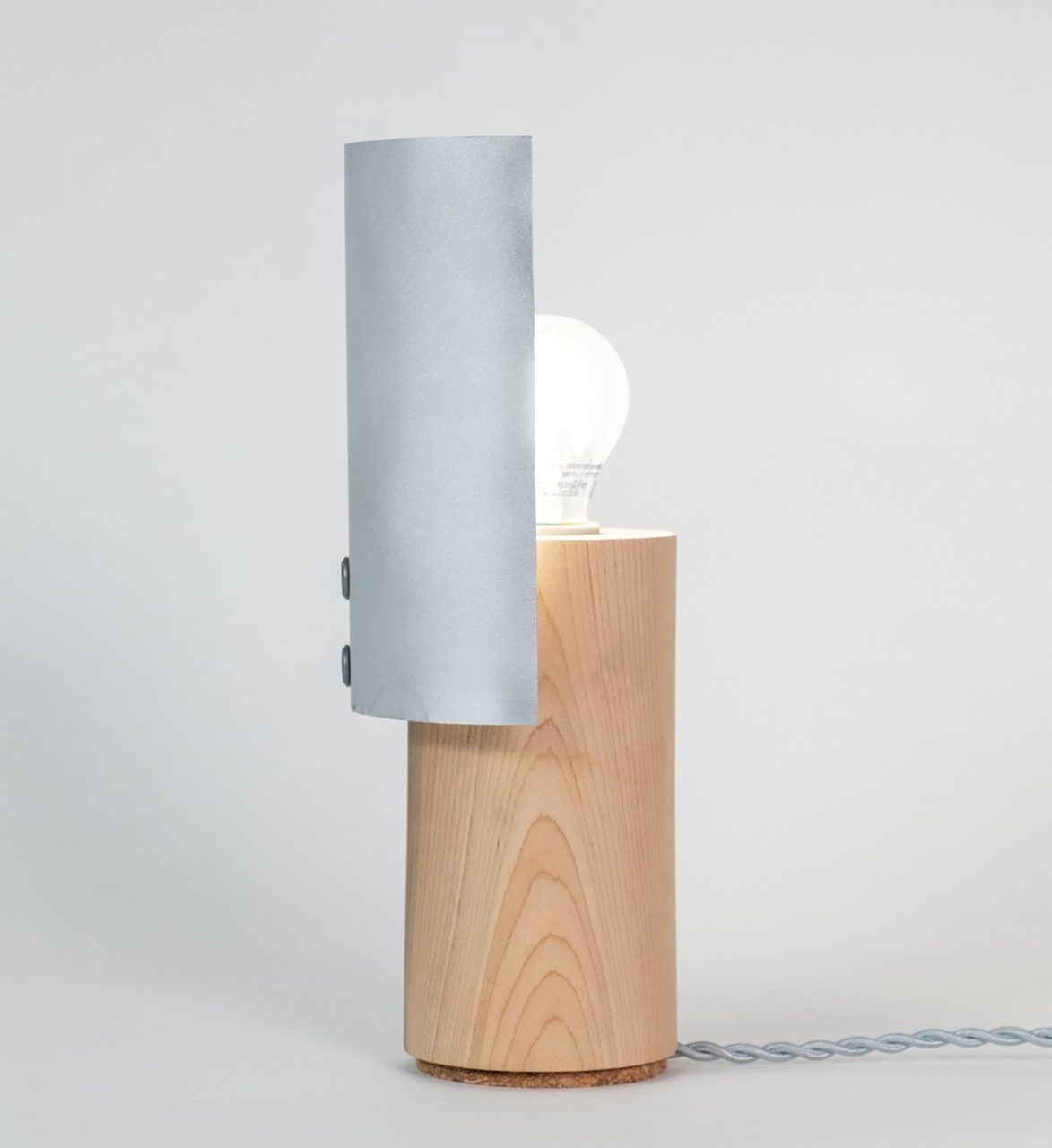 By Kevin Montgomery
Material: Offcuts of maple and aluminum
The concentric desk lamp is a simple design based around only two main parts with a focus on sustainable design practices. The base and reflector of the lamp were made using offcuts of maple from a wood shop and aluminium pipe from a construction company. Both parts were turned and machined to give them a new life as part of the lamps. The lamp's shade or reflector is created by using half of the pipe, meaning that for each seven-inch offcut, two lamps can be created with no waste. Additionally, all the electrical components are off-the-shelf items and can be replaced with little to no tools. This means that the lamp can be easily fixed or adapted to new spaces (by changing the lightbulb).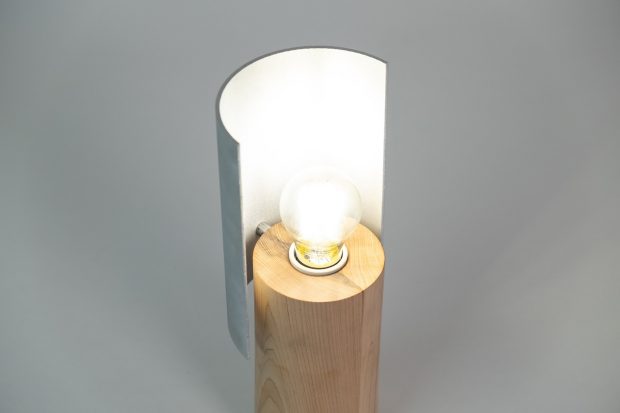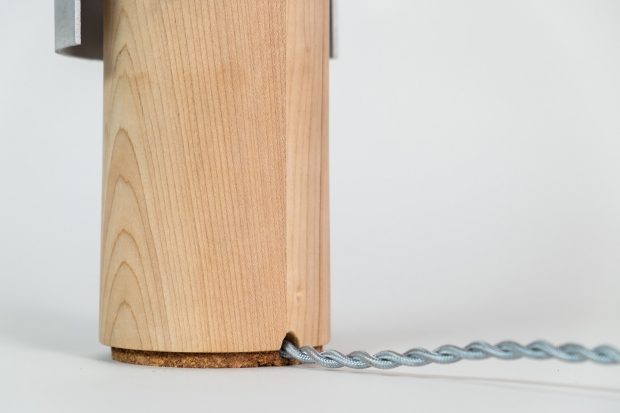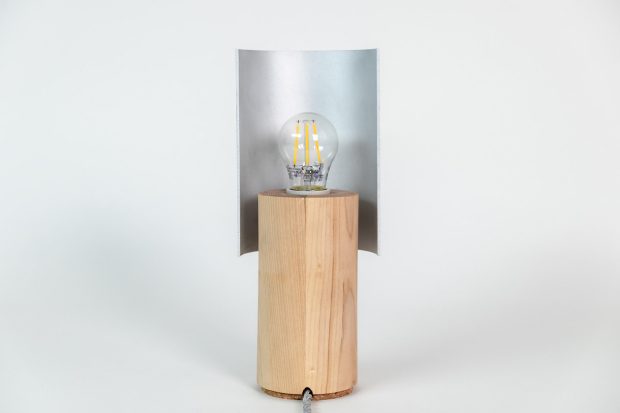 Vultures: A story from the tropical rain forest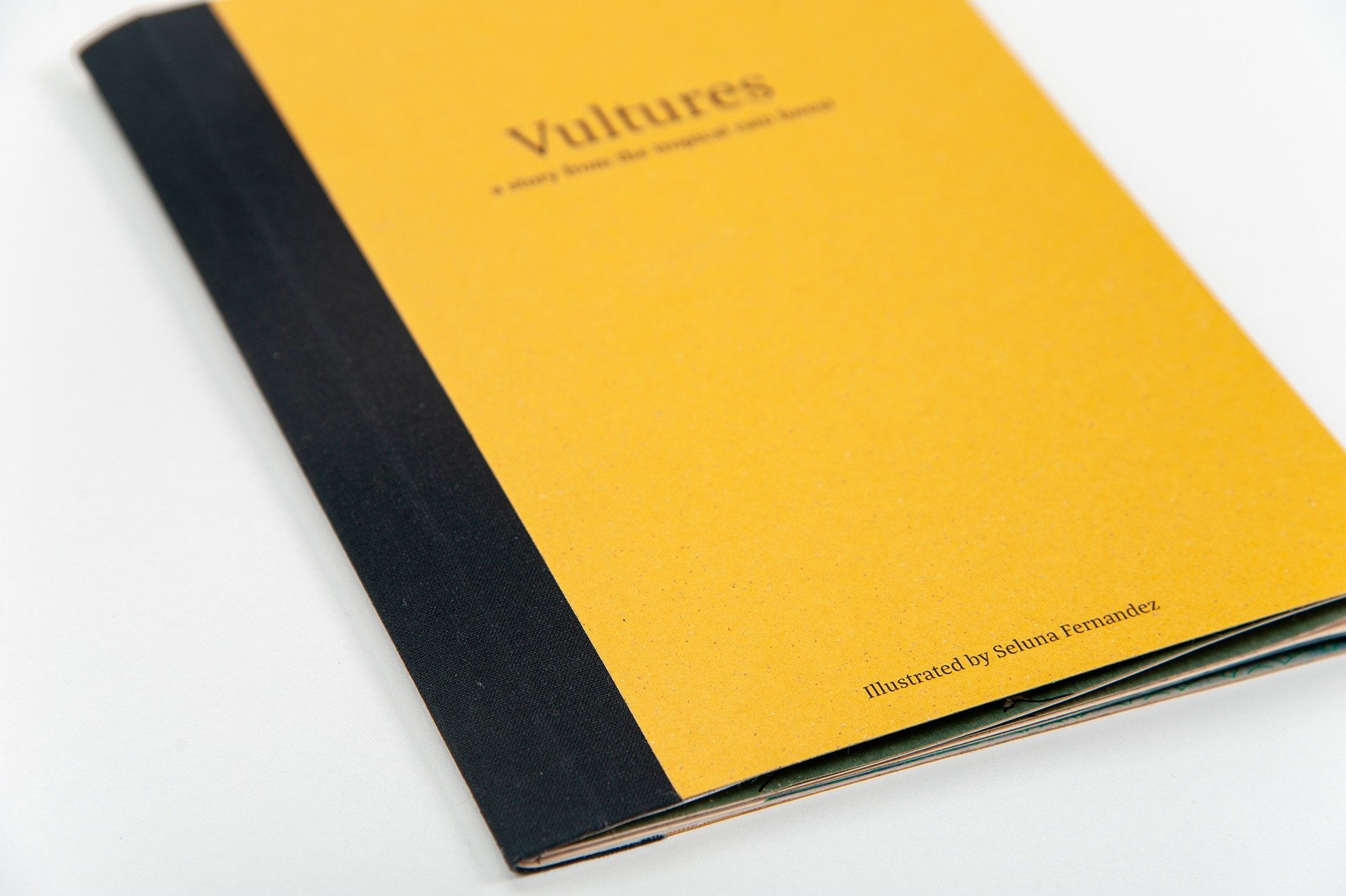 By Diana Seluna Fernandez
Material: Printed book
This is an illustrated book for adolescents and adults. The story was told by Everto Salazar, an indigenous Embera. It is part of the oral history of the Embera people, an indigenous community living in Choco (Colombia). According to these people, animals are persons and they see themselves as humans. The story is told from two different points of view: from the point of view of a hunter, who sees the vultures taking off their animal clothing; and from the point of view of vultures, who see the habits of humans as uncivilized.
My main goal was to create a single playful book divided into two separate booklets, each telling the same story from the perspective of the protagonists. Both points of view come together on the last page.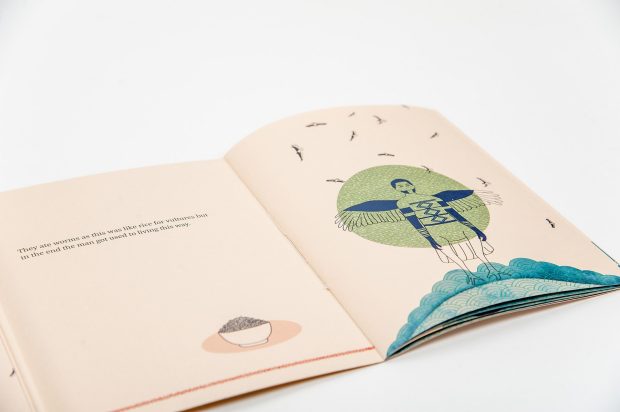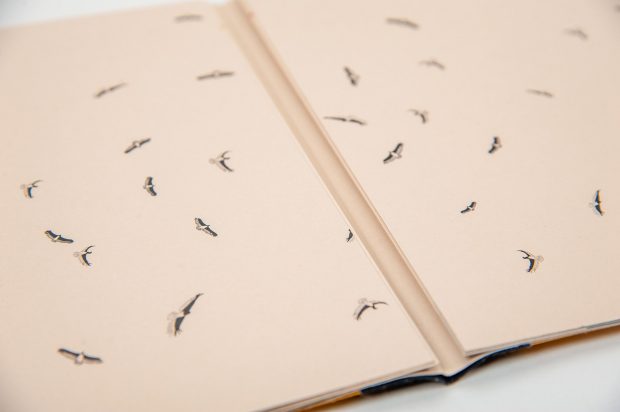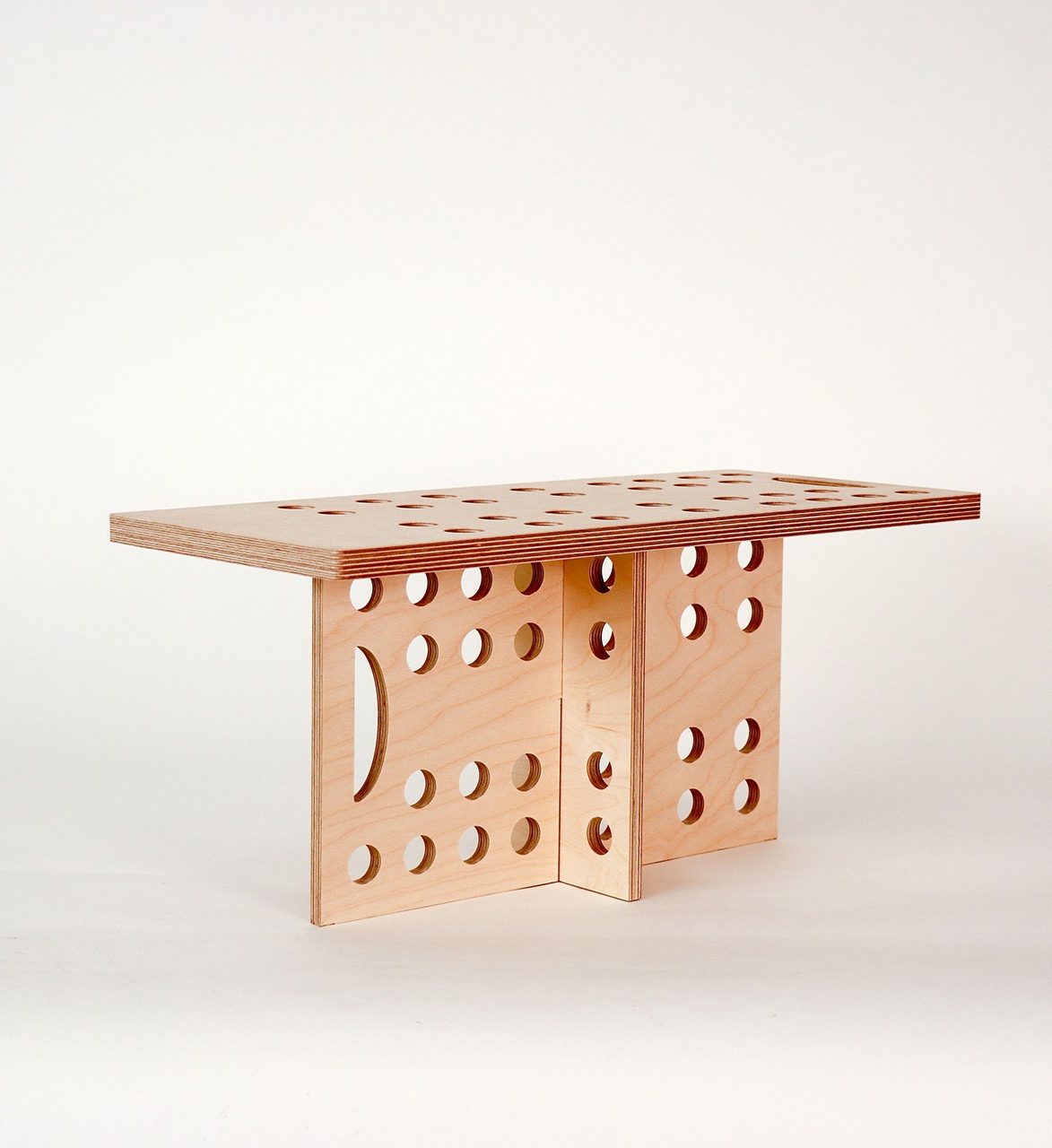 By Brea Kobernick
Material: Wood
I was tasked with creating a 3D puzzle modeled in Rhinoceros and completely fabricated using the CNC milling machine. I decided to design a standing desk based on the principles of lightweight transportation, collapsibility, and versatility. The standing desk consists of a three piece puzzle all made out of high quality plywood. I designed the standing desk to incorporate holes for computer ventilation, organization of wires, and to minimize weight for transportation purposes. When laid flat, the holes from each piece match to fit together like a 2D puzzle. When built, no glue or screws are required with the intent to design for disassembly. The desk is designed to be placed on top of any preexisting table.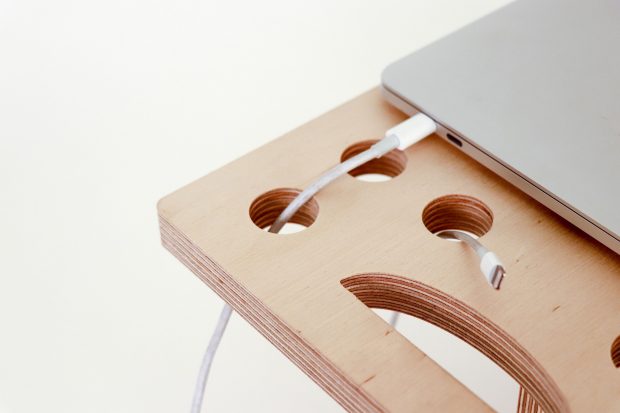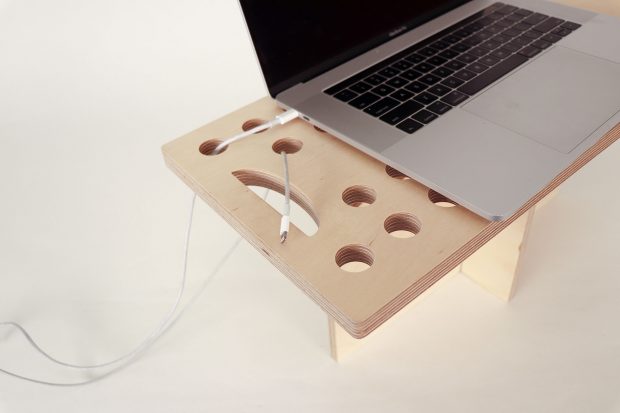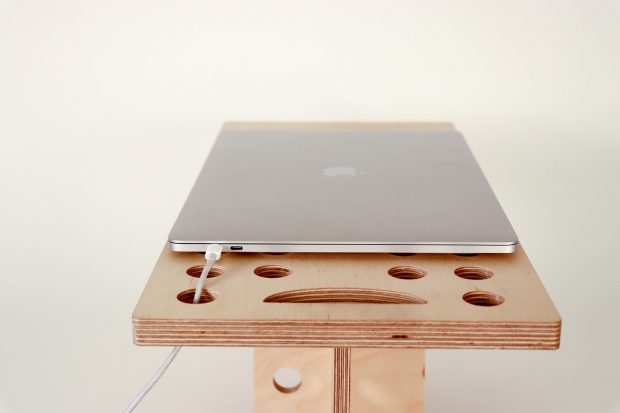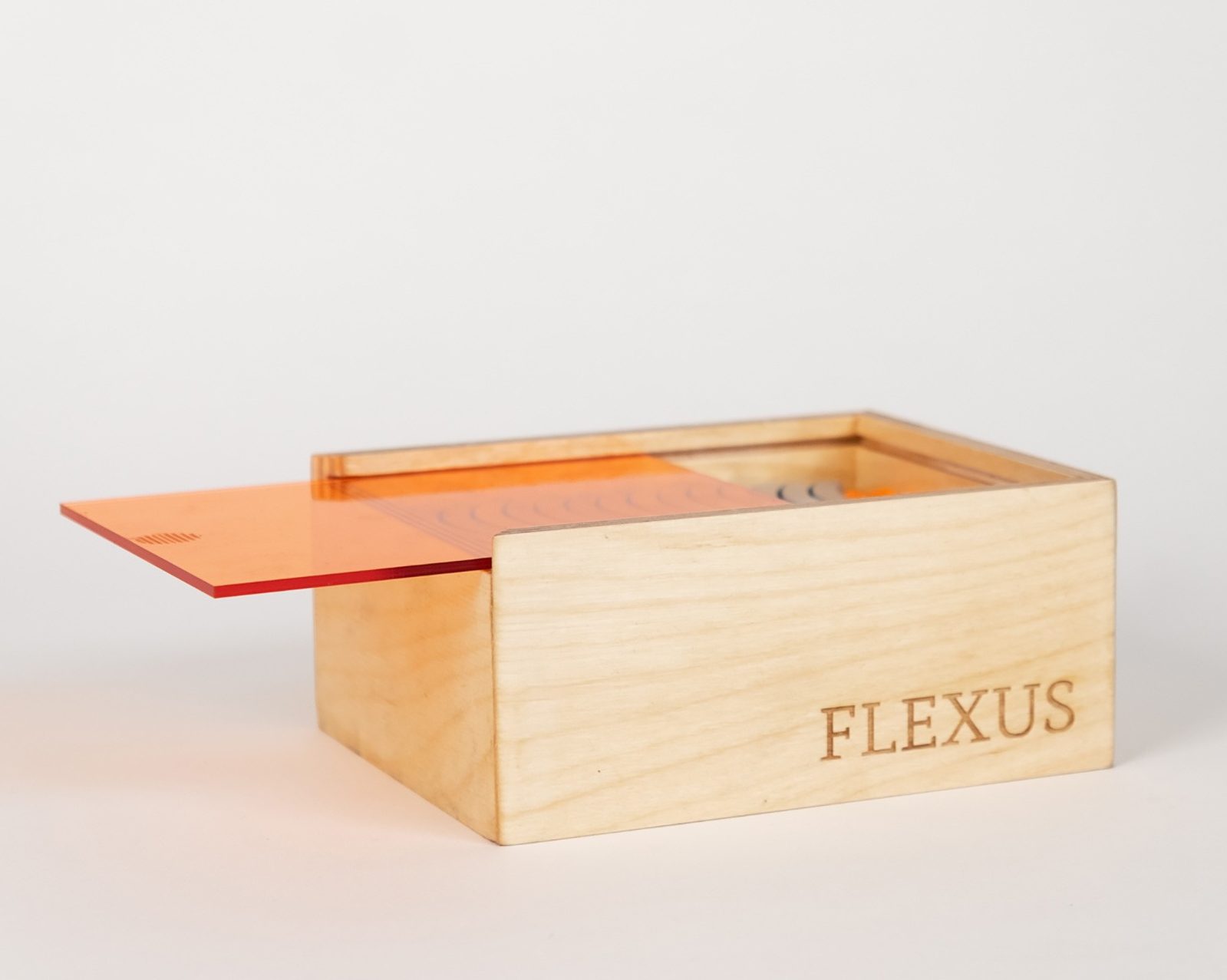 By Davi Sloman
Material: Reclaimed aluminum pipe, steel pegs
Flexus is a toy designed as an homage to industrial designer Marc Newson, intended for adults. It was largely inspired by the aesthetic of his most influential piece, the Lockheed lounge. It was made by cutting 3.5" aluminum pipe into rings and then quarters, using scrap aluminum. Each piece had 4 holes drilled into them which would be fitted to hold 3/4" inch steel pegs inserted to connect each piece, either vertically or horizontally. These curved pieces can be assembled in an infinite number of ways to create beautiful curved forms. Flexus invites interaction with those playing with it as well as its surrounding environment; what ensues is as much an exercise in spacial awareness as in creativity itself.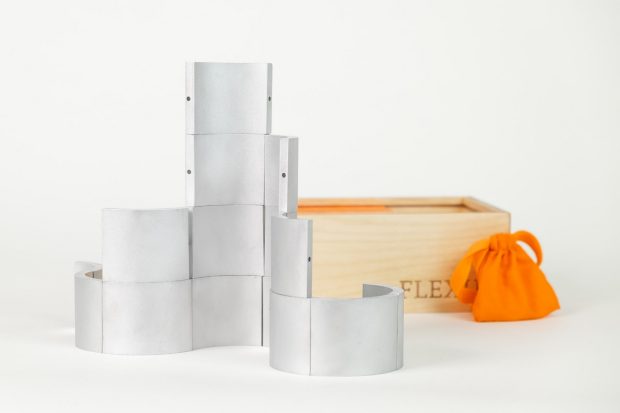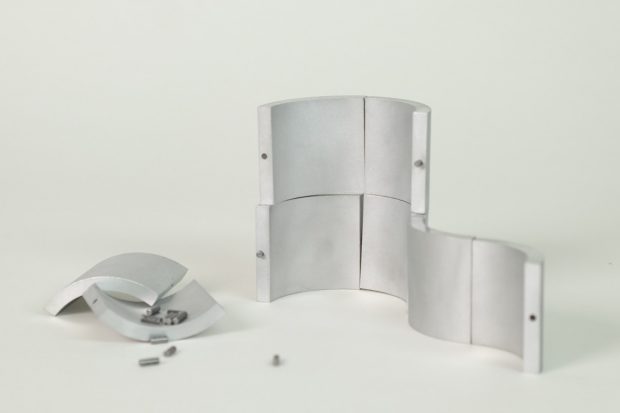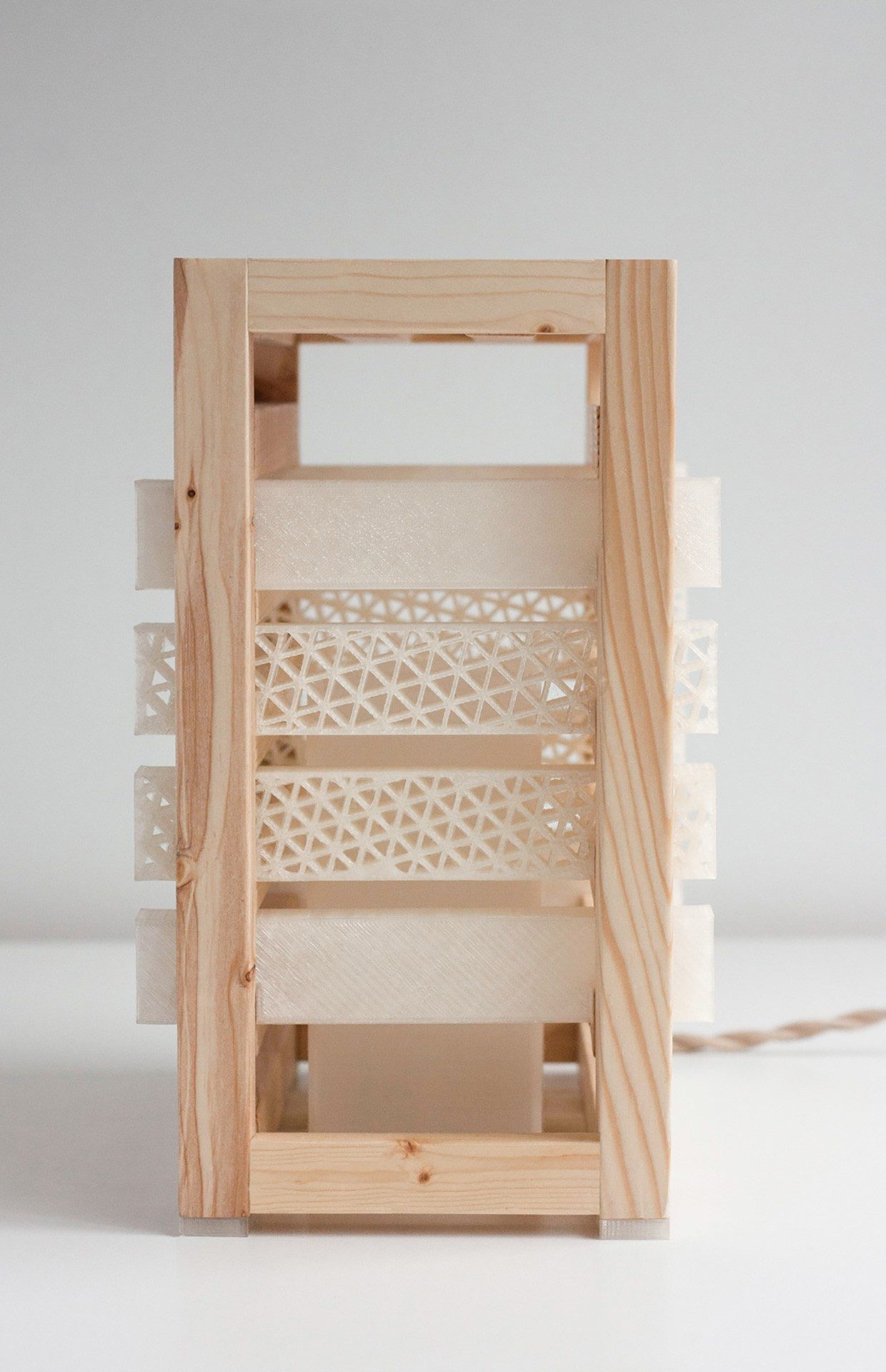 By Maya Moussalli
Material: Reclaimed wood, 3D-printed PLA
This sustainable lamp was inspired by the construction industry. There is a lot of wood that is wasted in the construction of a building, so the lamp was designed using reclaimed construction wood to give it a second life. Furthermore, some of the parts were 3D-printed with PLA, because it is a biodegradable material. The lamp was designed for disassembly, meaning when the consumer wants to get rid of it, every single component can be taken apart and sorted according to its material. The open and minimal concept took inspiration from architects such as Mies Van der Rohe and Le Corbusier.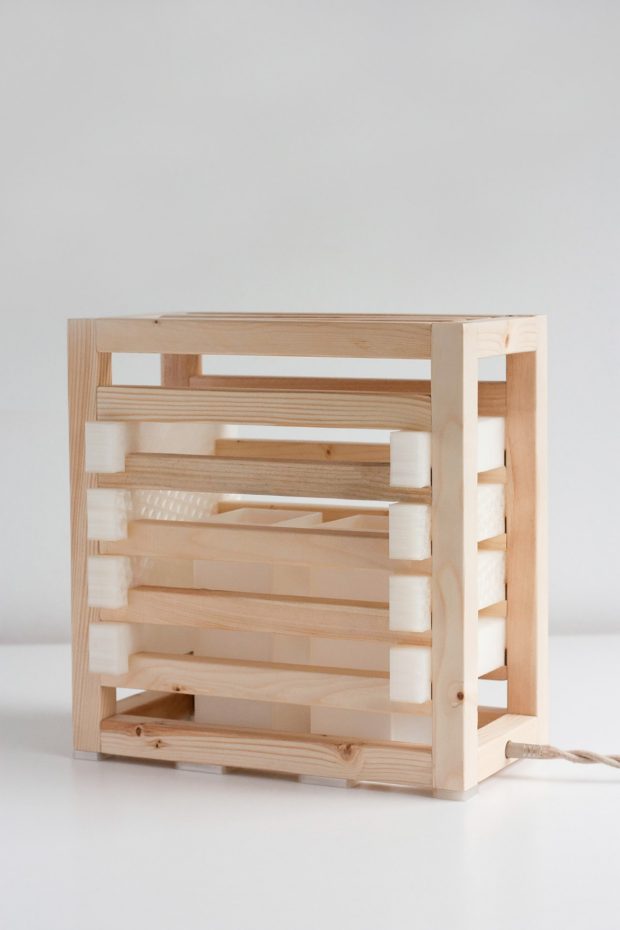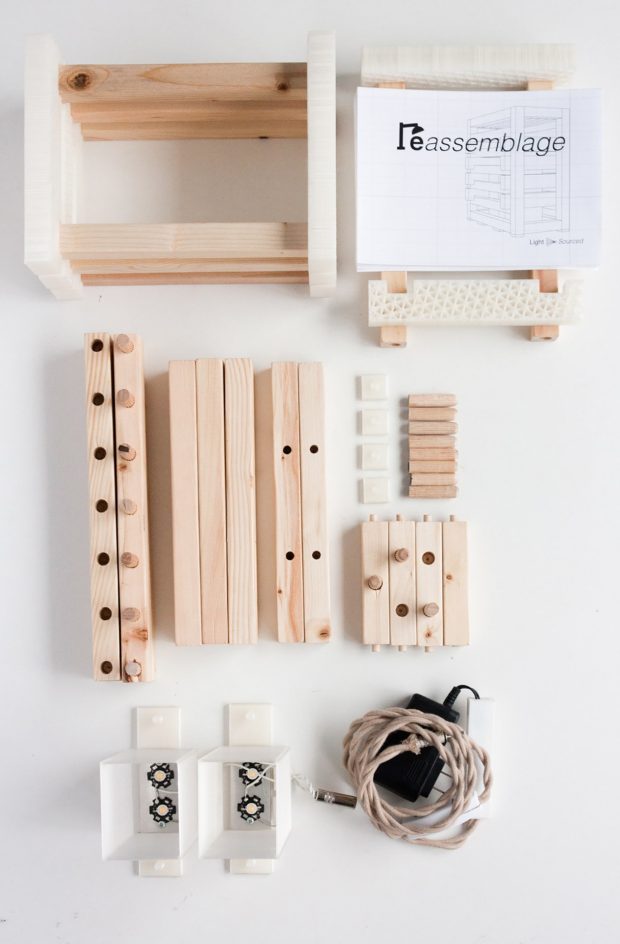 Making Art Making Politics zine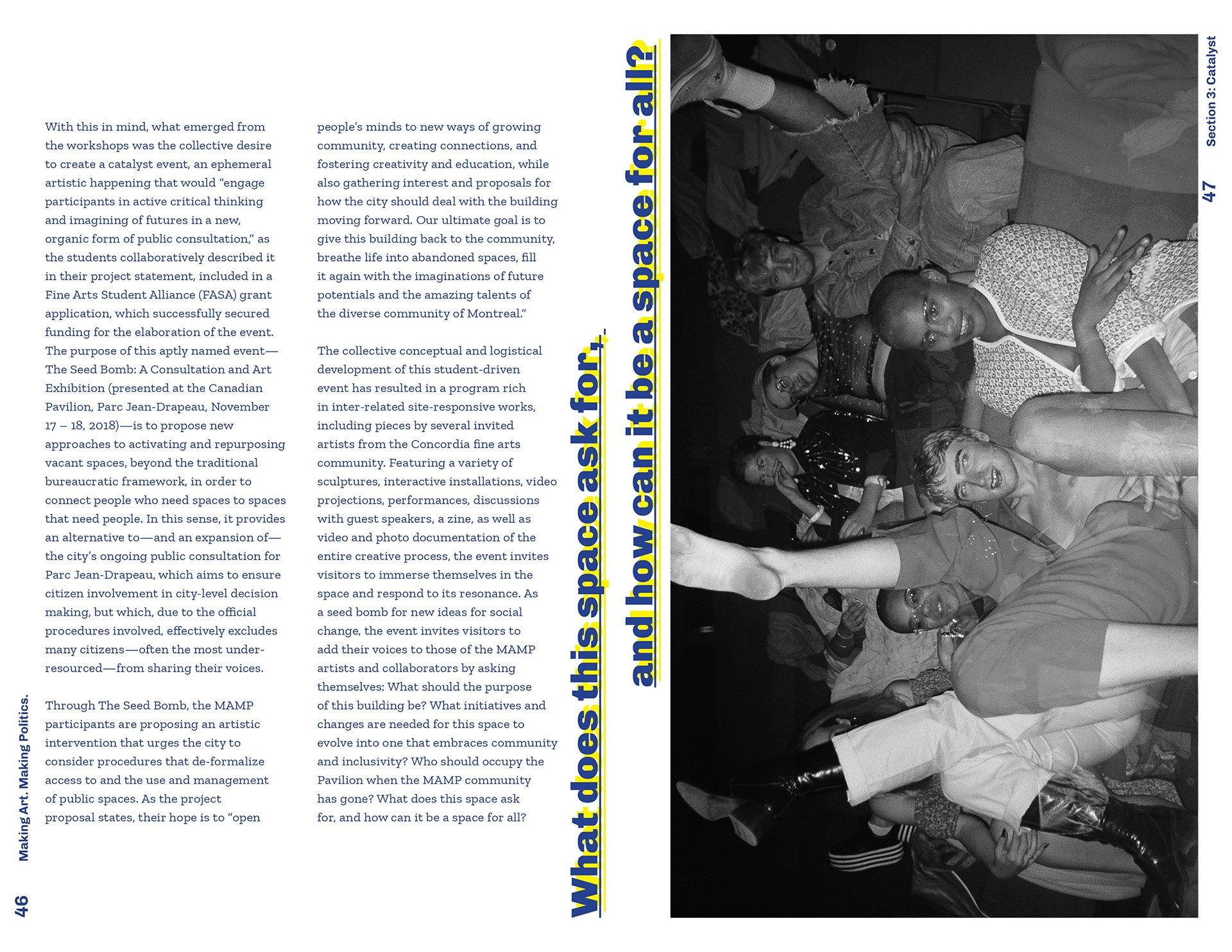 By Annie Dutremble, Imogen Hunter, Hyacinth Wourms
Material: Risograph publication
This zine documents the ideas, methods, process, art, and ephemeral happenings of Making Art. Making Politics: a residency that brought the Danish political party The Alternative into the Faculty of Fine Arts at Concordia. The participating Concordia artists and grad students were granted access to the Canadian Pavilion, an abandoned building from Expo 67. The aim of this project was to connect all the stakeholders — Parc Jean Drapeau, Entremise, and Concordia students — to create a sense of what has come out of the experience, while also bringing the viewpoint of the designers into the project.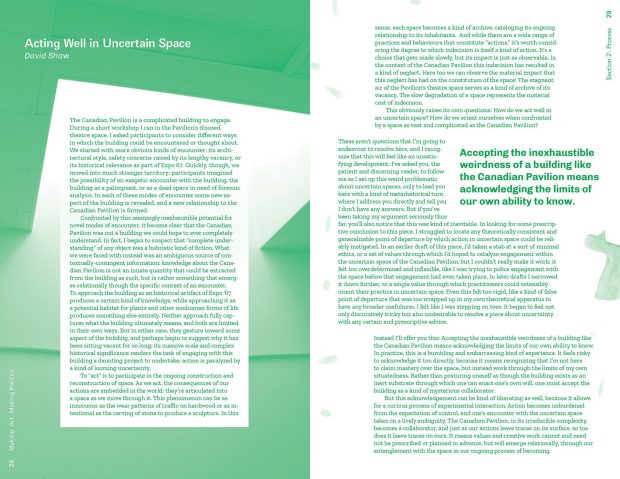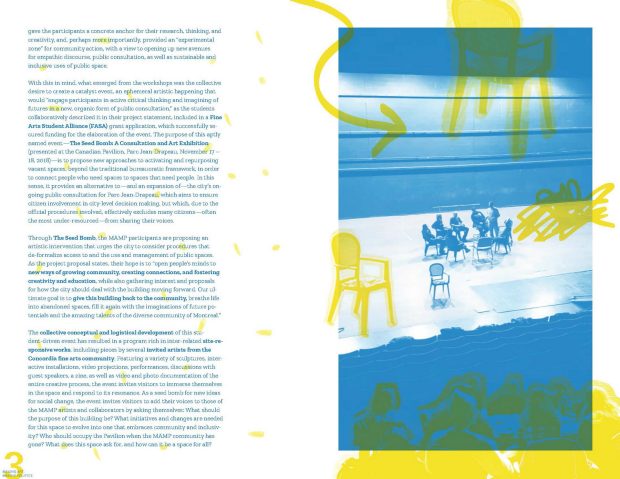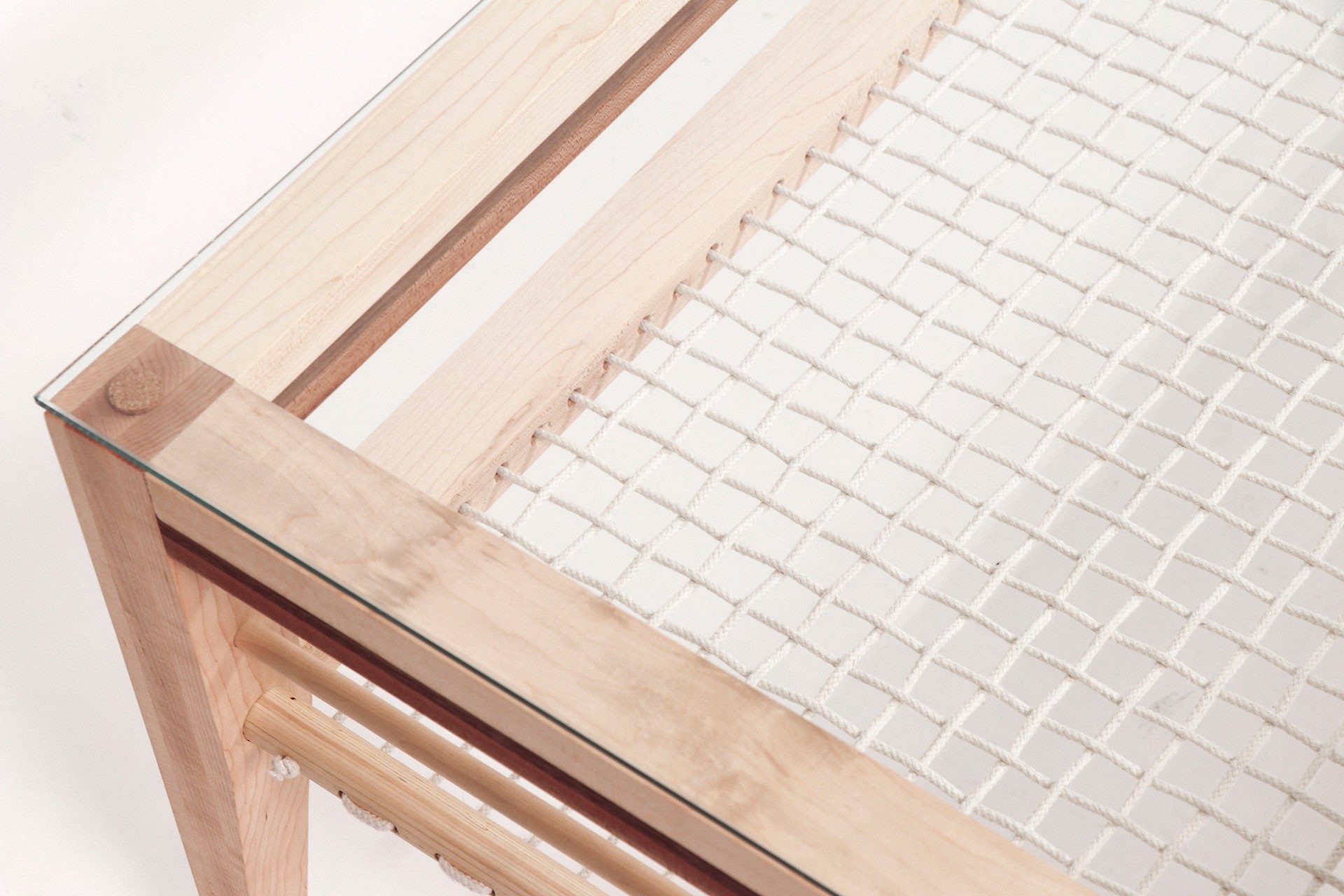 By Mairi Watson, Elise Arsenault
Material: Wood (maple, cherry, walnut), glass, cotton rope
The strata table combines maple, cherry and walnut to create a simple and clean structure. Along with the stratification of different woods, the table is paired with a glass top and a cotton rope shelf to promote functionality and simplicity. The overall juxtaposition of materials is inspired by strata rocks: a geological formation of parallel layers varying in thickness and colour.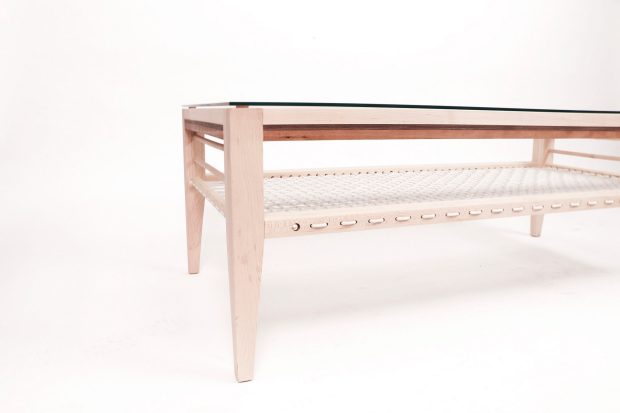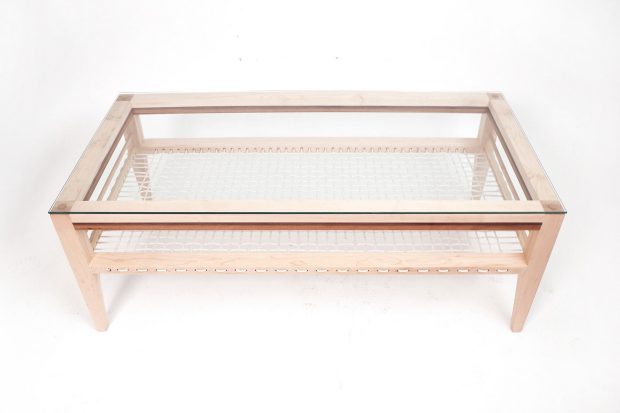 By David Truong, Nasrin Zaza, and Daniel Adams
Material: Wood, mirror
Shibui is a construction game and a tribute to the Japanese architect Tadao Ando (b. 1941), whose work makes heavy use of raw concrete, simple geometric forms, and natural light. The key concepts we carried over from his work into the gameplay and aesthetics of ours were those of spirituality, balance, and monolithic forms.
Shibui is meant to be zen and logical in its gameplay. It is designed to be disassembled and packaged for retail and storage, but is constructed using only waxed pine wood and mirrored glass, and incorporates no fasteners or adhesives. The word "Shibui" is a Japanese term for an aesthetic that draws beauty from simplicity. The objective of the game is to reconstruct silhouettes and drawings found on the cue cards using the provided wooden blocks to create a whole from parts. Shibui can be played on one's own or cooperatively.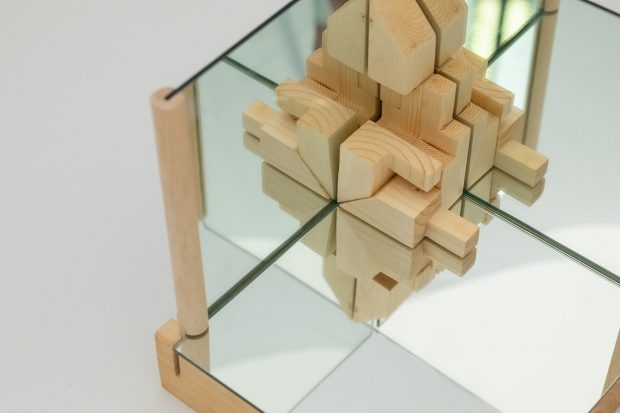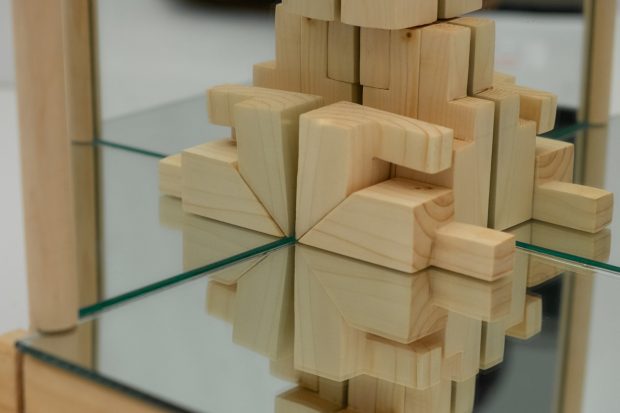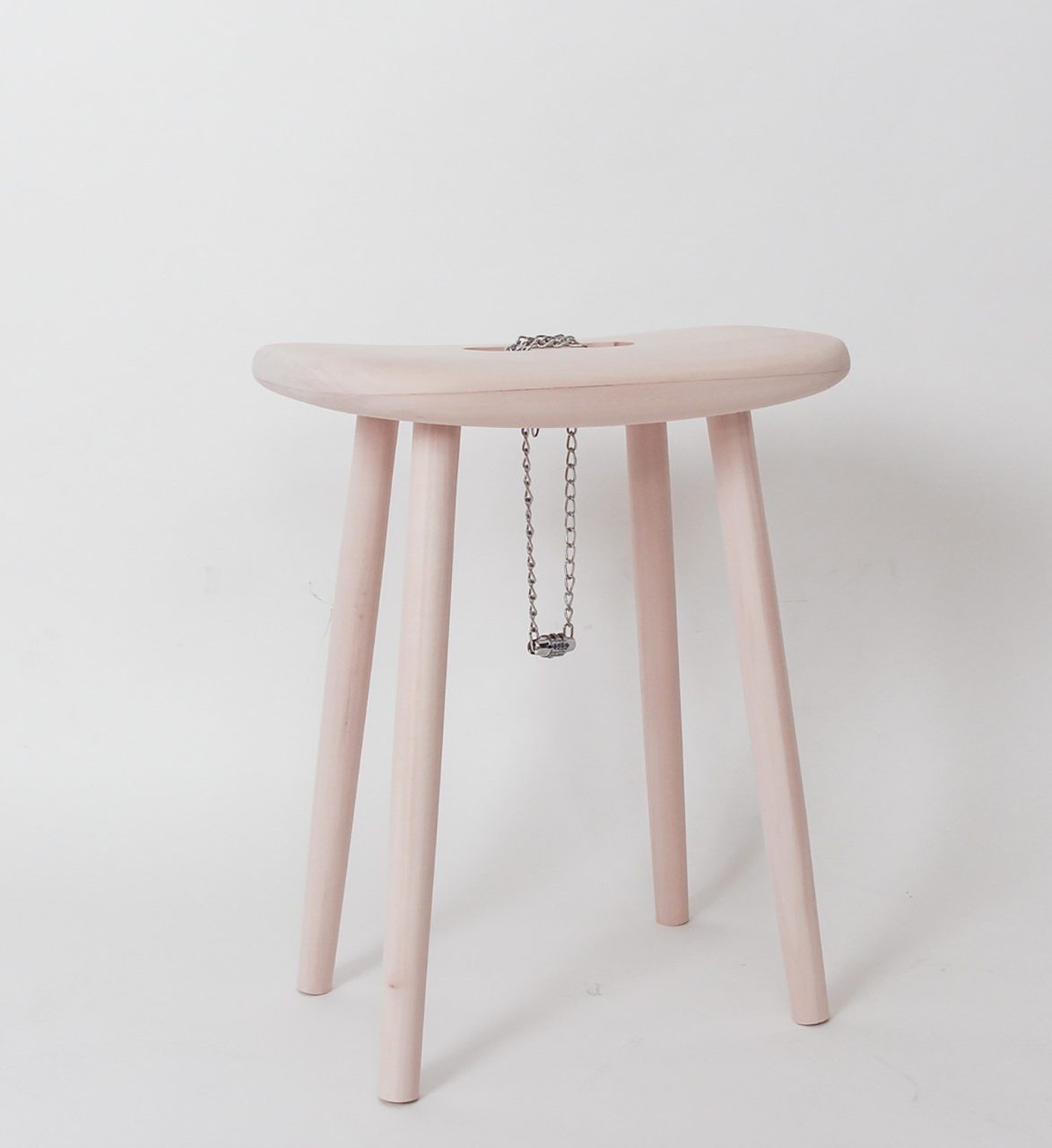 By Annie Dutremble
Material: Wood, metal chain
Inspired by Marcel Duchamp's series "Readymades," the piece Bicycle Wheel, 1913 began my exploration of "the everyday." As traditional methods of industrial design are applied in a common household, Duchamp's careful selection and simple modifications addressed such as being "art." Stool? Sculpture? explores the idea of disrupting common objects as functional and declaring them as impractical. By placing a bicycle chain in the center of the stool's holes, the idea of purpose becomes obstructed by artifact. In its utilitarian style, Stool? Sculpture? imitates what could have been a typically useful thing and reimagines it as a conceptual and sculptural piece. With the ability to declare the work as "art," "sculpture," or "design, Stool? Sculpture? familiarizes itself with the idea of conceptual furniture.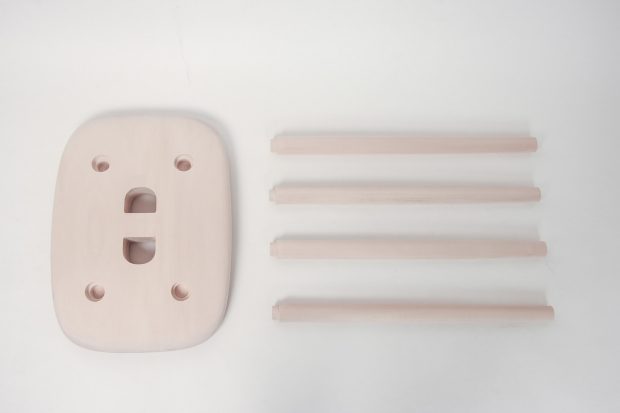 Beaver Lodge coffee table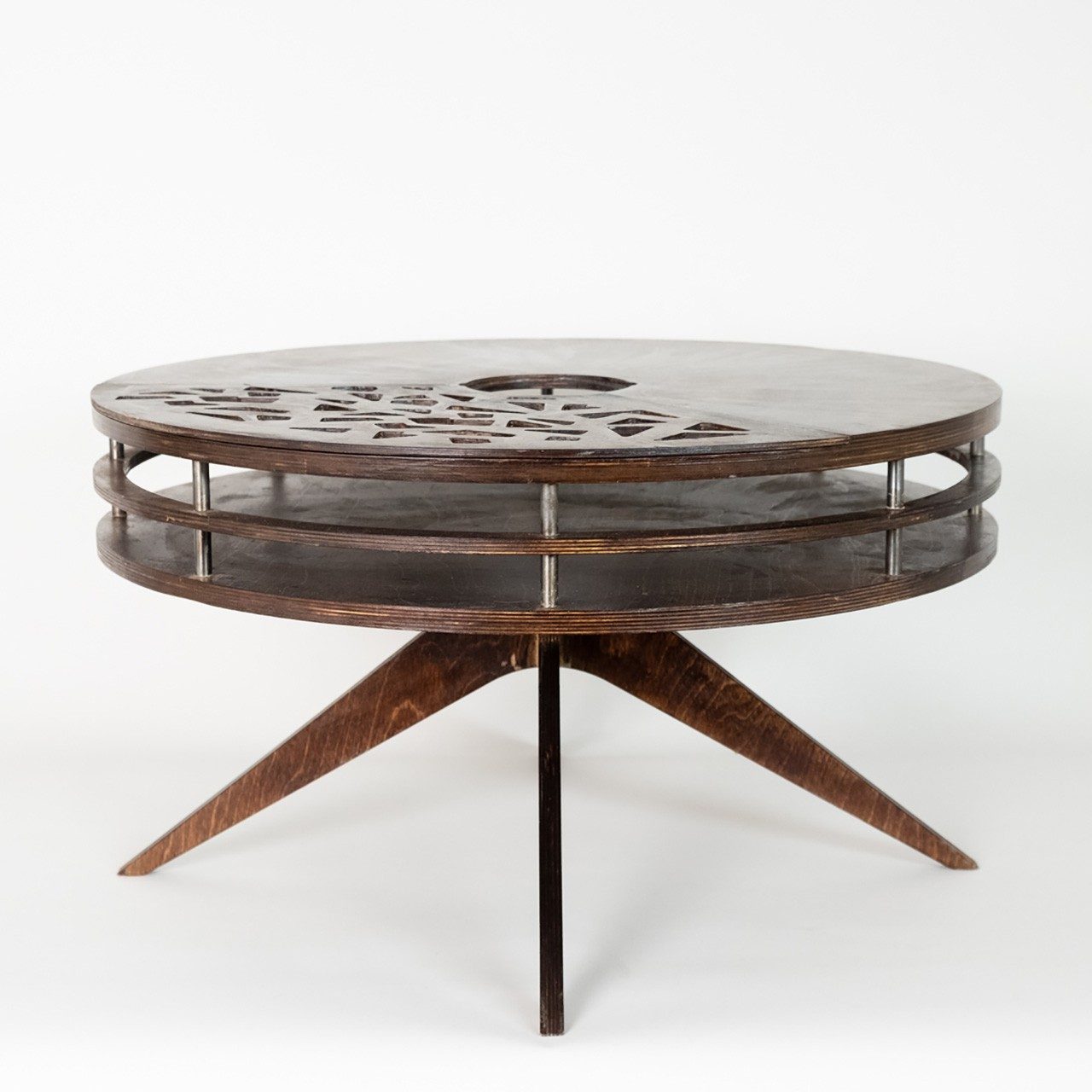 By Lea Job, Oliver Levy
Material: Plywood
This coffee table was inspired by the beaver lodge, which you can sense in the triangular structure of the table. The legs guide the viewer to the top of the table, where a large circular shape contains a hidden drawer. In order to access it, you have to raise a lid with a pattern reminding you of the lodge and its materiality.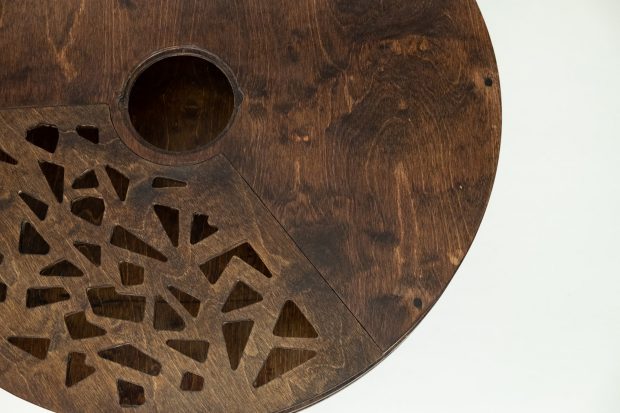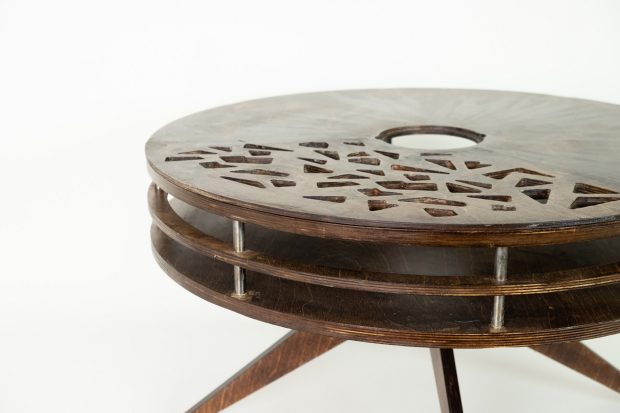 You Eat What You Are: An examination of 6 food identities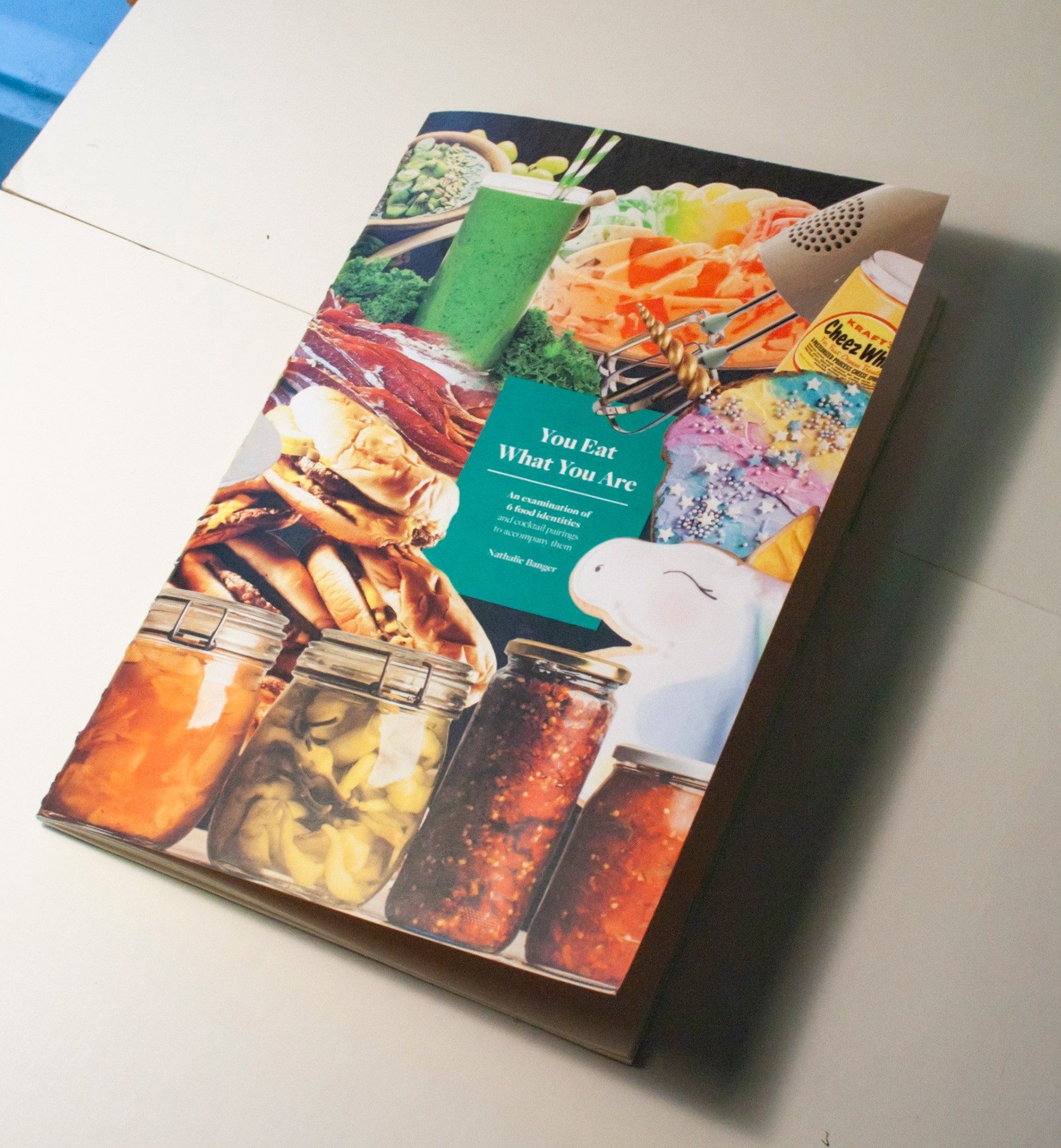 By Nathalie Banger
Material: printed book
A series of essays and book design examining the social meanings and symbolism of the foods we eat. For most of human history, food culture was inherited. We ate like our parents, and their parents. Even for immigrants living across the globe from where their families had originated, culinary traditions survived with only slight variations made for local availability. Starting in the mid-twentieth century though, as consumer food choices have expanded exponentially and increasing interconnectedness has overridden geographical limitations, our diets have taken on new significance. Like clothing, music, and other external markers, the food we eat is a way of expressing how we want to be seen by the world.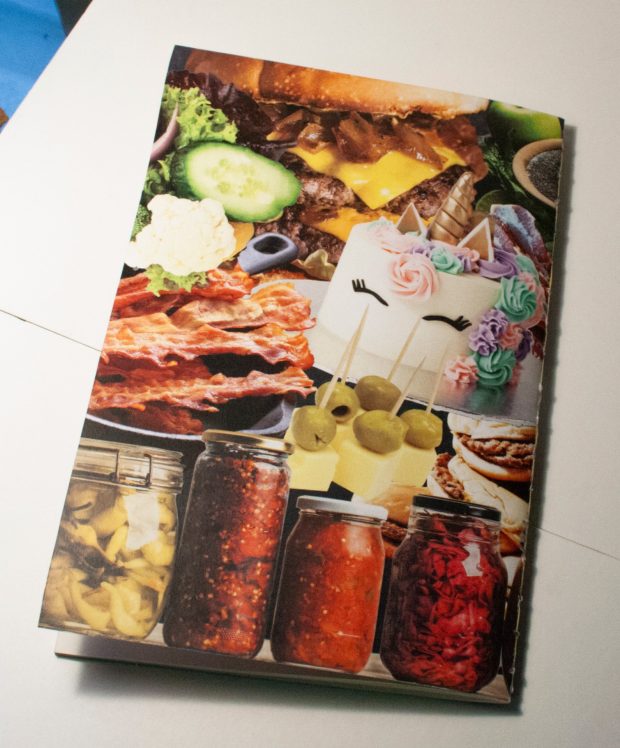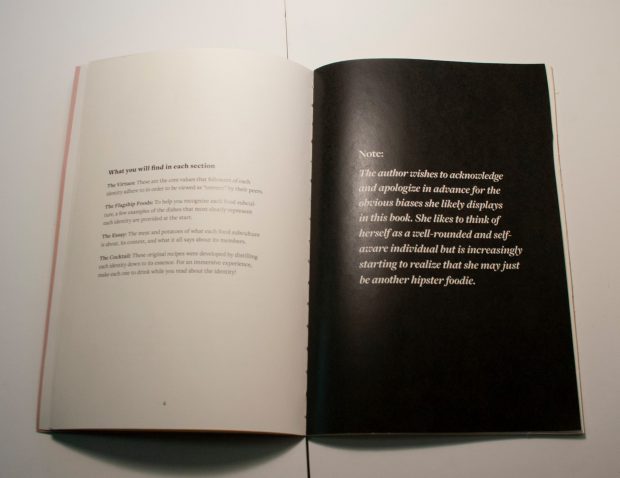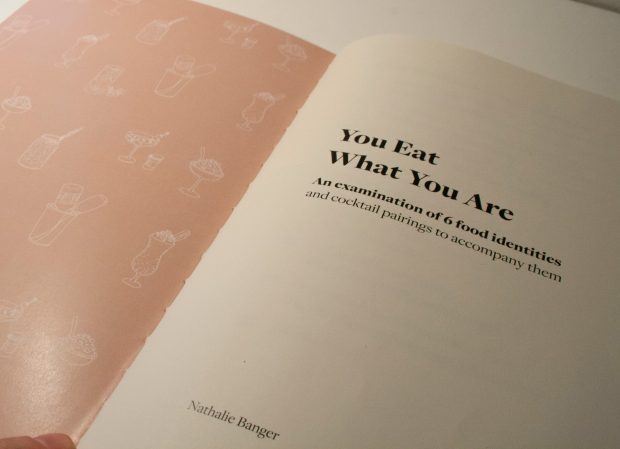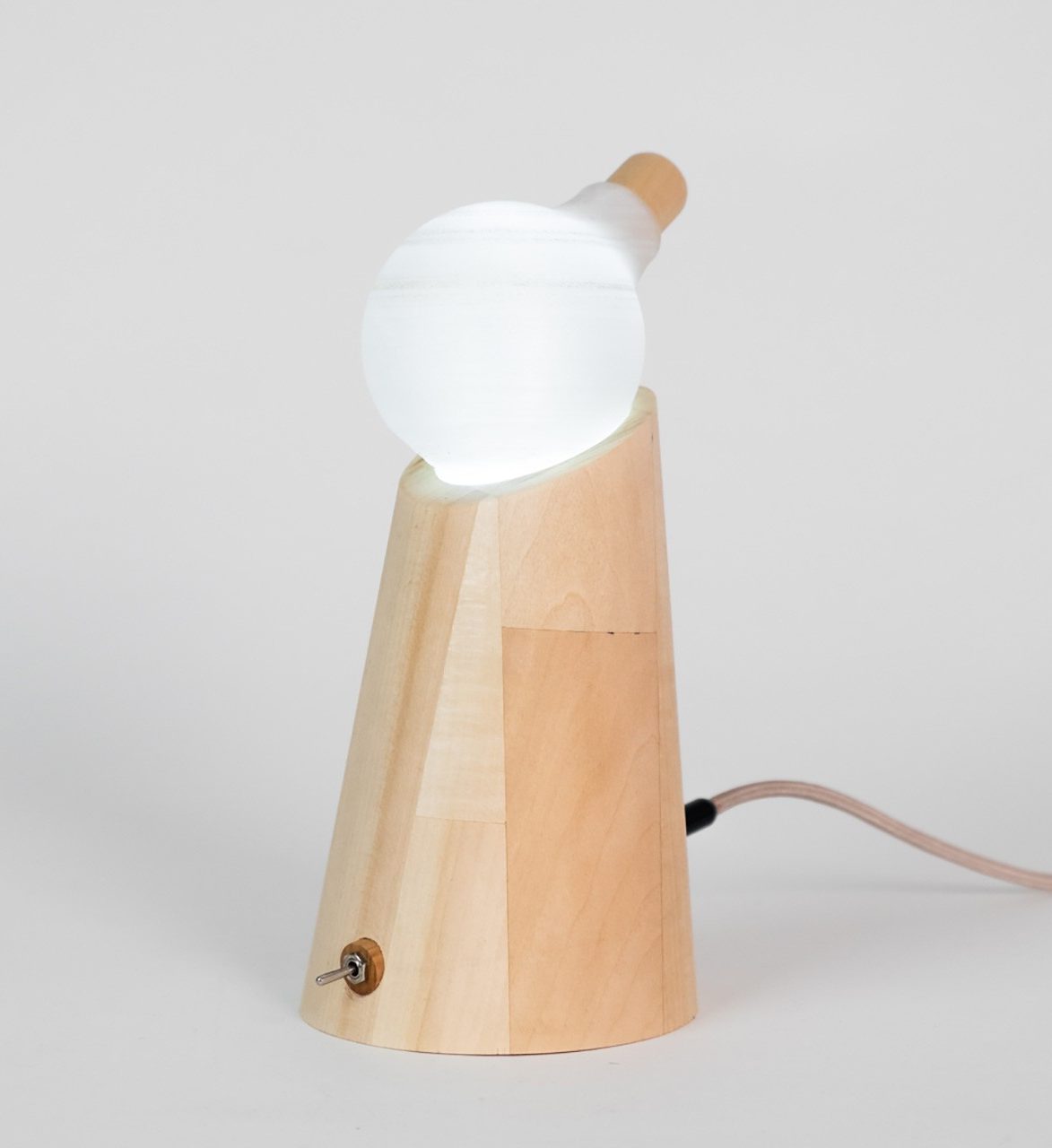 By Mairi Watson
Material: wood, 3D printing
This lamp was designed in an attempt to provide a commentary on the incandescent lightbulb as society moves towards LED lightbulbs. The intention of the lamp was to create an attachment between consumer and product. Using the universal and familiar shape of the lightbulb, this lamp replicate its form using modern day processes to create a 3D shell around an LED. This lamp is made from reclaimed wood and 3D Printed PLA, both of which are biodegradable. Taking into account product end of life, the packaging contains disassembly instructions so that each material can be correctly discarded.