Mezzo-soprano, cantor and Concordia alumna Sofia Falkovitch enjoys her international reach
France's only female Jewish musical prayer leader was the first woman trained in Europe to serve in the position
When Paris-based mezzo-soprano Sofia Falkovitch, BA (comm. studies) 05, was ordained as a cantor — the musical prayer leader in Jewish religious services — in 2014, she became the first woman trained in Europe to serve in this position. To date, she remains France's only female cantor.
Falkovitch's remarkable singing talents extend beyond her voice and onstage presence to her fluency in Russian, French, German, Hebrew, Yiddish, Spanish and English.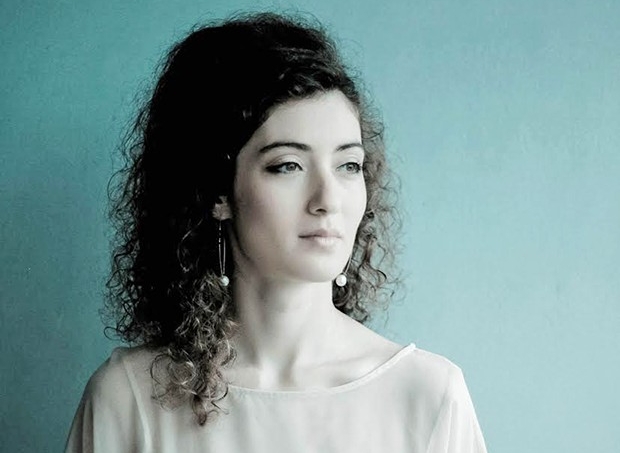 Sofia Falkovitch's debut album
Chants hébraïques et chants d'amour
is available now. | Photo: Lesja Chernish
She was born in Moscow 38 years ago to an artist-painter mother and a theatre director father. Falkovitch explains that it was not uncommon for young children to follow their parents around the theatre circuit of what was then the Soviet Union.
So from an early age she found herself surrounded by artists, actors, journalists, dancers and performers. That provided Falkovitch with informal musical and arts education. She adds that it also helped her develop an attraction to scenography, music and the bustling life backstage.
Falkovitch recognized at a young age that she had a strong singing voice. Her singing bug was amplified when she entered her pre-teens with a "big voice," she says. "I realized that with my voice I was going to do something on the stage."
Decades later, her singing range is wide, coloured and layered, while her technique, both textured and complex, "allows me to go from classical to improvisation to folk," she says.
"I sing better on a bigger stage. The more there is pressure, the bigger the room with good acoustics, the better I perform. I enjoy singing very, very much; it is a core part of myself."
School to stage
Falkovitch arrived in Montreal and at Concordia in 2001. She looks back fondly to her time at the university and her professors in communication studies, music and fine arts who guided her musical path.
Those include Rae Staseson, a past chair of the Department of Communication Studies who remains a close friend; Peter C. van Wyck, who taught communications theory; and Scot Gardiner, with whom Falkovitch did her internship in mural painting.
Other notable influencers for her were Françoise Sullivan, who taught Falkovitch abstract painting, conceptualization and visualization; and Madeleine Thériault, BFA 90, who gave her voice lessons and introduced her to jazz music and improvisation.
"After Concordia, I had to decide while I was still young which direction I was going to go in: painting or singing," Falkovitch recalls. "I thought to myself if I can start as a painter at the age of 50 then I can wait."
She also acknowledges the support of her father. "I am thankful to my father because he shaped me in a very strong way to become resistant to criticism and to really know what I want," she says.
A nomadic academic life led Falkovitch to pursue higher studies at conservatories and universities in Toronto, Berlin and Jerusalem, where she met her husband, a rabbi.
Now her career continues to keep her busy. "Singing is half athletic. You need the proper balance and the right coordination; it is a workout if you do it regularly," Falkovitch says. "I had to sing. I am driven by my inner voice. I cannot not sing!"
Upward trajectory
While women cantors in Canada are relatively common, Falkovitch says, being a female cantor in France is a "huge deal". She is enjoying the "big demand in Paris to perform more public concerts" in addition to many private concerts for the upper echelons of European society.
Falkovitch is also building her following in Canada and her active associations with cultural institutions in Quebec. Sales for her debut CD, Chants hébraïques et chants d'amour (Hebrew and Love Songs), are going strong, and she continues to receive invitations for television and radio interviews in France, Germany, Israel and elsewhere to promote her cantorial program.
"I am a risk-taker and I try to experiment with my repertoire," she says. "I improvise and do not stick to one formula but always try to grow and do something new, differently."
Cultural connections
Despite the recent rise in anti-Semitic incidents in France, Falkovitch remains "enriched and interested" to live where she does.
"Obviously Paris is such an attractive place, like Tokyo, New York and other huge cities that have a lot of cultural overlap, so naturally there is room for conflict due to different perspectives, religions and cultures," she says. "I do not see life here as dangerous, and I am not threatened because actually it would be scary to live like that."
In her life as a singer, Falkovitch sees a treasure trove of opportunity to work together and communicate with people of other religions and cultures, through storytelling and creativity. Her optimistic and pragmatic outlook envisions a way to come together, to bridge the mosaical divide by tearing down walls and prejudices — through the gift of music.
---