Empowerment through education
Girls' schooling in developing world topic of Concordia lecture for alumni, friends
Non-profit 60 Million Girls provides children in developing countries an essential building block — education.
Wanda Bedard —founder and president of 60 Million Girls — spoke to over 80 alumni, students and friends of Concordia at the university's York Amphitheatre on October 15.
"I remember thinking that it isn't right,'" said Bedard of the 60 million girls lacking basic primary education globally — hence the name — when the organization was founded in 2006.
The non-profit aims to break down barriers to basic education for girls, said Bedard at the lecture and cocktail reception. Concordia's Advancement and Alumni Relations and grads of the university's Department of Education organized the event.
Bedard described one of the organization's pilot projects, launched in Sierra Leone in 2011, which uses technology and self-guided learning to boost girls in the area.
Here are three takeaways: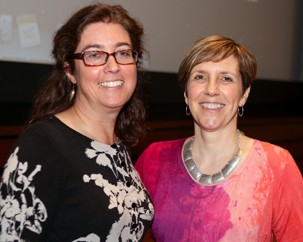 Wanda Bedard with alumna Sonia Ribaux, MA 88
1. Computers increase access. "We set up a learning centre with computers; they're pre-loaded with Kahn Academy," said Bedard.
Kahn Academy — based in the United States — has produced thousands of lessons, from basic to university-level, all free of charge. The computers are also loaded with thousands of digital books and an offline version of Wikipedia, explained Bedard.
"The girls are so eager to learn that they wait in line for the computers," she said.
2. Basic education saves lives. "For every year of education a girl receives, child mortality decreases by 10 to 15 per cent," said Bedard.
Bedard noted that the leading cause of death among women under 18 are complications from childbirth. Education programs also increase gross domestic product in developing countries by three per cent annually.
3. Pay it forward. "We ask girls who use our learning centre to do something in return," said Bedard. "For example, we asked one group of girls to give language lessons to fellow girls a couple hours a week." This helps spread knowledge.
---