From 'We' to 'I': How a new Concordia program helped a student find her voice
"I came to the realization that, 'you know what? I can do this. I have the skills and I know what I'm doing.' I needed that boost," says Certification of Employability graduate Nora Amar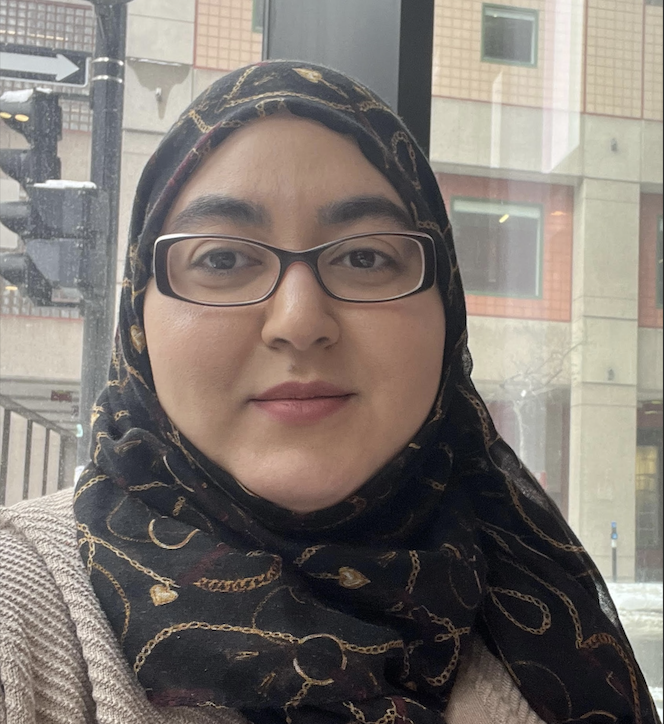 Certification of Employability graduate, Nora Amar
It's June 2020, and Nora Amar is ready to give it one more shot. She uploads her resume, attaches her cover letter, and momentarily restores her faith in her job search—long enough to click submit. Now she waits again, anxiously, for a call. This is how Amar, who graduated from Concordia University with a double major in human relations and psychology in 2020, spent the bulk of her first 11 months as an alumna. Her arduous employment search, coupled with the agony of her chronic autoimmune disease, left her feeling dejected.
"It broke my self-esteem," Amar said. "It was very challenging for me to find a job at the height of the pandemic. I had good skills but am only learning French now, and I have to work a remote job because of my chronic illness."
To assuage her fears and propel her search, Amar consulted a career counsellor, who informed her of a new pilot project at Concordia Continuing Education aimed at boosting the professional standing of job seekers. The program, called the Certification of Employability, validates non-traditional skills and experience in sought-after competency areas, helping participants gain an edge and the trust of employers during their job search.
Amar, in need of a lifeline, was delighted by the discovery.
"It was a very interesting idea, and I had never heard about a program like this," Amar said. "It was very helpful to know that there's a way to prove I have the tools and the skills."
Between 2021 and 2022, Amar was one of the 62 individuals who participated in the preliminary phase of the program. Over the course of six weeks, she ruminated about her career and academic experience, and under the guidance of Fabien Cornu, the program's competency development specialist, she outlined her strongest abilities. The two then determined the most eloquent and persuasive way to articulate those strengths during future interviews. This exercise culminated in Amar impressing the independent subject matter experts and getting three skills validated during the program's final assessment.
Equipped with three new certificates, Amar graduated from the program with a new perspective.
"I came to the realization that, 'you know what? I can do this,'" said Amar, who completed the program in March 2022. "'I have the skills and I know what I'm doing.' I needed that boost."
But for the Saudi Arabian-born Amar, who was raised in an Egyptian home, putting her breakthrough into practice clashed with her cultural values. Growing up in a collectivist society taught Amar to attribute personal triumphs to the greater community ('We') and bear the brunt of group errors ('I'). This dissuaded her from highlighting her achievements.
"It was very challenging for me to speak about myself," Amar said. "It sounds silly, but it didn't sit well with me to say 'I'. The certificate helped me realize that I played the most significant role in my accomplishments, and it made me proud to speak about them."

With new, quiet confidence, Amar walked into a boardroom in 2021 and zeroed in on a role she coveted, hoping to put an end to her job hunt. During the interview, it was her ability to self-reflect, which she honed during the Certification of Employability process, that shone.
"Nora was able to identify her strengths as well as her challenges and provided specific examples and solutions to overcome those challenges," said Joëlle Marion, the program manager for Southern Québec at United for Literacy, who, along with President and CEO Mélanie Valcin, interviewed Amar for a community coordinator position in May 2021. "That awareness convinced us that she would grow and learn even more and quickly become a valued member of the organization."
The vote of confidence, an endorsement for which Amar had long been yearning, rang like music to her ears.
"I was so happy and grateful because all I needed was a chance to prove myself," said Amar, who is enjoying fostering the growth of others in her new role as community coordinator at United for Literacy. "The moment someone puts their trust in me, they have my loyalty, and I will give 110 per cent to succeed in my tasks."
For job seekers and future participants in the Certification of Employability, clinching that next opportunity, Amar says, starts by exercising the power of introspection.
"It was very insightful to look back and evaluate your whole life," Amar said. "Unlike a traditional exam that you study for, you've lived these experiences. I can say, 'Oh, I learned that; I have the skills for that.' Now I have the proof."
Learn more about Certification of Employability here.
---