We're back! Shuffle 33 marks the official return of Concordia's annual walkathon
Meet members of the advisory committee for this year's fundraiser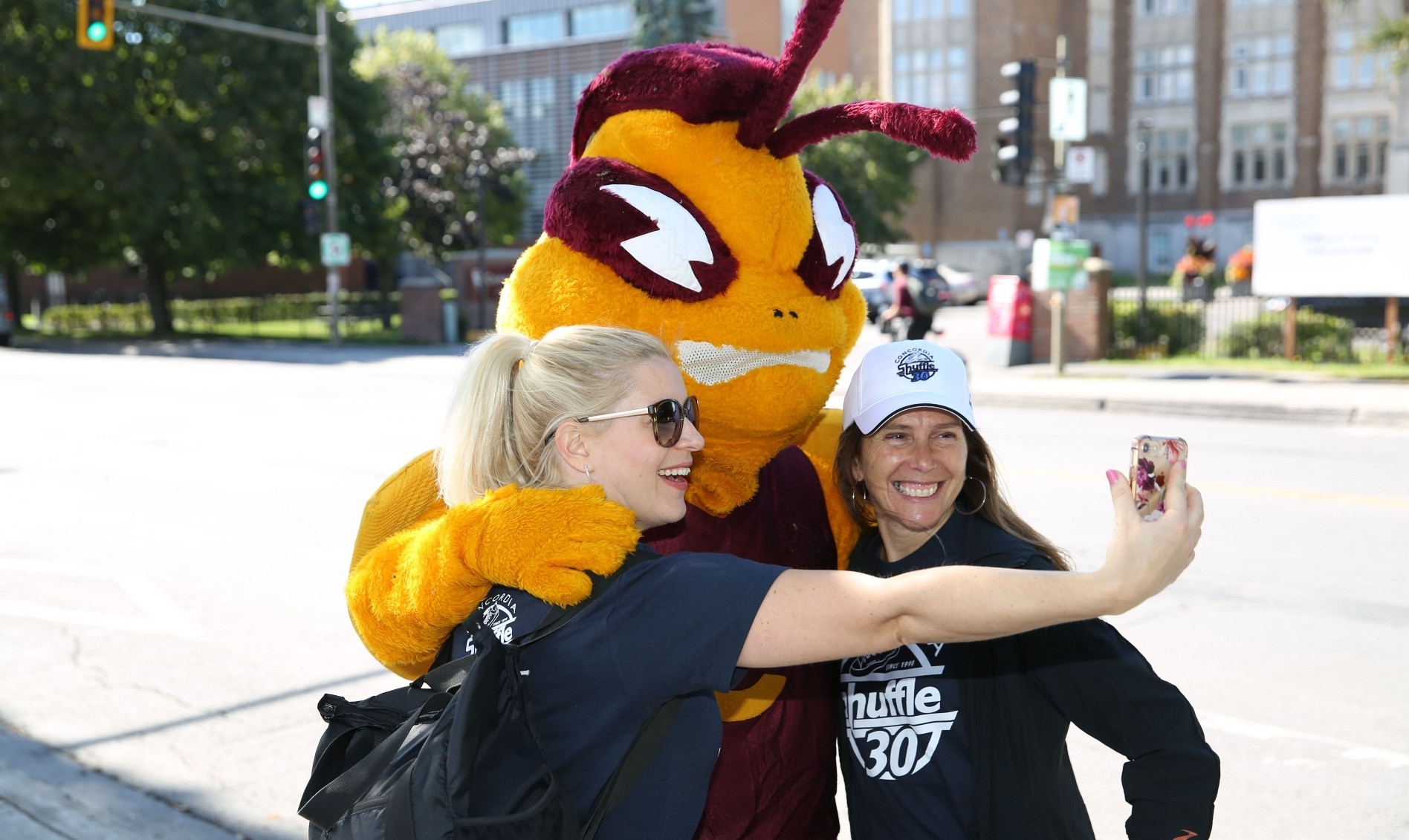 Shuffle is back and in person!
After a hiatus and virtual pivot as a result of the COVID-19 pandemic, Concordia's annual walkathon between Sir George Williams Campus and Loyola Campus — which has raised more than $2.5 million since 1990 in support of students — will return on Friday, September 23.
Meet three members of the Shuffle 33 advisory committee who hope to build on the momentum generated by last year's historic event:
Emilie Martel is in charge of coordinating volunteer efforts for Shuffle 33. She's particularly excited that in-person activities have returned at the university.
"This year's Shuffle will pack an emotional punch, but in a different way," says Martel, program coordinator for Internships and Experiential Learning, Economics, at Concordia.
"We'll be welcoming a new cohort of students on campus, and we're bringing our community back together. It's good stuff all around."
Martel's role is to organize the presence of both student and staff volunteers, who are crucial to the success of the fundraiser. Volunteers will be responsible for handing out kits to participants, coordinating coffee breaks, promoting the event, directing people, and more.
"I'm looking forward to seeing new and familiar faces volunteering at the Shuffle table," she says.
Teaching and research librarian Melissa Rivosecchi, BA 13, GrDip 21, is responsible for inspiring Concordians to create Shuffle teams and engage in fundraising. Part of her tasks include drafting social media posts and volunteering at various registration events.
Rivosecchi is a two-time former top 10 Shuffler and is excited to be walking with a team this year after walking solo in the virtual 2020 event. She aspires to raise money for scholarships, bursaries and resources that will encourage students on their academic journey.
"As a librarian, my focus is on how I can best help students achieve their academic goals through research and information discovery," Rivosecchi says. "Shuffle allows me to continue helping students, but in a completely different fashion."
Rivosecchi hopes to come up with fun ideas that will encourage members of the Concordia community to register for the fundraiser and form or join teams.
Bobbie-Lise Casey, department assistant for Concordia's Financial Services, looks forward to participating in Shuffle 33 as an opportunity to reunite with colleagues she has not seen in some time because of pandemic-related restrictions.
Part of Casey's advisory committee duties include managing current sponsorships and finding new partners to collaborate with.
"It was a little tough during the pandemic to get people motivated," she says. "Now that the event is back in person, I am hopeful that more people will be inspired to contribute."
As captain of the Reign of Finance team, Casey's goal to help her team surpass its fundraising target of $1000.
She is optimistic that the return of Shuffle 33's in-person activities will boost participants' morale and help Concordians flourish. "Being a student is not easy — especially at this time," she says. "I want to help out in whichever way I can."
---