Shuffle 31: reimagined and resilient
Reimagined in the age of COVID-19, the fundraiser thrives because of Concordians' team spirit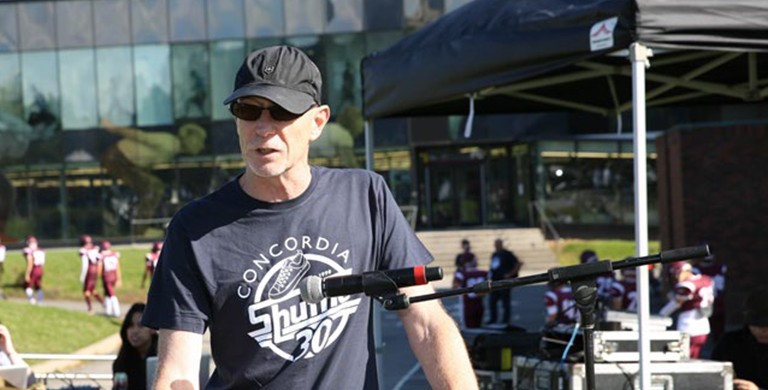 President Graham Carr congratulates participants of Shuffle 30 in 2019.
One year after Concordia's annual walkathon shattered a record with $143,000 raised for student support, a different kind of Shuffle — reimagined in the age of COVID-19 — proved just how resilient the university's community can be.
Bookended by closing and opening ceremonies online, Shuffle 31 invited participants to walk where they wanted, when they wanted, between September 18 and 25.
Shufflers were encouraged to reuse T-shirts from Shuffles past to proclaim their school pride or use resources from a downloadable "Virtual Shuffle Kit" to create their own. Participants promptly shared their DIY designs on Concordia's social media channels, with the most creative awarded a special prize.
Meet three Shuffle 31 teams that made a difference in kicking off the university's annual Community Campaign — part of the ambitious $250-million Campaign for Concordia: Next-gen. Now.
CU at the Top — Goal: $20,000
CU at the Top's members biked, ran and walked up Montreal's Mount Royal to raise funds for Concordia's Black Perspectives Initiative.
"We hope our support will help create a more equal, inclusive and just society," said team co-captain Katia Lorye, a development officer in the Faculty of Fine Arts. "During these times of financial instability, student support is more important than ever."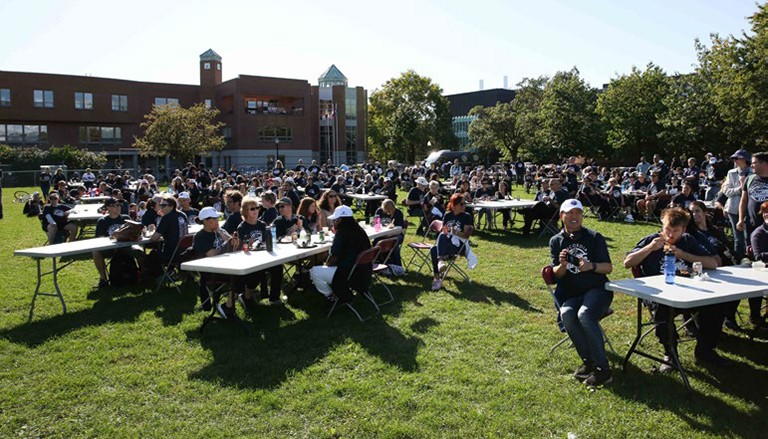 Shuffle 30 drew a big crowd to Loyola Campus a year ago.
Human Resources — Goal: $2,000
More than 40 Concordia Human Resources staff and their families raised funds for the HR Shuffle Award for Excellence and the HR Shuffle Bursary.
"Our team looks forward to participating in the Shuffle and contributing to this wonderful event that is a symbol of the Concordia spirit," said team member Émilie Fortin, BA 06, an organizational development advisor with Human Resources. "We're happy to provide a helping hand."
Student Success Centre — Goal: $2,000
Composed mostly of staff from Concordia's Student Success Centre (SSC), which provides students with vital tools and assistance, members of this Shuffle 31 team raised funds for an award to support a returning student with a previous failed standing.
"We'll use this scholarship to support the underdogs," declared team captain Ann Mclaughlin, a coordinator at the SSC.
To learn more about Shuffle 31, visit concordia.ca/shuffle.
---